Close to 6.3 million Israeli voters are heading to the polls today in what will be one of the most tightly fought elections for years.
Benjamin Netanyahu, who is running for his fifth term, is under pressure on multiple fronts - not least the stiff competition he is facing from another Benjamin - Benny Gantz.
If re-elected Mr Netanyahu would become the country's longest serving prime minister this summer, beating the record held by David Ben-Gurion, the founder and first prime minister of the Israeli state.
But he is also facing three corruption investigations, threatening his decade of dominance.
Is this election all about Benjamin Netanyahu?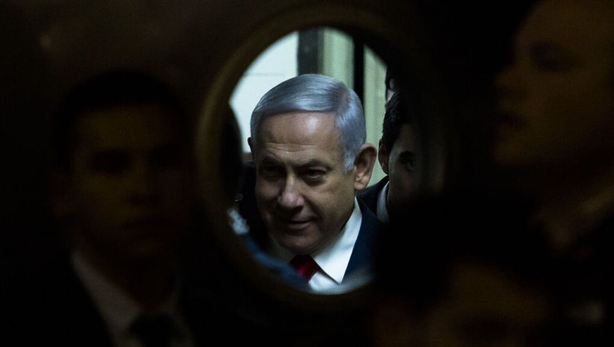 Love him or loathe him, this election is widely seen as a referendum on the leadership of the incumbent Benjamin Netanyahu - the man supporters call "King Bibi".
The 69-year-old former army commando came to power in 2009, after a first stint as prime minister from 1996 to 1999.
On Sunday he held an emergency meeting of political allies, warning that his Likud party did not have a locked-down majority and that his government was in real danger.
"It's not spin, it's real. We have to narrow the gap," he is reported to have said.
Israel has always had coalition governments - no single party has ever won a majority of seats in the parliament known as the Knesset.
The ultimate winner will be the leader who can rally enough support to control at least 61 of the Knesset's 120 seats.
Mr Netanyahu is likely to be able to draw on support from other right wing parties, which could enable him to form the country's next coalition government.
Speaking to RTÉ's Morning Ireland, Rosemary Hollis, Professor of Middle East Policy Studies at City University London said: "He'll have to form a coalition. He's looking to parties to the right of Likud to form that coalition with."
However, Mr Netanyahu and his party have been criticised for enabling candidates from the far-right to enter parliament.
Prof Hollis said: "He's reaching out to more right wing parties than his own Likud party in anticipation that Likud will not win an outright majority in the Knesset, in the election. That would be unprecedented in many, many years."
It is a delicate balance - If Mr Netanyahu attracts too many voters to Likud from small parties on the right, it may undermine their chances of getting the necessary support levels to allow to enter the Knesset and join a Likud-led coalition.
Final polls in the campaign last Friday, showed that Mr Netanyahu had fallen behind his main challenger, centrist Benny Gantz, but still has an easier path to form a government that would keep him in power for a record fifth term.
Who is Benny Gantz and why is he such a threat?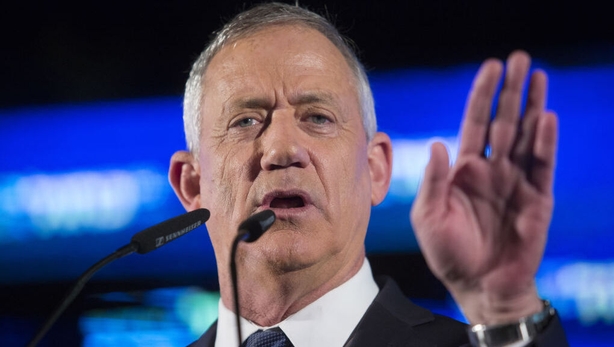 Benny Gantz is part of the newly formed Blue and White (Kahol Lavan) centrist alliance, established to run in this year's Knesset elections by the Israel Resiliance Party, Yesh Atid and Telem (Blue and White).
These are the colours of the Israeli flag and the alliance describes itself as pluralist - bringing together citizens from across the political spectrum.
The 59-year-old is a former chief of staff for the Israel Defence Forces (IDF) and his election campaign material has unashamedly emphasised this military record. His political alliance also contains two other military chiefs.
He predicted at a recent party convention in Tel Aviv: "Netanyahu is panicking. We'll be the biggest government, the president will call us."
He has rejected being labelled as left wing, saying "No Left, No Right, Israel Above All" and has vowed to bring in "clean government."
Mindful of appealing to more moderate voters, Mr Gantz has said he will pursue peace and has signalled he would make territorial concessions towards the Palestinians.
However, he has side-stepped the issue of Palestinian statehood and has also welcomed the controversial move of the US embassy to Jerusalem.
The relative newcomer to politics will need to rely on several smaller parties on the left and the right if he is to form a government, but it is unclear if he will be able to win enough seats to do this.
Professor Hollis said: "Benny Gantz has come out of nowhere... he has done very well in the polls, rivalling Netanyahu because as an ex-professional soldier he stands the best chance of other candidates of rivalling Mr Netanyahu's claim to be 'Mr Security' for Israel."
But she says of Blue and White: "It can beat Likud but Netanyahu may still become the next prime minister because he has a better chance of forming a coalition with parties to the right of Likud."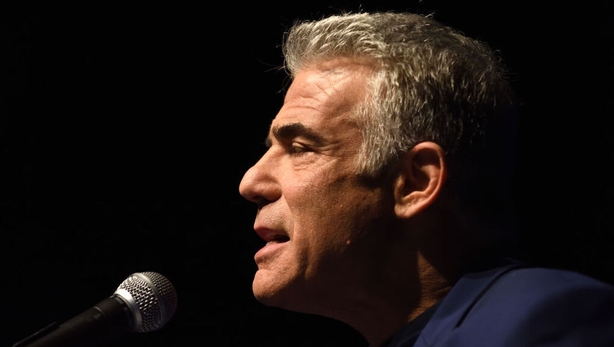 In a public radio interview, Blue and White's co-leader Yair Lapid said: "The fight is about which party will be the biggest. That's what we need to focus on, because that's what will decide the election."
Mr Lapid is a former finance minister and the leader of Yesh Atid. He has formed a rotation deal with Benny Gantz which could see him take over as Prime Minister after two-and-a-half years.
Corruption charges
In February, Israel's attorney general announced he intends to indict Benjamin Netanyahu on corruption charges in three cases.
He is accused of wrongfully accepting gifts from wealthy businessmen and dispensing favours in an alleged bid for favourable coverage in an Israeli newspaper and on a website. He has denied any wrongdoing, saying he has been the victim of a left-wing witchhunt.
Whether these charges go ahead, depends on a final hearing with the attorney general. This could take months to complete.
What do voters in Israel think?
These six voters from across Israel shared their views:
Gaza and the West Bank
There is little support among the Israeli public for the agreed "two-state solution" which envisages an independent State of Palestine, alongside that of Israel and has been described by the UN as "the only option" for lasting peace.
Palestinians voiced alarm this week after Prime Minister Netanyahu made a sudden election promise to annex Jewish settlements in the occupied West Bank if he wins.
Some Israeli commentators have described his announcement as a bid to siphon votes from his ultra-nationalist rivals.
Professor Hollis said: "It's definitely electioneering because in the past he's actually blocked attempts to get through the Knesset or parliament measures to annex bits of the occupied West Bank."
But Hanan Ashwari, a Palestine Liberation Organisation official, has warned this is not just electioneering. She said: "This is the end of any chances of peace."
A spokesperson for Hamas, the Islamist militant group that runs Gaza said: "The response to (Israeli) crimes and foolishness will be met by popular resistance, armed resistance and by all our might."
What about US-Israeli relations?
Those on the right in Israel have watched with delight as US President Donald Trump has lined Washington up with many of Benjamin Netanyahu's policies.
These have included US withdrawal from the international deal curbing Iran's programme on nuclear power and his controversial transfer of the US Embassy from Tel Aviv to Jerusalem. Palestinians claim the east of that city as their future capital.
"Take it from this Benjamin. It's not about the Benjamins!"
This was Benjamin Netanyahu's comment last month to AIPAC (the American Israel Public Affairs Committee) - a response in part to comments from Democratic Representative Ilhan Omar who alleged in a tweet that Israeli support by US politicians had a lot to do with money.
She later apologised amid allegations that her comments were anti-Semitic.
Mr Netanyahu said: "The reason the people of America support Israel is not because they want our money, it's because they share our values."
Golan Heights
Benjamin Netanyahu returned from his recent trip to the US emboldened by the the pre-election prize of a change in US policy on the Golan Heights.
President Trump broke with decades of US policy and international agreement that had considered the piece of territory seized from Syria in 1967 to be "occupied".
Speaking in Las Vagas, Mr Trump said he accepted Israel's claim to the territory following a "quick history lesson" on the Middle East.
The US President is expected to publish his government's plan to solve Israel's long-running conflict with the neighbouring Palestinians after the election.
Who are the other key candidates?
The Labour Party chaired by Avi Gabbay has fallen out of favour with voters. It was responsible for the peace deal with the Palestinians in the 1990s and is campaigning against Mr Netanyahu's plans to annex parts of the West Bank which Mr Gabbay has warned would take Israel on "the most dangerous adventure in its history."
He has said his party will not join a coalition with Mr Netanyahu.
The Zehut party was founded in 2015 by Moshe Feiglin and as well as promoting individual liberty and economic freedom it has an ultra-nationalist platform. It wants to encourage Palestinians to leave the occupied West Bank and Gaza.
Polls suggest it could take between four and seven seats in the Knesset but could also ultimately act as a decider in terms of who becomes the next prime minister.
Over a million people in Israel are part of the Haredi population - made up of ultra-Orthodox Jews of European descent.
More are now voting for mainstream parties - mainly on the right.
Israeli Arabs make up a fifth of the population but have low political participation - in 2015 four parties joined together to run under the Joint Arab list and took 13 seats - but that alliance has now broken up.
A new women's rights party Gesher may fall short of the 3.25% electoral threshold that could see them gain any Knesset seats.