UNICEF says an estimated 720,000 children have been affected by severe flooding in Mozambique and Malawi alone, with the numbers expected to rise.
As the full scale of the devastation in South East Africa becomes clearer, UNICEF says it is rapidly deploying humanitarian aid in the region to meet the immediate needs of children and families.
Daniel Timme from UNICEF's Mozambique office estimates that in that country alone, about 600,000 people could be affected, among them 260,000 children.
He told RTÉ News that UNICEF's first teams are now finally on the ground, trying to deal with the most urgent cases.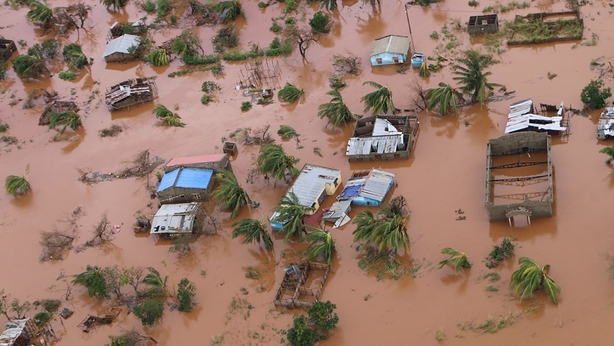 But he said the circumstances in which they are working are very challenging.
"The first big challenge is access. The most affected area had been cut off for several days and only recently the airport was opened again but by road we cannot reach Beira and the surrounding heavily flooded districts because the roads are blocked."
He said much-needed aid could only be airlifted to the area.
He said UNICEF was now dealing with a bigger disaster than it was used to - even in a country prone to natural disasters. One of the charity's warehouses was also destroyed by the severe wind and rain.
We need your consent to load this rte-player contentWe use rte-player to manage extra content that can set cookies on your device and collect data about your activity. Please review their details and accept them to load the content.Manage Preferences
"The power of the cyclone was something we had not seen for a long time and it hit a region that had already been affected by  flooding for several days."
Mr Timme added that UNICEF's initial appeal was for $10m (US dollars) but much more aid would now be needed due to the scale of the disaster.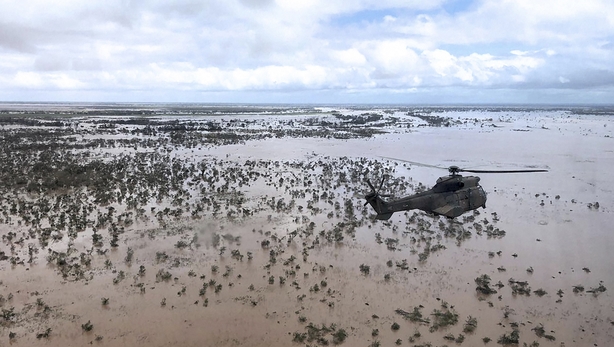 Meanwhile in Zimbabwe, Médecins Sans Frontières says it is providing services at a stabilisation centre 20km from Chimanimani, the worst affected area in that country.
Speaking to RTÉ News, Bjorn Nissen, MSF's Zimbabwe director, said there was a problem getting access:
"All the roads are broken down, the bridges are down. We are on day number five and we still don't have proper access to the area with the wounded."
He said patients were being airlifted out via private helicopter or by the army and being treated in a medical tent.
He said up to a third of the local population of around 30,000 people living in a small mountainous area had been hit by the disaster.
We need your consent to load this rte-player contentWe use rte-player to manage extra content that can set cookies on your device and collect data about your activity. Please review their details and accept them to load the content.Manage Preferences