Investigators in France have taken possession of the crashed Ethiopian Airlines jet's black boxes, seeking clues into a disaster that has grounded Boeing's global 737 MAX fleet and left scores of families mourning and angry.
Sunday's crash after take-off from Addis Ababa in which 157 people died was the second crash involving Boeing's flagship new model in six months.
Possible links between the accidents have rocked the aviation industry and left the world's biggest plane maker scrambling to prove the safety of a money-spinning model intended to be the standard for decades.
Relatives of the dead stormed out of a meeting with Ethiopian Airlines this morning, decrying a lack of transparency, while others made the painful trip to the crash scene.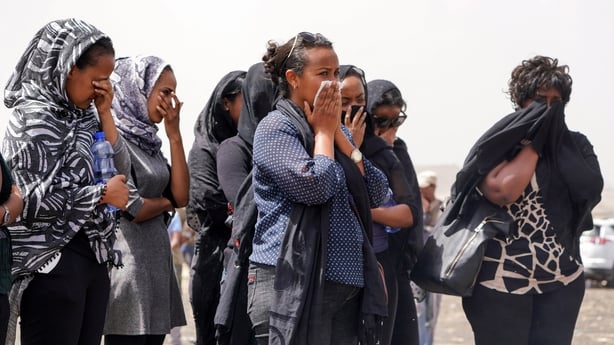 Nations around the world, including an initially reluctant United States, have suspended the 371 MAX models in operation, though airlines are largely coping by switching planes.
Nearly 5,000 MAXs are on order, meaning the financial implications are huge for the industry.
---
Read more stories:
Irishman among 157 victims of Ethiopian Airlines crash
Victims of Ethiopian plane crash remembered
---
After an apparent tussle over where the investigation should be held, the flight data and cockpit voice recorders arrived in Paris and were handed over to France's Bureau of Enquiry and Analysis for Civil Aviation Safety (BEA) agency.
A BEA spokesman said he did not know what condition the black boxes were in.
"First we will try to read the data," he said, adding the first analyses could take between half a day and several days.
Under international rules, Ethiopia is leading the investigation but France's BEA will conduct black box analysis as an advisor. The US National Transportation Safety Board (NTSB) will also have an influential role as representatives of the country where the Boeing plane was made.
The choice of the BEA followed what experts say appears to have been a tug-of-war between national agencies, with Germany initially invited to do the analysis.
There is a small pool of countries including Britain, France, the US, Canada and Australia that are seen as leading investigators. But only France and the US have the experience gleaned from being present at almost every crash involving an Airbus or Boeing respectively.
Since the Indonesia crash, there has been attention on an automated anti-stall system in the MAX model that dips the plane's nose down.
The pilot of Flight 302 had reported internal control problems and received permission to return, before the plane came down and burst into a fireball on arid farmland.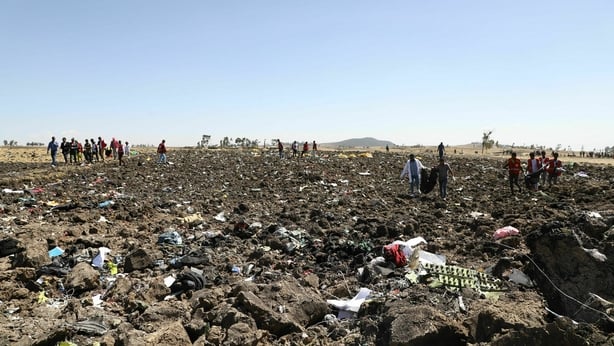 Relatives are desperate to know what happened and to receive fragments if not corpses, given the fire and destruction at the site. They were at least able to vent their grief.
"We saw where he died and touched the earth," said Sultan Al-Mutairi, who came from Riyadh to say goodbye to his brother Saad, who ran a recruitment agency in Kenya.
Meanwhile, a French official has said Airbus was discussing a new order with Ethiopian Airlines.
Providing no details on the size of the potential order, the official cited the long-range A350, a model which Ethiopian already operates, and the single-aisle A320 jet as aircraft of interest to the airline.
French President Emmanuel Macron and Ethiopia's Prime Minister Abiy Ahmed discussed the negotiations during Mr Macron's visit to Addis Ababa on Tuesday, just two days after the Ethiopian Airlines disaster.
Industry analysts played down a possible link between any current negotiations and Sunday's crash saying that regular talks, which tend to take time, are normal when undertaking a major fleet expansion.