The Irish man, who was among the 157 people on board the Ethiopian Airlines flight that crashed shortly after takeoff in in Addis Ababa, has been named as Micheál Ryan.
The married father-of-two is understood to be originally from Co Clare, but had been living in the Cork area.
Mr Ryan, 39, had worked as an engineer with the World Food Programme on projects in the developing world.
The UN WFP Director of Human Resources has been in touch with the family to offer their condolences.
There were no survivors after the Boeing 737, which was carrying 149 passengers and eight crew members, crashed shortly after takeoff en route to Nairobi in Kenya.
President Michael D Higgins has led tributes to Mr Ryan and the other victims saying: "I express my deep sadness for the tragic loss of so many lives in the air crash in Ethiopia and may I convey the deepest sympathy of the Irish people to all the families and communities affected.
"In particular I wish to extend my deepest sympathies to the family of Michael Ryan, whose work in humanitarian assistance for the World Food Programme brought him onto the flight."
Taoiseach Leo Varadkar said that his thoughts were with the families of all those lost in the crash.
Mr Varadkar added that Mr Ryan "was doing life-changing work in Africa with the World Food Programme" and expressed his deepest sympathies to Mr Ryan's family, colleagues and friends.
Mr Ryan's past projects include creating safe ground for Rohingya refugees in Bangladesh in preparation for the monsoon season.
He had also helped assess the damage to rural roads in Nepal, which were blocked by landslides. The disturbances blocked deliveries of food and other emergency supplies in response to a 2015 earthquake.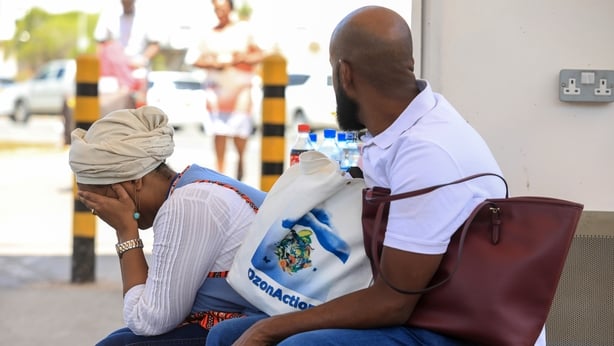 The United Nations migration agency has said it is believed there were 19 staff members of UN-affiliated organisations on board the flight. 
The airline has said their CEO is at the scene of the crash, 60km southeast of Addis Ababa, and "regrets to confirm that there are no survivors".
Ethiopia's prime minister has offered condolences to victims' families.
The passengers came from 33 different countries, according to Ethiopia's Fana Broadcasting Corporate.
Mr Tewolde said the victims included 32 Kenyans, 18 Canadians, nine Ethiopians, eight Italians, eight Chinese citizens, eight Americans, seven British citizens, seven French citizens, six Egyptians, five Dutch citizens, four Indians, four people from Slovakia, three Austrians, three Swedes, three Russians, two Moroccans, two Spaniards, two Poles and two Israelis.
Belgium, Indonesia, Somalia, Norway, Serbia, Togo, Mozambique, Rwanda, Sudan, Uganda and Yemen each had one citizen on board.
Four of those on board were listed as using United Nations passports and their nationalities were not immediately clear.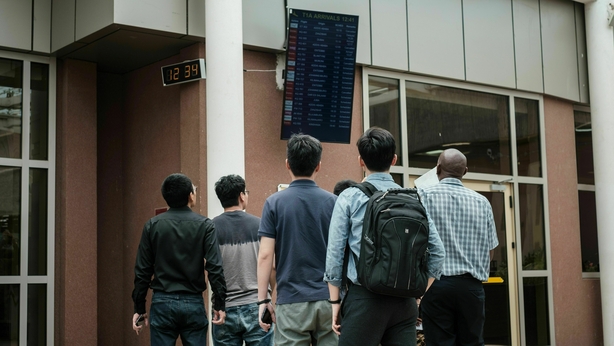 The plane took off at 8.38am (6.38am Irish time) from Bole International Airport and "lost contact" six minutes later near Bishoftu, a town some 60km from Addis Ababa by road.
"The pilot mentioned that he had difficulties and that he wanted to return. He was given the clearance (to return back)," Mr Tewolde said during his news conference.
He said the aircraft involved had flown from Johannesburg, while the pilot had more than 8,000 hours flying experience.
Prime Minister Abiy Ahmed's office tweeted it "would like to express its deepest condolences to the families of those that have lost their loved ones on Ethiopian Airlines Boeing 737 on regular scheduled flight to Nairobi, Kenya this morning".
Kenya's President Uhuru Kenyatta said he was "saddened" by the news, adding: "My prayers go to all the families and associates of those on board".
State-owned Ethiopian Airlines, Africa's largest carrier, said it would send staff to the crash scene to "do everything possible to assist the emergency services."
It would also set up a passenger information centre and a dedicated telephone number for family and friends of people who may have been on the flight.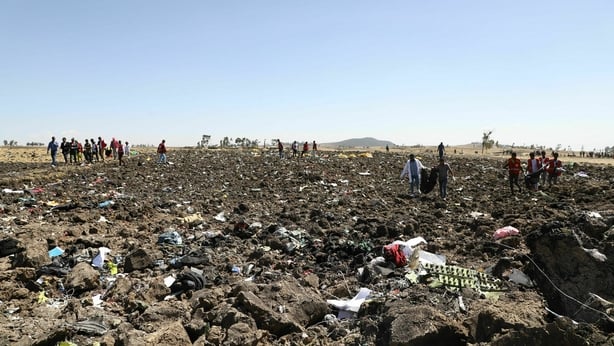 The Boeing 737-800MAX is the same type of plane as the Indonesian Lion Air jet that crashed last October, 13 minutes after takeoff from Jakarta, killing all 189 people on board.
The last major accident involving an Ethiopian Airlines passenger plane was a Boeing 737-800 that exploded after taking off from Lebanon in 2010, killing 83 passengers and seven crew.
The US aerospace giant has said it was "deeply saddened" about the deaths and would provide technical assistance to find out why its aircraft crashed.
The new Boeing 737 was delivered just last year.
"Boeing is deeply saddened to learn of the passing of the passengers and crew on Ethiopian Airlines Flight 302, a 737 MAX 8 airplane," the company said in a statement.
"A Boeing technical team is prepared to provide technical assistance at the request and under the direction of the US National Transportation Safety Board."
Additional reporting PA