Ethiopian Airlines has said both the cockpit voice recorder and the digital flight data recorder have been recovered after yesterday's crash.
The passenger jet bound for Nairobi crashed six minutes after take-off, killing all 157 people on board and raising questions about the safety of the Boeing 737 MAX 8, a new model that also crashed in Indonesia in October.
The discovery of the black box with both the cockpit voice recorder and digital flight data should shed light on the cause of the crash.
Ethiopia's parliament declared today as a day of mourning.
The United Nations has suffered one of its biggest losses in years in the crash, the head of the UN in Geneva said, without giving a new casualty figure.
Michael Moller, director-general of the UN European headquarters in Geneva, told a minute of silence, where some 150 personnel gathered: "It is one of the biggest catastrophes we have had in years."
A global summit in Nairobi also opened with a moment of silence as some wept for the UN members killed in the crash.
The dead included 39-year-old Micheál Ryan, originally from Co Clare, who worked for the UN World Food Programme.
---
Read More: 
Tributes to Irish man killed in Ethiopian airlines crash
Boeing 737 MAX safety record questioned after two tragedies 
---
Accident Bulletin no. 6
Issued on March 11, 2019 at 01:40 PM Local Time
The Digital Flight Data Recorder(DFDR) and Cockpit Voice Recorder(CVR) of ET302 have been Recovered.

— Ethiopian Airlines (@flyethiopian) March 11, 2019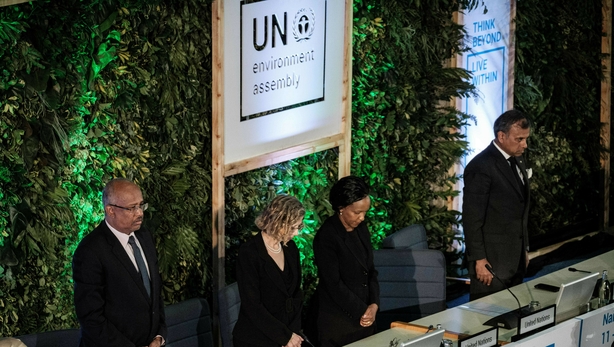 A 28-year-old Norwegian Red Cross worker, three Austrian aid workers on their way to Zanzibar, a Nigerian-Canadian professor known for mentoring young colleagues, and an Italian archaeologist, were also among those killed.
The pilot Yared Getachew, who was a joint Ethiopian-Kenyan national, had a "commendable record" and more than 8,000 hours of flying experience, Ethiopian Airlines said.
Kenyan authorities had managed to contact the families of 25 of the 32 Kenyan passengers, cabinet secretary for transport James Macharia told journalists at the airport.