Bill and Hillary Clinton have denied claims contained in a new book that they tried to get a scholarship to Ireland for a boyfriend of their daughter Chelsea and deny cutting funding to the scholarship programme to punish the organiser.
A spokesperson for the Clintons has told RTÉ News that the claims are "baseless and patently false".
The new book called 'Shenanigans: the US-Ireland Relationship in Uncertain Times' is written by former Democratic foreign policy advisor Trina Vargo.
Ms Vargo runs the scholarship programme, which is named after former US senator George Mitchell, who was instrumental in the Northern Ireland peace process.
Each year, the programme provides funding for a group of US students to study in Ireland and Northern Ireland.
Ms Vargo writes that in November 2000, Mr Mitchell told her that he had received a call from Mr Clinton, saying he was unhappy that Chelsea's boyfriend had not been shortlisted for the scholarship to Ireland.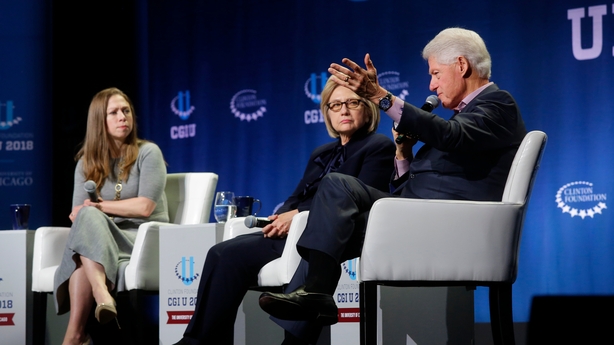 Senator Mitchell said he was just seeking clarification, but Ms Vargo writes: "It would be hard to believe that the timing of the president's call wasn't aimed at influencing us to make him a finalist."
Chelsea's boyfriend did not get the scholarship. 
In 2012, the US State Department, then under Mrs Clinton, cut funding to the Mitchell scholarship, citing budgetary measures.
In a statement today to RTÉ News, a spokesperson for the Clintons said their legacy on Northern Ireland is "something they are incredibly proud of and one that is well documented. These accusations are baseless and patently false".
They added: "While funding was cut when Secretary Clinton was at the State Department, funding was also cut under Secretary [John] Kerry.
"Both the product of a constant battle with a Republican Congress to fight for diplomatic and development dollars, there is nothing more to it than that."
The spokesperson also pointed out the fact that Mr Mitchell and President Clinton were together in Northern Ireland last year to commemorate the 20th anniversary of the Good Friday Agreement.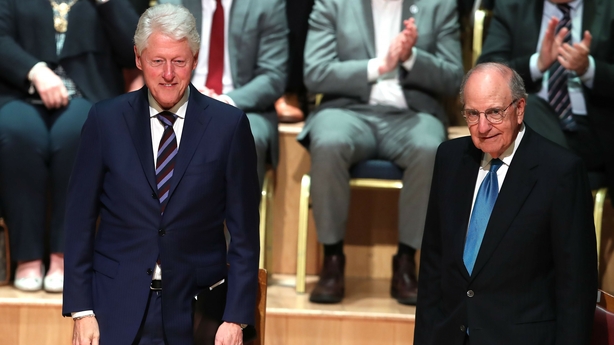 Ms Vargo told RTÉ News that she stands over everything that she has written.
"I am surprised the Clintons could have a view about a book they haven't yet read," she said.