Twelve former Catalan leaders have gone on trial at Spain's Supreme Court for their role in a failed 2017 bid to break away from Spain.
Here are some key facts about the trial.
The accused
The 12 people on trial include former Catalan government officials, civil leaders of pro-independence groups and the former president of Catalonia's regional parliament, Carles Puigdemont.
Nine have been held in pre-trial detention for months, including former Catalan vice president and regional economy minister Oriol Junqueras.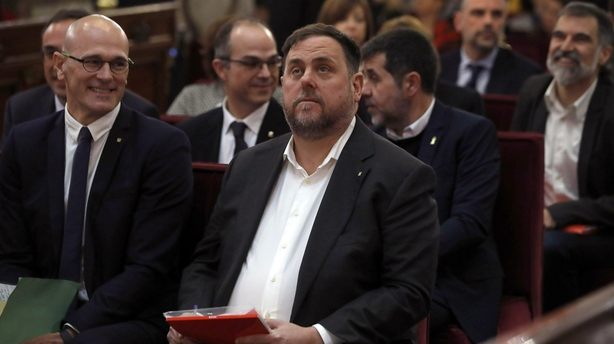 Public prosecutors have asked for a jail term of 25 years for Mr Junqueras. He remains in charge of Catalonia's pro-independence party, ERC, despite being in jail since November 2017.
The former speaker of the Catalan regional parliament who read out the declaration of independence in the assembly, 63-year-old Carme Forcadell, faces a possible jail term of 17 years.
Mr Puigdemont - who fled to Belgium shortly after the declaration of independence - is not among the group on trial because Spain does not allow trials in absentia for major offences.
However other former ministers in his regional government are in the dock.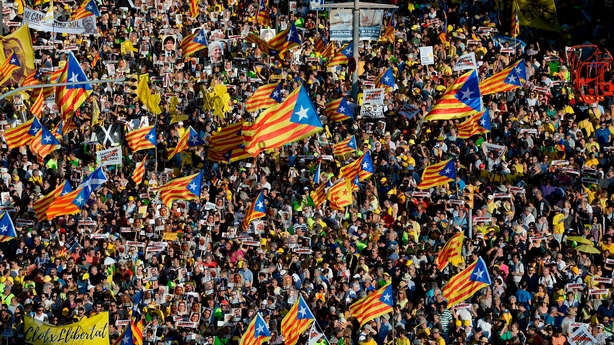 The charges
Public prosecutors accuse nine of the 12 defendants - including Mr Junqueras and Ms Forcadell - of rebellion, which carries a jail term of 15-25 years.
Under Spain's criminal code, rebellion is defined as "rising up violently and publicly", especially to "declare the independence of a part of the national territory".
This charge is disputed by separatists and many Spanish legal experts. The trial will focus on the alleged use of violence, which the defendants deny.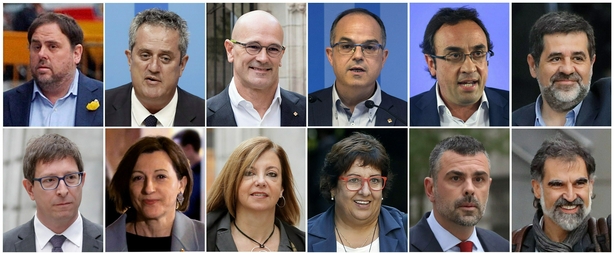 But public prosecutors point to "violent incidents" during pro-independence protests orchestrated by two grassroots groups in Barcelona on 20 September 2017.
Prosecutors also accuse the separatists of fostering "acts of violence and aggression against police officers" on the day of the referendum.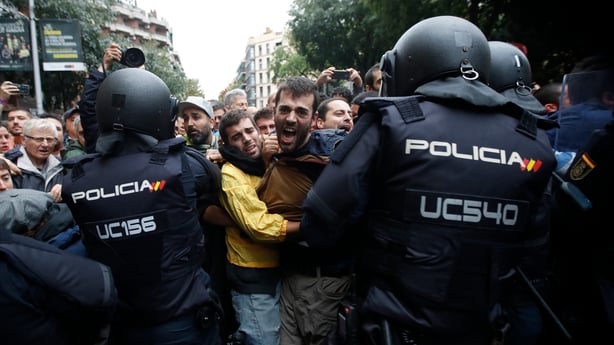 The independence referendum on 1 October 2017 was marred by a violent police crackdown on polling stations.
Six of the defendants accused of rebellion are also accused of misusing public funds to stage the independence bid.
Three other former Catalan government ministers face jail terms of up to seven years for disobedience and misuse of public funds.
The accusers
Spain's legal system allows for three different bodies to file criminal complaints against defendants: public prosecutors, state attorneys and a third party, in this case far-right party Vox.
Public prosecutors are made up of magistrates who are appointed by the government but are supposed to act independently.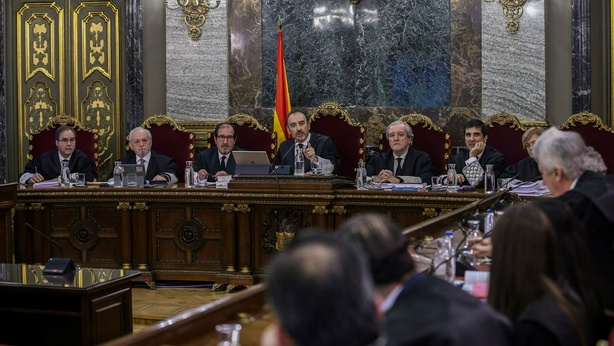 The state attorneys, lawyers who represent the government, have taken a more lenient line than the public prosecutors. They are pushing the less serious charge of sedition and are seeking jail terms of up to 12 years.
In Spain third parties can also file criminal complaints and take part in the legal proceedings even if they are not directly involved in the case.
Vox, which is rising in the polls thanks to its hard line against Catalan separatism, is demanding a combined jail sentence of over 700 years for the 12 defendants.
The party will be represented at the court by its secretary-general Javier Ortega Smith.