Venezuela's opposition leader Juan Guaido has declared himself as the South American country's interim president.
It comes as hundreds of thousands of people marched to demand the end of socialist President Nicolas Maduro's government.
Mr Guaido, the head of the opposition-run Congress, has said he would be willing to assume the presidency on an interim basis with the support of the armed forces to call elections.
US President Donald Trump has said his country would recognise Mr Guaido as the country's legitimate president.
He described President Maduro as "illegitimate" and said that the National Assembly, headed by Mr Guaido, was "the only legitimate branch of government duly elected by the Venezuelan people".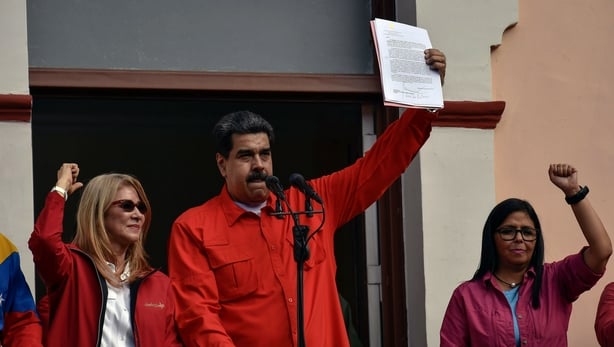 In response, President Maduro said he was breaking off diplomatic relations with the US and said the opposition was attempting a coup.
Speaking to supporters outside the Miraflores presidential palace in Caracas, Mr Maduro said he would give US diplomatic personnel 72 hours to leave Venezuela.
"I've decided to break diplomatic and political relations with the imperialist government of the United States.
"Get out! Leave Venezuela, here there's dignity, damn it," he said.
Mr Maduro called on the country's military to maintain unity and discipline and asked for the armed forces' support.
"We will triumph over this as well, we will come out victorious," he said.
Mr Maduro won snap elections in May that were boycotted by the opposition and dismissed as a fraud by the European Union, the US and OAS.
He has presided over a deepening economic crisis that has left millions in poverty as the country faces shortages of basic necessities, such as food and medicine.
The head of the Organisation of American States has also recognised Mr Guaido as the country's acting president.
Venezuela's Supreme Court, which is dominated by Maduro loyalists, ordered a criminal investigation of parliament for trying to depose Mr Maduro.
Thousands of Maduro supporters, many wearing red, converged outside the presidential palace to oppose what they see as a US-backed opposition coup attempt.
Since being elected president of the National Assembly in December, Mr Guaido, 35, has quickly managed to rally a previously divided opposition.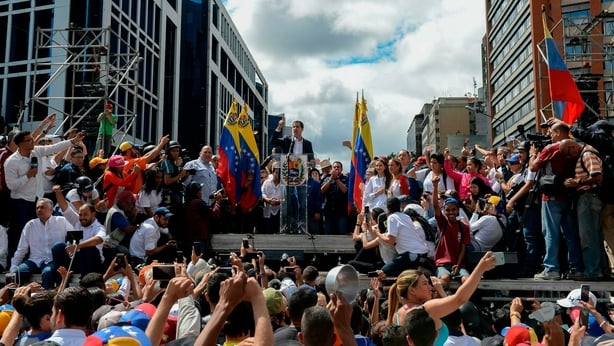 The Supreme Court's criminal chamber ratified the "unconstitutionality of the legislative power's actions" but Mr Guaido dismissed the judges as ruling party leaders "disguised as magistrates".
He dismissed fears he could be arrested, saying: "I'm afraid for our people who are suffering."
Some 2.3 million people have fled the country since 2015, according to the United Nations, while the International Monetary Fund says inflation will hit a staggering 10 million percent this year.
Venezuelans living in Ireland who are opposed to Mr Maduro held a demonstration outside the Dáil this evening.
#Venezuela protest at Dáil pic.twitter.com/8La0Mz75ro

— Paul Cunningham (@RTENewsPaulC) January 23, 2019
Ahead of today's rival protests, five people died from gunshot wounds in overnight clashes, the Social Conflict Observatory NGO reported.
Shops, schools and businesses remained closed while there was little traffic on the roads.
Trouble had been expected, with Venezuela's government ominously warning there would be violence against opposition protesters.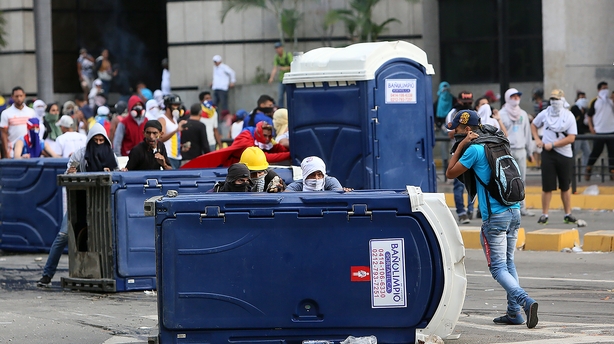 US Secretary of State Mike Pompeo called on Mr Maduro to step aside and urged the country's military to support efforts to restore democracy.
He said the US would support Mr Guaido as he establishes a transitional government and prepares the country for elections.
"The Venezuelan people have suffered long enough under Nicolas Maduro's disastrous dictatorship," Mr Pompeo said.
"We call on Maduro to step aside in favor of a legitimate leader reflecting the will of the Venezuelan people."
---
Read more
Venezuela faces uncertain future as Maduro re-elected