Peace talks between the Yemeni government and rebels, aimed at ending four years of war that has pushed 14 million people to the brink of famine, are due to open in Sweden.
The UN-brokered talks in Rimbo between Yemen's Saudi-backed government and the Houthi rebels, linked to Riyadh's arch-rival Iran, will be the first since 2016 when more than 100 days of negotiations failed to end a war that has now claimed at least 10,000 lives.
Analysts and diplomats said they did not expect a breakthrough at the summit.
UN sources say the organisation aims for "confidence-building" between the two parties, who have been at war since the rebels staged a takeover of Yemeni territory in 2014.
The conflict has triggered what the UN calls the world's worst humanitarian crisis, with children dying of hunger, disease and war, recruited as soldiers or bartered as child brides every day.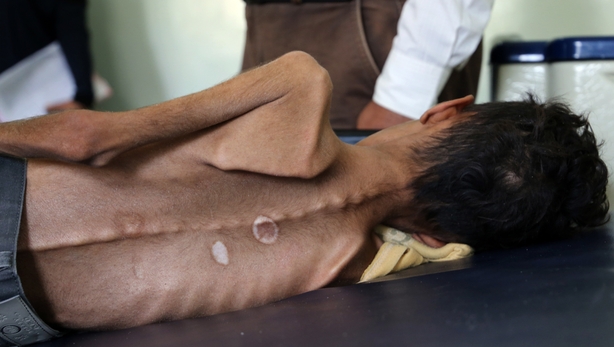 Sources close to the rebels say the Houthis are expected to request the reopening of Sanaa International Airport, which has been damaged by Saudi-led air raids and shut down by Riyadh and its allies, who control Yemen's airspace.
A source in the government delegation said President Abedrabbo Mansour Hadi's camp is seeking maps detailing landmines planted by the rebels.
Sources on both sides said they would demand a ceasefire - initiated by their rival - and the opening of humanitarian corridors.
No end date has yet been set for the talks, slated to take place at the Johannesberg Castle - a large estate 60km north of Stockholm.
A 12-member government delegation, led by Foreign Minister Khaled al-Yamani, landed in Stockholm yesterday evening, refusing to fly until the Houthis had landed.
The rebels failed to turn up for UN envoy Martin Griffiths' Geneva talks in September, declining to leave Sanaa over what they said were fears they would not be allowed to return.
---
Read more:
Yemen's 'descent into hell' in numbers
Too weak to cry: The children of Yemen
---
The government and Houthis on Tuesday agreed to a prisoner swap, to be overseen by the International Committee of the Red Cross, after the Sweden talks.
Saudi Arabia and its allies also allowed the Houthis to evacuate 50 wounded rebels from Sanaa for medical treatment in Oman.
The two sides are not due to sit down at the negotiating table together.
"I would have very low expectations," a Security Council diplomat told AFP on condition of anonymity.
Any power-sharing agreement, or even tentative transitional government, would have to contend with Yemen's convoluted political and military constitution. 
The Houthis hail from what was once an independent northern Yemen and today control the capital, Sanaa, along with the Red Sea city of Hodeida, home to the impoverished country's most valuable port.
The government of President Hadi is now based in the province of Aden in the south - an area home to government loyalists, Islamists and a strong separatist movement.