International dignitaries gathered with US leaders today at the funeral service for George HW Bush, a graceful show of unity that allowed Americans to hit pause on the combative rhetoric that has engulfed US politics.
George HW Bush, who died on Friday aged 94, was the 41st President of the United States, serving from 1989 to 1993.
The former president had been lying in state at the Capitol Building since Monday and family members, politicians and members of the public visited to pay their respects.
3,000 invited guests attended today's funeral service at Washington National Cathedral, the Neo-Gothic spiritual centrepoint of the US capital.
The country's five living presidents - Jimmy Carter, Bill Clinton, Mr Bush's son George W Bush, Barack Obama, and Donald Trump - were all in attendance.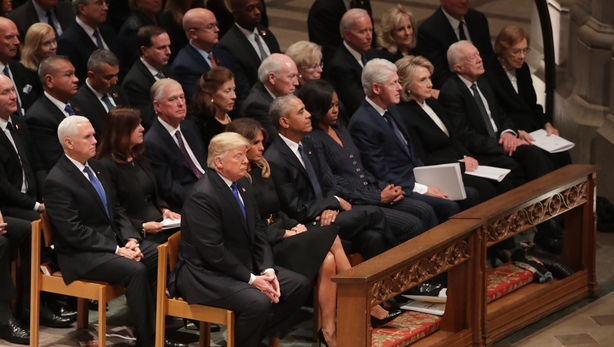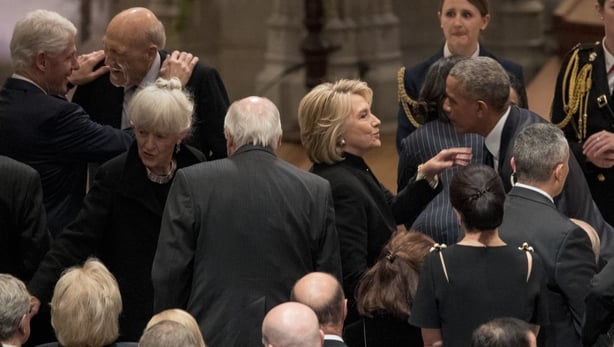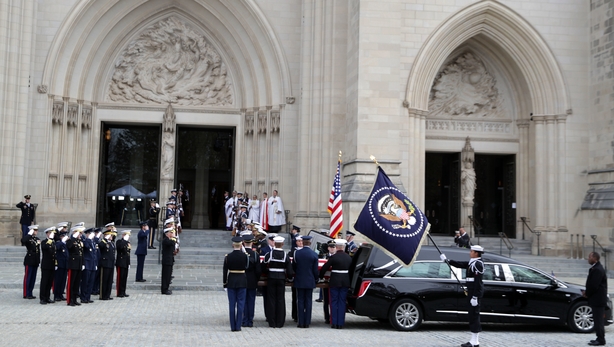 This week, tens of thousands of Americans quietly filed in to the Capitol to pay their respects to a man who steered the nation through turbulent times, including the end of the Cold War.
In a show of respect, Pennsylvania Avenue was lined with well-wishers as a cortège proceeded toward the cathedral in the first presidential funeral since Gerald Ford died in late 2006.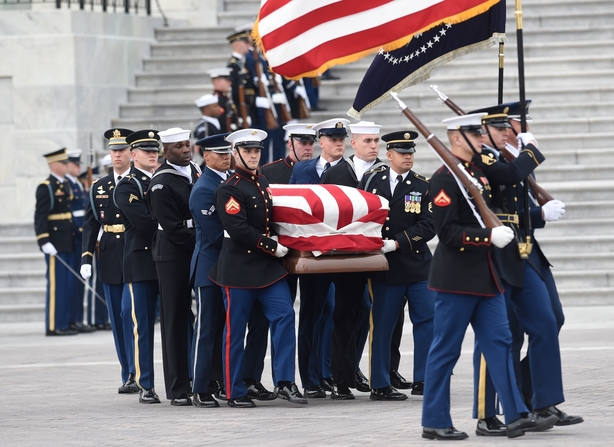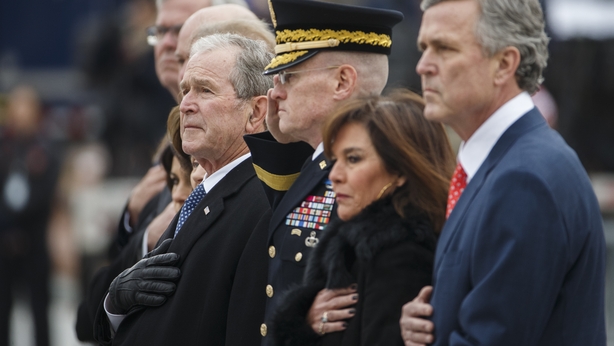 George W Bush greeted mourners at the Capitol this week along with his wife, Laura, their daughters, Jenna and Barbara, and his brother Jeb.
Dignitaries in the cathedral included Britain's Prince Charles, German Chancellor Angela Merkel, King Abdullah II and Queen Rania of Jordan, former Polish president Lech Walesa, former vice presidents Dick Cheney, Al Gore and Joe Biden, and former secretaries of state James Baker, Colin Powell and Condoleezza Rice.
Irish tenor Ronan Tynan was a friend of George HW Bush and sang to the former president in his final hours last week. He sang again today at his funeral.
Ireland was also represented by the Irish Ambassador to the US, Dan Mulhall.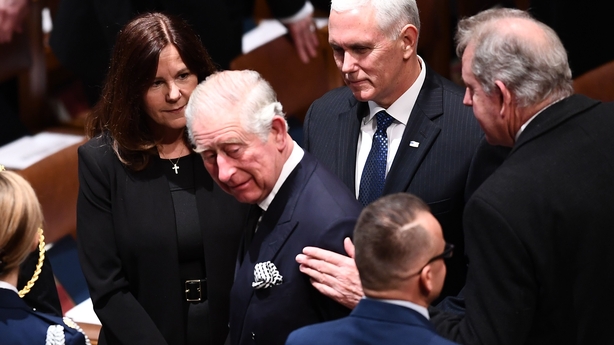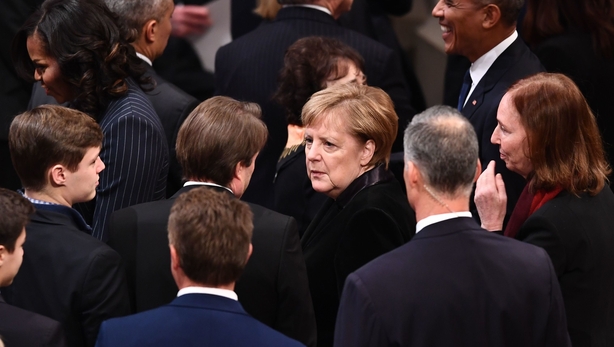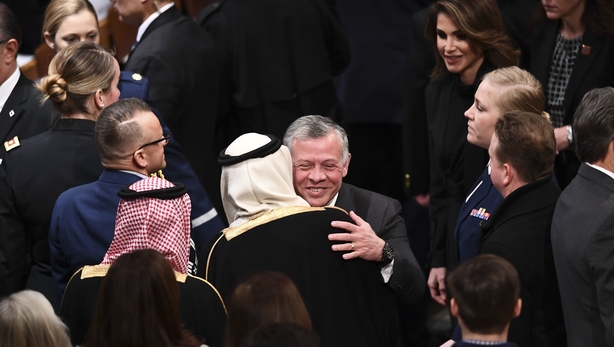 Before the ceremony today, President Donald Trump tweeted that he was "looking forward to being with the Bush family".
He added: "This is not a funeral, this is a day of celebration for a great man who has led a long and distinguished life. He will be missed!"
International tributes have poured in for Mr Bush, whose political locus was foreign policy and America's place in the world.
A telegram from the Vatican relayed Pope Francis's "heartfelt condolences" to the Bush family.
Following the service, Mr Bush's body is being brought to Houston, Texas, where a second memorial service will be held tomorrow.
He will be buried close to his wife Barbara, who died in April.
---
Read more:
Life of public service hailed as tributes paid to George HW Bush
Bush's single term shaped US history for decades
George HW Bush - A Life in Pictures
---
Former Secretary of State Colin Powell, who led the US military during the 1991 Gulf War, as well as US generals from that campaign against Iraq, visited the casket in the Capitol.
Bob Dole, 95, was helped out of his wheelchair, stood up and saluted toward the casket. Mr Dole was defeated by Mr Bush in the fight for the 1988 Republican presidential nomination.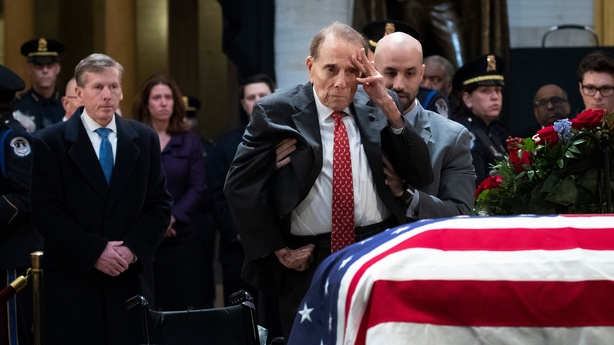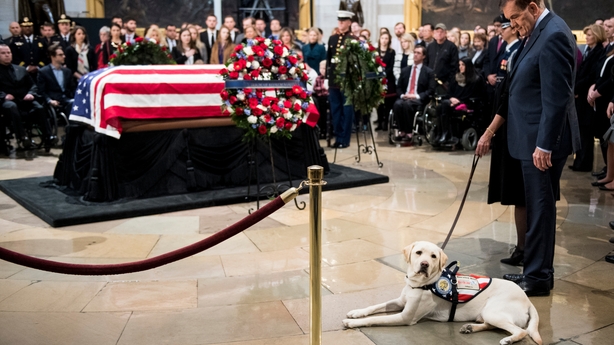 Mr Bush's service dog, a young Labrador retriever named Sully, also walked past the casket and sat near it briefly.
Mr Bush, the 41st US president, was remembered as a patrician figure who represented a bygone era of bipartisan civility in US politics.
National flags flew at half-mast on many foreign diplomatic buildings on Washington's "Embassy Row," past which Mr Bush's coffin was transported on its way to the National Cathedral.
Mr Bush was a World War II naval aviator who was shot down over the Pacific in 1944 and a former director of the Central Intelligence Agency. He was elected president in 1988 after serving two terms as President Ronald Reagan's vice president.
During his four years in the White House, Mr Bush ended the occupation of Kuwait by Iraqi President Saddam Hussein's forces, steered the United States through the end of the Cold War and condemned China's 1989 crackdown on pro-democracy demonstrators in Beijing's Tiananmen Square.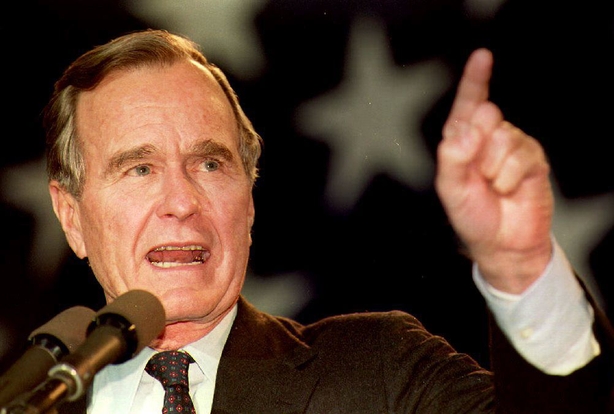 He was dogged by domestic problems, including a sluggish economy and the AIDS crisis. When he ran for re-election in 1992, he was pilloried by Democrats and many Republicans for violating his famous 1988 campaign promise: "Read my lips, no new taxes."
Democrat Bill Clinton coasted to victory, ending Mr Bush's presidency.
George HW Bush is the 12th US president to lie in state in the Capitol Rotunda. The first was Abraham Lincoln following his assassination in 1865.
Early in his political career, Mr Bush served in the US House of Representatives from 1967-71. He lost bids in 1964 and 1970 for a US Senate seat from Texas.
The federal government and some financial exchanges were closed today for a day of mourning.
Reporting: Brian O'Donovan, AFP, Reuters