Family and friends of Jamal Khashoggi have said funeral prayers in Saudi Arabia and Turkey for the Saudi journalist killed inside the country's consulate in Istanbul last month.
The Saudi public prosecutor is seeking the death penalty for five suspects in the murder on 2 October.
At least two of them are said to be senior officials closely associated with Crown Prince Mohammed bin Salman.
The US Treasury has imposed economic sanctions on 17 Saudis, including Saud al-Qahtani, the crown prince's former top adviser.
Saudi Arabia maintains that Prince Mohammed had nothing to do with the murder, even as Turkey and some Western allies, including US President Donald Trump, said ultimate responsibility lies with him as the country's de facto ruler.
Changing Saudi accounts of the murder, including initial denials, have been met with scepticism abroad.
Tens of thousands of worshippers at Mecca's Grand Mosque and the Prophet's Mosque in Medina - Mr Khashoggi's hometown - joined in prayers for the deceased, though the imams did not name him.
In Istanbul, mourners raised their hands in prayer outside Fatih Mosque.
For weeks, Mr Khashoggi's family has urged Saudi and Turkish authorities to find his remains and hand them over for burial, but the Saudi prosecutor said their whereabouts are unknown.
Islamic tradition places immense importance on the proper handling of the dead, mandating quick burial.
The decision to hold prayer services in the absence of a body suggests the family does not expect it to be recovered.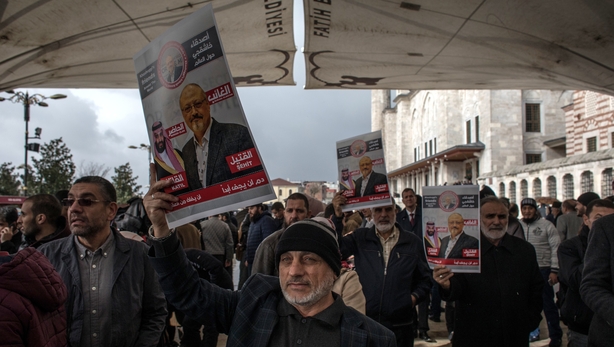 Mr Khashoggi's son, Salah, met the king and crown prince in Riyadh last month to receive condolences along with other relatives.
He then departed for Washington after a travel ban was lifted and told CNN on 5 November that he wanted to bury his father in Medina with the rest of the family.
"We just need to make sure that he rests in peace," Salah said. "Until now, I still can't believe that he's dead. It's not sinking in with me emotionally."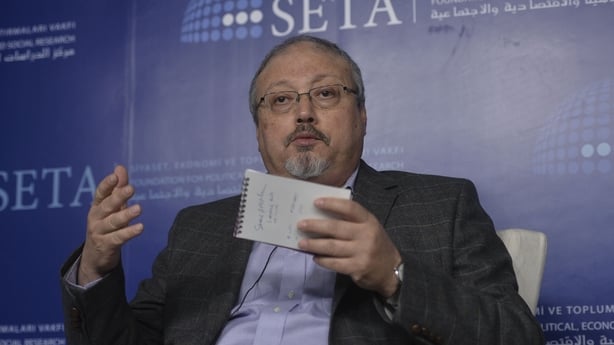 Mr Khashoggi's fiancée, Hatice Cengiz, a Turkish researcher who had waited outside the Istanbul consulate for hours on the day he was killed and alerted the authorities and the media when he never left the building, called last week for Muslims around the world to perform the funeral prayer for him.
Yesterday, she tweeted a selfie of Mr Khashoggi outside the Prophet's Mosque in Medina mosque, writing: "Dear Jamal .. rest in peace. We will meet in heaven inshallah (God willing)!"
Ms Cengiz and Mr Khashoggi met at a conference in Istanbul in May and soon decided to wed.
He had entered the consulate that day to obtain documents proving an earlier marriage had ended.
The pair purchased an apartment in Istanbul and Mr Khashoggi was planning to live between there and Washington, where he moved 18 months earlier fearing reprisals for his views.
He obtained US residency and wrote for the Washington Post, becoming familiar to many American policymakers.
His murder has provoked the biggest political crisis in a generation for Saudi Arabia, the world's largest oil exporter and a supporter of Washington's plans to contain Iranian influence across the Middle East.
It has also tarnished the image of Prince Mohammed, who has pushed social and economic reforms while cracking down on dissents, upending the delicate balance inside the ruling family, and leading the country into messy conflicts in Yemen and Qatar.