The Tánaiste has told the Seanad that while difficulties remain in the current Brexit negotiations, a no deal scenario is unlikely.
"No one wants a no deal endgame. Everyone loses," Simon Coveney said during statements on Brexit in the Seanad this evening.
However, he said it was the Government's responsibility to prepare for all scenarios.
He said as a result of this, work had intensified on a deal scenario and a no deal scenario.
Mr Coveney also said the Irish and British governments would hold annual summits to strengthen relations.
Independent Senator and former Ulster Farmer's Union president Ian Marhsall welcomed the commitment to the holding of annual summits.
Mr Coveney added that there was a never a problem with reviewing the backstop.
"If a backstop is required… it's perfectly reasonable in periods of time, we would have reviews of how it is working or if there are alternative proposals that could work," he told the Seanad.
Mr Coveney said this was not a concession, but was simply working with friends and a neighbour. He added that he hoped a backstop would never be used.
He also said it was important that any withdrawal treaty stand up to legal challenge, as undoubtedly it would be challenged in the courts.
He also said British Prime Minister Theresa May "deserved credit" for her commitments to Ireland, and that Michel Barnier had done an "astonishingly good job" in respecting Irish concerns and vulnerabilities and factoring them into the negotiations.
Earlier, the Taoiseach said there cannot be an expiry date or a unilateral exit clause on the backstop, otherwise it would not be worth the paper it is written on.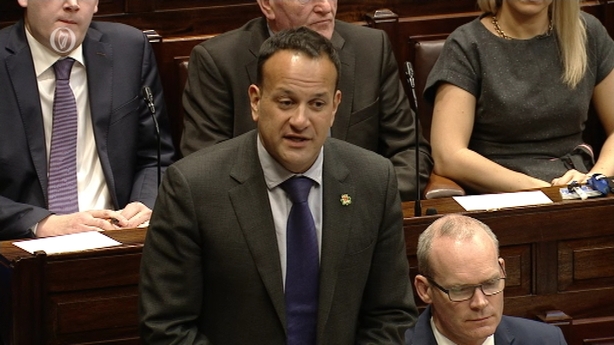 Speaking during Leaders' Questions in the Dáil, Leo Varadkar said he was open to considering the idea of review clause and added that there has to be creative solutions and creative language sometimes to get an agreement.
There would not have been any Good Friday Agreement without such an approach, he told the Dáil.
Sinn Féin Leader Mary Lou McDonnell said there cannot be any fudging around the backstop issue.
She accused the Taoiseach of shifting the Government's position at the most sensitive time in the negotiations.
"I think your announcement yesterday was a cock up plain and simple," she said.
The Taoiseach said it was a good thing that Ms McDonald was not handling the negotiations because she was too "bullying" and would turn this country's friends into enemies within months.
A spokesperson for the British Prime Minister has said Theresa May has told her Cabinet that the UK's withdrawal agreement was 95% complete but said a number of issues remained.
They include making sure that the backstop was not permanent and ensuring there was a mechanism so that the backstop could not bind Britain against its will.
Yesterday, Mr Varadkar said Ireland is willing to consider proposals for a review clause in relation to the backstop for the Irish border, but the outcome of any such review "could not involve a unilateral decision to end to the backstop".
Mr Varadkar said the Government could not countenance any limit on a backstop following a telephone conversation with Mrs May, who told the Taoiseach that there would need to be a mechanism to bring a temporary backstop, if it is needed, to an end.
UK heading towards no deal Brexit - Donaldson
DUP MP Jeffrey Donaldson has said a no-deal Brexit looks likely and warned of serious consequences for the Republic.
In a tweet, Mr Donaldson said the UK will not "have to pay a penny more to the EU", adding he could not understand why the "Irish Government seems so intent on this course".
Looks like we're heading for no deal. Such an outcome will have serious consequences for economy of Irish Republic. In addition, UK won't have to pay a penny more to EU, which means big increase for Dublin. Can't understand why Irish Government seems so intent on this course. https://t.co/1L4WF1n85N

— Jeffrey Donaldson MP (@J_Donaldson_MP) November 6, 2018
The Minister of State for European Affairs said inserting a backstop review clause would not change the need for a backstop but that such a mechanism might allow negotiations to move on.
Speaking on RTÉ's Morning Ireland, Helen McEntee said that one side cannot be allowed unilaterally decide to end the backstop and Mrs May has clearly said there must be a legally operable backstop in the withdrawal agreement.
She added that the Government hopes that the backstop will remain an insurance mechanism and will not have to be used.
Ms McEntee said she hoped that talks would not go down to the wire but that in order to have a November summit, progress would need to be seen in the next couple of weeks.
Additional Reporting PA