The order to kill journalist Jamal Khashoggi came from the "highest levels" of the Saudi government, Turkish President Recep Tayyip Erdogan has said.
Mr Erdogan's comments were carried in an op-ed piece published by the Washington Post.
Mr Khashoggi, a Post columnist critical of the Saudi government and its de facto ruler Crown Prince Mohammed bin Salman, disappeared after he entered the Saudi consulate in Istanbul exactly one month ago on 2 October.
Mr Erdogan said he did not believe "for a second" that King Salman had ordered "the hit" on Mr Khashoggi, and he also refrained from directly accusing the crown prince.
An adviser to Mr Erdogan said last week that the crown prince, informally known as MbS, had "blood on his hands" over Mr Khashoggi's killing.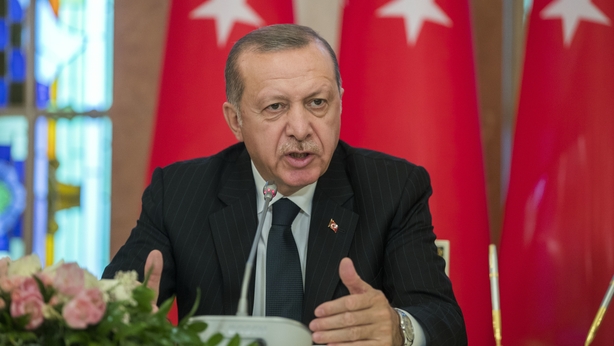 The Saudi government initially insisted Mr Khashoggi had left the consulate, later saying he died in an unplanned "rogue operation".
Last week, the kingdom's public prosecutor Saud Al Mojeb said the attack was premeditated.
"No one should dare to commit such acts on the soil of a NATO ally again. If anyone chooses to ignore that warning, they will face severe consequences," Mr Erdogan warned.
Earlier, another Erdogan adviser said the team that killed Mr Khashoggi in Istanbul cut up his body in order to dissolve it for easier disposal, the newspaper Hurriyet reported.
Yasin Aktay, who advises Mr Erdogan and was a friend of Mr Khashoggi, told Hurriyet that the body was disposed of by dismembering and dissolving.
"According to the latest information we have, the reason they dismembered his body is to dissolve it easier."
Saudi Arabia has faced a torrent of international condemnation over the killing of the royal insider-turned-critic.
Turkey's chief prosecutor on Wednesday confirmed for the first time that Khashoggi was strangled as soon as he entered the consulate as part of a planned hit, and his body was then dismembered and destroyed.
"They aimed to ensure no sign of the body was left. This is what is understood from the prosecutor's statement, said Mr Aktay, who was close to the journalist.
"Killing an innocent person is one crime, the treatment and extent of what was done to the body is another crime and dishonour."
---
Read more:
Eiffel Tower goes dark to remember murdered journalists
Istanbul prosecutor says Khashoggi was suffocated in Saudi consulate
Saudi Arabia says kingdom to prosecute Khashoggi killers
Khashoggi fiancée wants Saudi to provide more details
---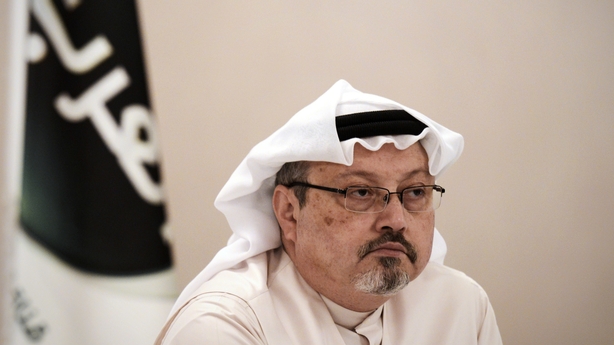 Where is Jamal Khashoggi's body?
After initially insisting Mr Khashoggi left the consulate unharmed, then saying he died in a fight, the Saudi regime admitted he was killed by a "rogue operation" on 2 October.
Turkish President Recep Tayyip Erdogan said a 15-person team came from Riyadh for the premeditated hit.
The Turkish prosecutor's office revealed in a statement on Wednesday that after the body was dismembered it was "destroyed", but did not say how.
After the statement was released, a Turkish official told the Washington Post - for which Mr Khashoggi was a contributor - that authorities are investigating a theory the body was destroyed in acid, either in the consulate or the Saudi consul's nearby residence.
A stream of reports in Turkey's pro-government media - often sourcing anonymous Turkish officials - have laid out a number of theories about the murder and its aftermath.
Some claimed the body was wrapped up in a rug to be transported from the scene, while others said the hit squad carried the dismembered corpse away in several bags.
There have also been reports - citing an unnamed Saudi official - that the team handed the body over to a local Turkish collaborator, who then disposed of it.
President Erdoğan has repeatedly called on Riyadh to identify any such "local co-conspirators".
However the Saudi chief prosecutor, who visited Istanbul this week, said Saudi authorities had made no such statement about local collaborators, according to the Istanbul prosecutor's office.
The search for the body has generated much excitement in the press, but few results -- at least that have been made public.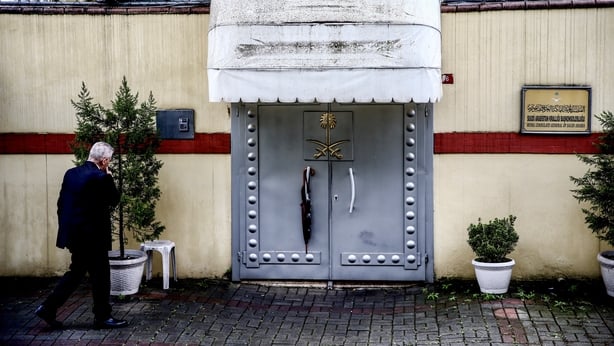 Turkish police first searched the consulate and the Saudi consul general's residence, then hunted for evidence in a vast forest on the fringes of Istanbul.
They also investigated an abandoned car belonging to the Saudi consulate in an underground car park in Istanbul.
Saudi authorities denied Turkish police permission to search a well in the garden of the consulate, but did allow them to take water samples for analysis, local media reported.
Turkish investigators have also used a robotic arm to inspect the sewers around the consulate.
Saudi Arabia, for its part, has kept quiet on the location of the body as Turkey and the international community demand answers.
Saudi Foreign Minister Adel al-Jubeir said on 21 October that a "tremendous mistake" had been made and those responsible would be punished -- 18 suspects have been arrested in Riyadh.
"We don't know where the body is," he said.