Turkey's president has dismissed Saudi Arabia's efforts to blame the killing of journalist Jamal Khashoggi on rogue operatives, calling it a planned, "savage killing".
Tayyip Erdogan has demanded Riyadh to punish those responsible, no matter how highly placed.
However, he stopped short of mentioning Crown Prince Mohammed bin Salman, the powerful de facto ruler of Saudi Arabia who some US lawmakers suspect ordered the killing of Mr Khashoggi, a columnist for the Washington Post.
Turkish investigators meanwhile found some of Mr Khashoggi's personal possessions during a search of a Saudi consulate vehicle in Istanbul, according to CNN Turk.
Mr Erdogan said the person who orchestrated the killing must "be brought to account".
The comments were his most explicit yet in a case that has sparked global outrage.
Turkish officials suspect Mr Khashoggi, a US resident and critic of the crown prince, was killed and dismembered inside the consulate by Saudi agents on 2 October.  
We need your consent to load this rte-player contentWe use rte-player to manage extra content that can set cookies on your device and collect data about your activity. Please review their details and accept them to load the content.Manage Preferences
Turkish sources say authorities have an audio recording purportedly documenting the killing. Mr Erdogan made no reference to any audio recording.
"Intelligence and security institutions have evidence showing the murder was planned," he told members of his AKParty in parliament.
"Pinning such a case on some security and intelligence members will not satisfy us or the international community," he said.
"The Saudi administration has taken an important step by admitting to the murder. From now on, we expect them to uncover all those responsible for this matter from top to bottom and make them face the necessary punishments," Mr Erdogan added.
"From the person who gave the order, to the person who carried it out, they must all be brought to account."
Riyadh initially denied knowledge of Mr Khashoggi's fate before saying he was killed in a fight in the consulate, a reaction that has met with scepticism by several western governments, straining their relations with the world's biggest oil exporter.
The kingdom has since changed parts of its official narrative about the killing, further deepening international concern.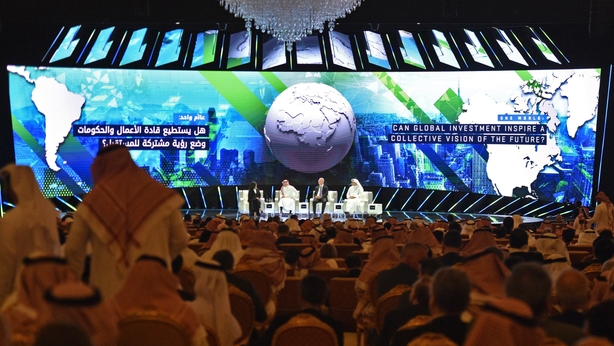 A host of western executives and governments have pulled out of a high-profile Saudi investment summit that started today.
A Saudi cabinet meeting chaired by King Salman said Riyadh would hold to account those responsible for the killing and those who failed in their duties, whoever they were.