Russia's embassy in the United States called new US sanctions draconian and said the reason for the new restrictions - allegations it poisoned a former spy and his daughter in Britain - were far-fetched.
The United States announced yesterday that it would impose fresh sanctions on Russia after Washington determined Moscow had used a nerve agent against former Russian double agent Sergei Skripal, and his daughter, Yulia, in March.
Russia has repeatedly denied responsibility for the attack, and Russia's embassy in Washington said in a statement that the US State Department's findings against it in the case were not backed by facts or evidence.
The embassy said it continued to call for an open and transparent investigation into the incident.
---
Read More:
US hits Russia with sanctions over nerve agent attack
Skripal Novichok poisoning suspects 'identified'
Nerve agent attack: What is Novichok?
---
US State Department spokeswoman Heather Nauert said the action was aimed at punishing Russian President Vladimir Putin's government for having "used chemical or biological weapons in violation of international law.
Under US legislation, the administration is obliged to act once there has been a determination that chemical or biological weapons have been used.
State Department officials said the sanctions - which are due to come into force around 22 August - were expected to include an export ban on sensitive national security technology and goods.
They could be followed by a second more punitive round of measures if the administration is unable to certify that Russia is no longer using chemical weapons or provide "reliable assurances" that it will not do so in future.
Sergei and Yulia Skripal were found unconscious on a bench in Salisbury on 4 March, having been poisoned by Novichok, a military-grade nerve agent developed by the Soviet Union during the Cold War.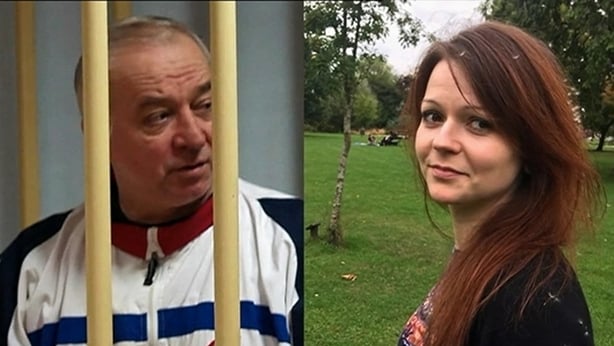 They were critically ill, but survived after spending weeks in the hospital.
Russia has strongly denied playing a role in the attack.
On 30 June, a British couple was poisoned by Novichok in a nearby town.
44-year-old mother-of-three Dawn Sturgess subsequently died, while her partner Charlie Rowley survived and was later released from hospital.
The UK and its allies have accused Russia of trying to kill the Skripals and say the two cases could be linked.
The British government welcomed the US decision to impose fresh sanctions on Russia.
Additional Reporting PA