About 50 Irish tourists have been evacuated from the Gili Islands in Indonesia after a deadly earthquake struck the region, the Irish Ambassador to Indonesia has said.
Around 4,600 tourists have been evacuated from the three tiny, coral-fringed tropical islands that lie off the northwest coast of Lombok and are popular with backpackers and divers.
The shallow 6.9-magnitude quake killed at least 98 people and destroyed thousands of buildings in Lombok on Sunday, just days after another deadly tremor hit the holiday island and killed 17.
Hundreds crowded onto its powder-white beaches yesterday, desperately awaiting transport off the normally paradise destination. Seven Indonesian holidaymakers died on the largest of the three, Gili Trawangan.
Speaking on RTÉ's Morning Ireland, Ambassador Kyle O'Sullivan said about 30 Irish people left the Gilis in the immediate wake of the quake, with the remainder evacuated by the early hours of this morning.
He said that the idyllic islands, where there are "no cars, no airport, no modern conveniences", are great for a holiday but very, very difficult during a crisis.
"The sudden movement of people trying to get off the island overwhelmed the transport system", Mr O'Sullivan said.
He added that none of the Irish caught up in the incident had suffered serious injuries.
"We are looking at people with sunburn, exhaustion, and cuts and grazes, but no serious injuries," he said.
Most of those who left the Gili Islands have been taken to the neighbouring island Bali, where there is an international airport.
However, some remain at Lombok airport due to a lack of available flights.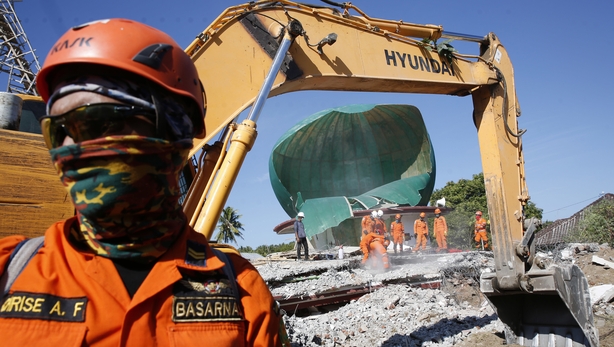 Terrified holidaymakers rushed for boats and planes to leave Lombok island and rescuers have struggled to reach hard-hit areas where survivors are in urgent need of food and shelter.
---
Read: Irish family left hotel moments before deadly quake hit
---
Rescuers have resumed the search for survivors and to recover the bodies of victims in the rubble of houses, mosques and schools destroyed in the latest disaster.
More than 20,000 people are believed to have been made homeless on Lombok, with 236 severely injured, and authorities have appealed for more medical personnel and basic supplies.
Emergency crews are working through the wreckage of a collapsed mosque in the northern village of Lading-Lading, where authorities fear a number of people are trapped.
At least one body has been recovered from the rubble of the mosque, which was reduced to a pile of concrete and metal bars, with its towering green dome folded in on itself.
Hundreds of weary tourists continue to arrive with their baggage at Bangsal harbour, the main link between Lombok and the Gilis.
Some said they felt stranded and complained about a lack of coordination and affordable transport to the tourist hub of Senggigi or Lombok's airport, where dozens slept on the floor overnight awaiting flights out.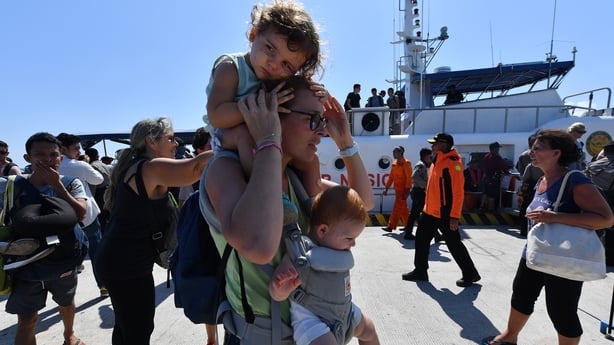 "There's a massive rush of people wanting to get out of Lombok because of unfounded rumours, such as of a tsunami," said Muhammad Faozal, the head of the tourism agency in West Nusa Tenggara province.
"We can help tourists to get to the airport but of course we can't buy them tickets for free," he said, adding that authorities were providing free accommodation, food and transport to those in need.
Lombok airport's general manager said airlines had been laying on extra flights since yesterday and that his staff had been providing stranded passengers with blankets and snacks.
"We have been doing our best to manage the tourists flocking the airport," he said. "We are doing our best so we can fly out as many as possible."
Immigration authorities said that seven foreigners - from Belgium, Britain, Czech Republic, Denmark, France, South Korea and the United States - were injured in the quake and were being treated in hospital.
Sunday's shallow tremor sent thousands of residents and tourists scrambling outdoors in Lombok, where many spent the night as strong aftershocks including one of 5.3-magnitude rattled the island.