At least 81 people have been killed in wildfires burning close to Athens, a Greek fire brigade official has said.
They include Irishman Brian O'Callaghan-Westropp who was on honeymoon with his wife Zoe Holohan in the coastal town of Mati when the fires hit.
Ms Holohan is being treated in hospital and is expected to make a full recovery.
At least 187 people, including 23 children, have been injured. The number of missing persons remains unclear.
The number exceeds the death toll of 2007, previously one of the worst on record, when 77 people died in fires in the southern Peloponnese region.
Greece: The flames have given way - what's left behind is the devastation pic.twitter.com/8vaPbXLDjb

— RTÉ News (@rtenews) July 25, 2018
Rescue workers are continuing to search charred homes and burned-out cars as the toll from this week's fires is expected to rise.
Many people fled to the sea to try to escape the flames as they tore through towns near Athens, stoked by high winds, reducing pine forests to ash and devouring hundreds of buildings.
Greek media have described the disaster as a "national tragedy", while Prime Minister Alexis Tsipras cut short a visit to Bosnia and announced three days of national mourning.
The government has not yet said how many people are still missing from the fires, which broke out on Monday, as firefighters continue to battle blazes in some areas.
Residents and terrified holidaymakers were overtaken by the flames in homes, on foot or in their cars.
A newly-wed Irishman has been confirmed dead in the Greek wildfires | https://t.co/9UkUV1pzWZ pic.twitter.com/i166OMk1bz

— RTÉ News (@rtenews) July 25, 2018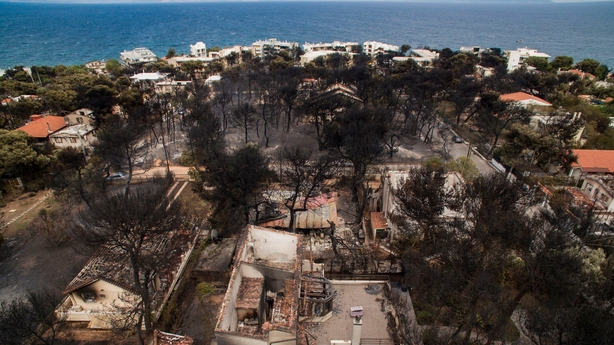 The charred bodies of 26 people, including small children, were discovered at a villa at Mati, one rescuer said.
They were huddled together in small groups, "perhaps families, friends or strangers, entwined in a last attempt to protect themselves as they tried to reach the sea", he said.
As world leaders including Pope Francis affirmed their solidarity, Greece said 308 engineers would arrive on site to assess the damage.
But "the problem is what is still hidden under the ashes," said emergency services vice president Miltiadis Mylonas.
The death toll has surpassed that from the blazes that hit Greece's southern island of Evia in 2007 in which 77 people died.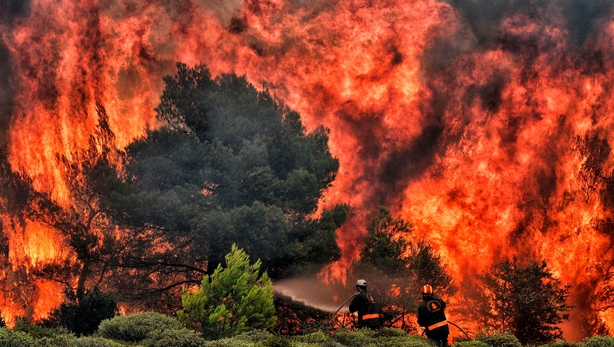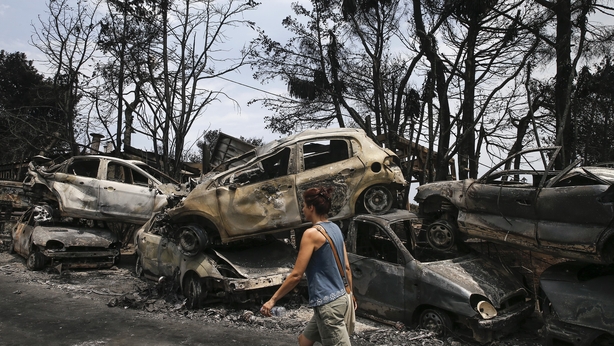 One Belgian was among the victims, said Belgium's foreign minister Didier Reynders, while in Warsaw Poland's government said a Polish woman and her son also died.
Some 187 people have been hospitalised, with 82 still being treated yesterday evening, including almost a dozen children, most of whom were in a "serious condition", the fire services said.
Dramatic video footage showed people fleeing by car as the tourist-friendly Attica region declared a state of emergency.
As flames swept through the Greek village of Mati, residents ran to the beach seeking safety | https://t.co/LroZKtp6YY pic.twitter.com/wPhzgBZFU4

— RTÉ News (@rtenews) July 24, 2018
Athanasia Oktapodi, whose home is surrounded by pine trees, said she first spotted the fire moving down the hill "and five or ten minutes later it was in my garden".
"I ran out like a crazy person, got to the beach and put my head in the water. Then the patrol boats came," said the 60-year-old.
Fire service spokeswoman Stavroula Maliri said firefighters were still searching for more victims and taking "dozens of calls" from people looking for relatives.
Winds of above 100km/h in Mati caused a "sudden progression of fire" through the village, said Ms Maliri.