At least 74 people have died in a series of wildfires that broke out east of the Greek capital.
Up to 200 people are thought to have been injured and dozens are missing.
One of the fires swept through the coastal town of Mati, trapping people in cars and on the edge of cliffs as others were forced to jump to survive.
The fire yesterday afternoon was one of several that broke out in the country amid a sweltering heatwave.
"The country is going through an unspeakable tragedy," Greek Prime Minister Alexis Tsipras said in a televised address.
"Today, Greece is mourning and we are declaring three days of national mourning in the memory of those who perished."
Mati is in the Rafina region, which is a popular retreat with local tourists, particularly pensioners and children at holiday camps.
A spokesperson for the Department of Foreign Affairs has said it is "providing consular assistance to a number of individuals in Greece."
The department has advised anyone affected by the wildfires who needs assistance to call the Irish Embassy in Athens on +30 210 723 2771.
Those concerned about an Irish national in Greece can call the department in Dublin on (01) 4082000.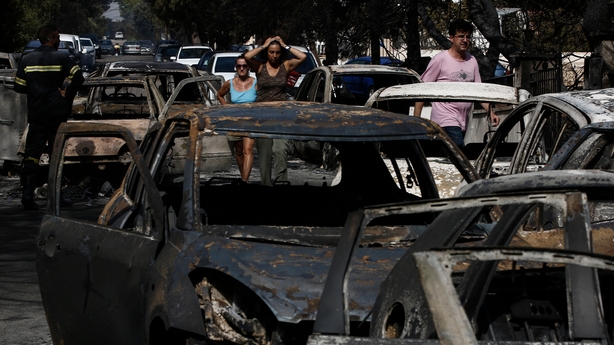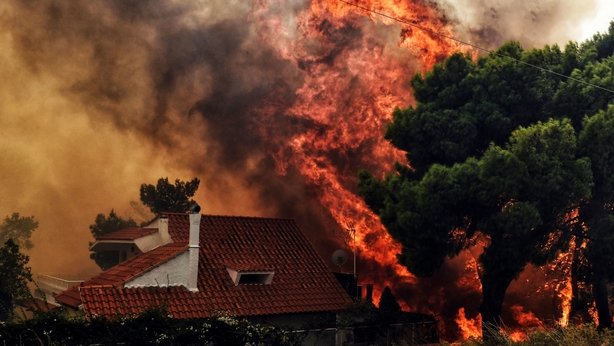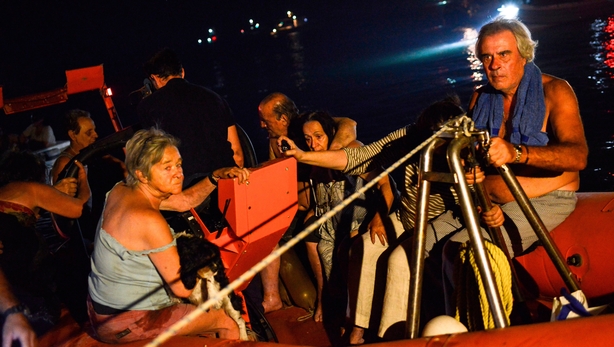 ---
Read more:
Deadliest wildfires in Europe this century
Fires sweep much of Europe
---
One of the youngest victims is thought to be a six-month-old baby who died of smoke inhalation, officials said.
Hundreds of people had scrambled to the sea as the blaze closed in close to the shore. They were picked up by passing boats.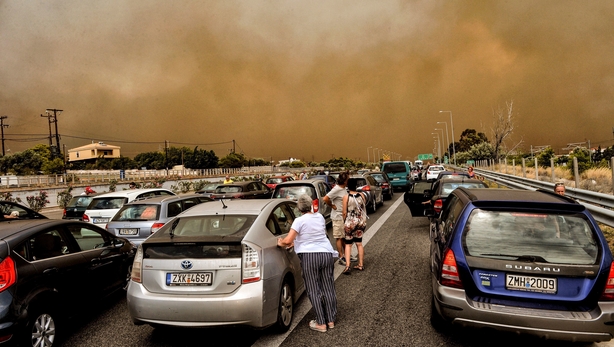 Some parts of Mati were still smouldering white smoke early this morning.
Burned-out cars were scattered outside gated compounds where three and four-storey buildings bore signs of fire damage.
"We are dealing with something completely asymmetric," said Mr Tsipras after cutting short a visit to Bosnia.
Greece issued an urgent appeal for help to tackle fires that raged out of control in several places across the country, destroying homes and disrupting major transport links.
Cyprus and Spain offered assistance after Greece said it needed air and land assets from European Union partners.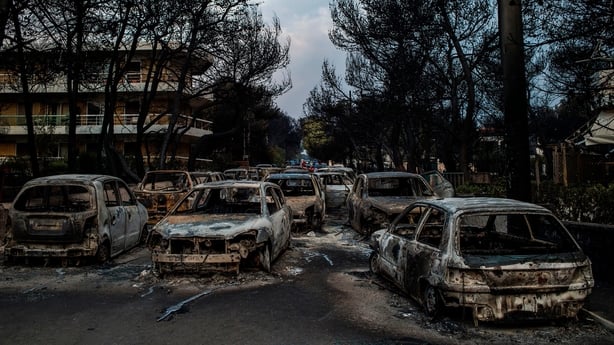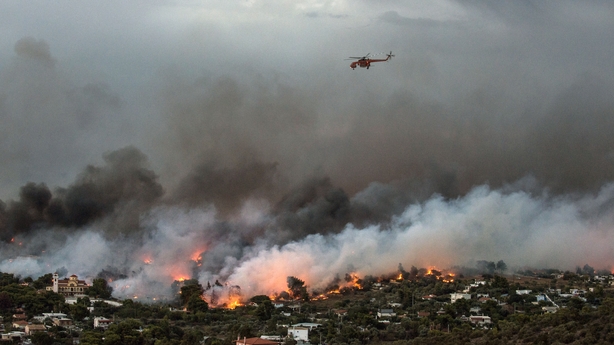 We need your consent to load this rte-player contentWe use rte-player to manage extra content that can set cookies on your device and collect data about your activity. Please review their details and accept them to load the content.Manage Preferences
Authorities said they would be making use of an unmanned drone from the US to monitor and track any suspicious activity.
Mr Tsipras and Greek officials have expressed misgivings at the fact that several major fires broke out at the same time.
Wildfires are not uncommon in Greece, and a relatively dry winter helped create current tinder-box conditions. It was not immediately clear what ignited the fires.
In a statement, President Michael D Higgins said he had written to President Prokopis Pavlopoulos to express his sympathies with the families of those who lost their lives and livelihoods in the tragic fires in the Attica region.
President Higgins said he was conscious of the resilience of the Greek people, who he said should be assisted by all of us in these difficult times.
Sweden battles 27 fires
Elsewhere, Sweden's civil protection agency said there were 27 active fires across the country, as temperatures were expected to soar as high as 35C this week.
Other European countries including France, Italy and Germany have sent a mix of planes, trucks and firefighters to help tackle the blazes as Sweden, where usual summer temperatures are closer to 23C, has struggled to contain the crisis.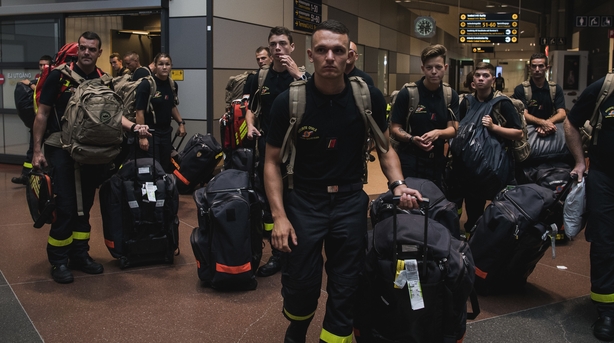 Some 25,000 hectares of land has already gone up in smoke or continues to burn. At least four of the fires had not been brought under control and weather conditions were unfavourable.
Sweden is experiencing an unprecedented drought and soaring temperatures, which have reached the highest in a century.
There has been practically no rain since the beginning of May in the Nordic country, aside from a paltry 13mm in mid-June.
The Forestry Bureau said in a statement yesterday that the value of the destroyed forests was 900m kronor (€87m).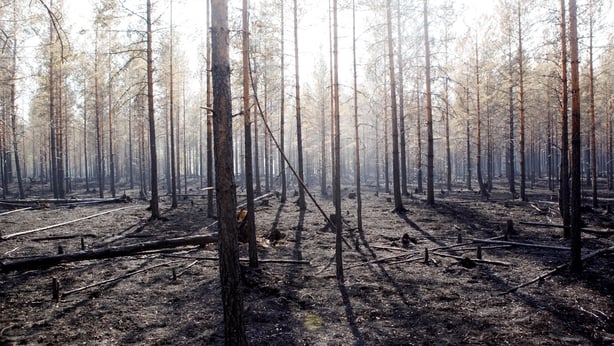 Other northern European nations have been struggling to contain forest fires as the temperature shows no sign of dropping.
In Finland's northernmost Lapland province, fires have ravaged woods and grassland close to the border with Russia.
Norway, which this year experienced its hottest May temperatures on record, has also seen several small fires, and one firefighter was killed on 15 July while trying to contain a blaze.
Fires have raged for five days in Latvia, destroying more than 800 hectares in the Baltic state's western regions.
Meteorologists warned that the high temperatures were persisting and no rain was expected in Latvia for the next two weeks.