The boys rescued from a Thai cave were passed "sleeping" on stretchers through the treacherous pathways, a former Thai Navy SEAL who was the last diver to leave the cave has said.
"Some of them were asleep, some of them were wiggling their fingers ... (as if) groggy, but they were breathing," Commander Chaiyananta Peeranarong said as he gave the first clear details of a remarkable rescue that ended yesterday saving all 12 boys and their football coach.
He added that doctors stationed along the dark corridors of the Tham Luang cave were constantly checking their condition and pulse.
"My job was to transfer them along," he said, adding the "boys were wrapped up in stretchers already when they were being transferred".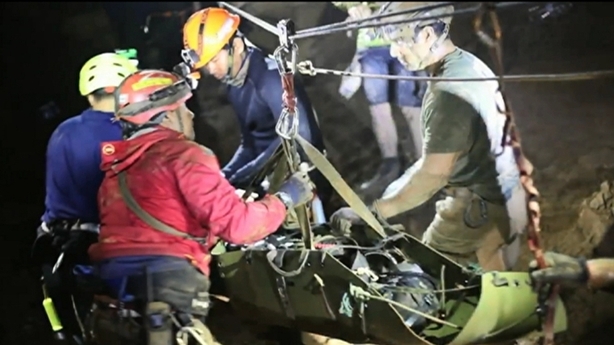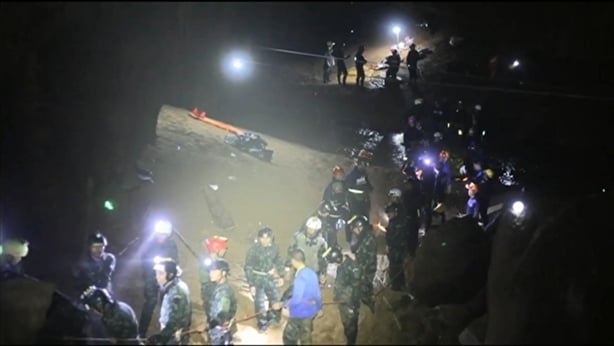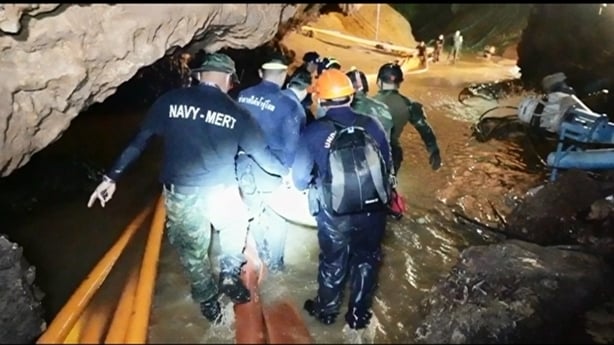 Prime Minister Prayuth Chan-o-cha said the boys had been given a "minor tranquiliser" to help calm their nerves but denied that they had been sedated for the rescue.
He asked that the boys be given time and space to recover. "The important thing is ... personal space," Mr Prayuth told reporters.
"The best way is not to bother them and let them study."
The 12 boys and their coach lost an average of 2kg during their 17-day ordeal but were generally in good condition and showed no signs of stress, a senior health official has said.
They were taken by helicopter to a hospital about 70km away and will remain in quarantine for the time being.
An inspector for Thailand's health department said: "From our assessment, they are in good condition and not stressed.
"The children were well taken care of in the cave. Most of the boys lost an average of 2kg."
---
Read:
Ennis-based diver takes part in Thailand cave rescue
Thai cave rescue: How it unfolded
Thai cave rescue: What the search teams faced
---
Rescue mission chief Narongsak Osottanakorn told a news conference the boys were just being children when they got lost and no one was to blame.
"We don't see the children as at fault or as heroes. They are children being children, it was an accident," he said.
He said falling oxygen levels inside the cave complex had added a sense of urgency to the rescue.
The commander of the navy SEAL unit that oversaw the rescue, Rear Admiral Apakorn Yuukongkaew, hailed the international effort.
"We are not heroes. This mission was successful because of cooperation from everyone," he said.
"For SEALs, this is what we were trained for. The navy has a motto: 'We don't abandon the people'."

Official help came from Britain, the United States, Japan, Laos, Myanmar, China and Australia, a government document showed. There were volunteers from Denmark, Germany, Belgium, Canada, Ukraine and Finland.
We need your consent to load this rte-player contentWe use rte-player to manage extra content that can set cookies on your device and collect data about your activity. Please review their details and accept them to load the content.Manage Preferences
A video of the boys in hospital was shown at the news conference. Some, wearing surgical masks, lay on their beds, while others were sitting up.
Parents of the first four boys freed on Sunday have been able to visit them but had to wear protective suits and stand two metres away as a precaution.
The inspector from the health department said one boy from the last group rescued yesterday had a lung infection and they were all were given vaccinations for rabies and tetanus.
The group ventured into the vast cave complex in northern Thailand after football training on 23 June and their rescue dominated front page headlines in Thailand.
"All Wild Boars Saved," read one headline.
"Hooyah! Mission accomplished," read another, echoing the rallying cry of the Thai navy SEALs involved in the rescue.
Mr Osottanakorn thanked people in Thailand and from around the world soon after the final rescues were completed.
A senior Australian police officer acknowledged the degree of international cooperation "in a very unfriendly environment".
"It is amazing what the human being can do. There are extraordinary people doing extraordinary things," Glenn McEwan, the Australian Federal Police's Asia manager, told reporters in Chiang Rai.
Audiences around the world cheered the team's successful rescue after the saga generated messages of help, prayers and finally - expressions of relief.
The drama in Thailand has even resonated as far as Russia, where the World Cup is reaching its final stages. Players from France and England welcomed news of the rescue and sent their best wishes to the "Wild Boars" on Twitter.
"This victory goes to the heroes of the day, well done boys, you are so strong," French midfielder Paul Pogba tweeted after his team beat Belgium 1-0 overnight to reach the final.
This victory goes to the heroes of the day, well done boys, you are so strong ???? #thaicaverescue #chiangrai pic.twitter.com/05wysCSuVy

— Paul Pogba (@paulpogba) July 10, 2018
Manchester City and England defender Kyle Walker, whose team are playing Croatia in the second semi-final, said he wanted to send shirts to the boys.
"Amazing news that all of the Thai kids are out of the cave safely!" Walker tweeted.
A Google search yesterday for the words "Thai cave rescue" revealed 359 million results, with interest peaking since last week when British divers found the boys and the rescue mission began.