Turkish President Tayyip Erdogan has won sweeping new executive powers after his victory in landmark elections that saw his AK Party and its nationalist allies secure a majority in parliament.
Mr Erdogan's main rival, Muharrem Ince of the Republican People's Party (CHP), conceded but branded the elections "unjust" and said the presidential system that now takes effect was "very dangerous" because it would lead to one-man rule.
Mr Erdogan, 64, the most popular - yet divisive - leader in Turkey's modern history, told jubilant, flag-waving supporters there would be no retreat from his drive to transform the country, a deeply polarised nation that is both a NATO member and, at least nominally, a candidate to join the European Union.
He is loved by millions of devoutly Muslim working class Turks for delivering years of stellar economic growth and overseeing the construction of roads, bridges, airports, hospitals and schools.
But his critics, including human rights groups, accuse him of destroying the independence of the courts and media freedoms.
A crackdown launched after a failed 2016 coup has seen 160,000 people, including teachers, journalists and judges, detained.
Mr Erdogan and the AK Party claimed victory in yesterday's presidential and parliamentary elections after defeating an opposition that had gained considerable momentum recently and looked capable of staging an upset.
"It is out of the question for us to turn back from where we've brought our country in terms of democracy and the economy," Mr Erdogan said last night.
With virtually all votes counted, Mr Erdogan took 53% against Mr Ince's 31%, while in the parliamentary vote the AKP took 42.5% and its MHP nationalist allies secured 11%, outstripping expectations.
Erdogan in power - key periods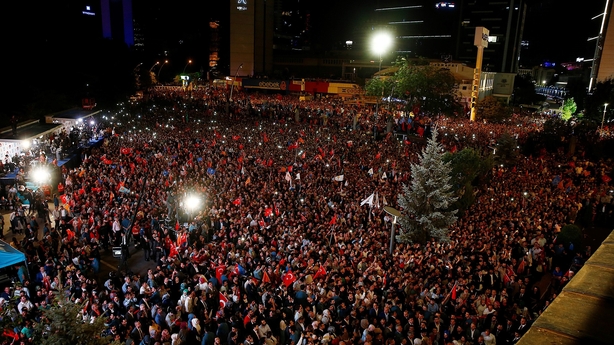 Voter turnout was high, at nearly 87%. The High Election Board (YSK) declared the elections "healthy".
Turkish markets initially rallied on hopes of increased political stability, setting aside concerns over the direction of economic and monetary policy. But the lira, down about 18% since the start of 2018, surrendered its early gains.
The vote ushers in a powerful executive presidency backed by a narrow majority in a 2017 referendum.
The office of prime minister will be abolished and Mr Erdogan will be able to issue decrees to form and regulate ministries and remove civil servants, all without parliamentary approval.
"The new regime that takes effect from today is a major danger for Turkey ... We have now fully adopted a regime of one-man rule," Mr Ince told a news conference.
His secularist CHP won 23% in the new parliament and the pro-Kurdish HDP nearly 12%, above the 10% threshold needed to enter parliament.
Critics say that campaigning took place under deeply unfair conditions, with Mr Erdogan dominating media coverage in the run-up to the vote, and his opponents getting little air time.
The HDP's presidential candidate, Selahattin Demirtas, campaigned from a prison cell, where he is detained on terrorism charges he denies. He faces 142 years in prison if convicted.
The elections were held under the state of emergency imposed shortly after the 2016 coup, in which at least 240 people were killed.
Mr Erdogan has said he will soon lift the state of emergency.
The state-run Anadolu news agency said that, based on unofficial results, the AK Party and its MHP ally would hold 343 seats in the 600-seat parliament - 293 of those for the AKP and 50 for the nationalists.
The main opposition CHP will have 146 seats, the pro-Kurdish HDP 67 and the breakaway nationalist Iyi Party 44.
Turkey's relations with the European Union have become strained in recent years amid disputes over immigration and Ankara's human rights record, especially since the post-coup crackdown.
The EU has said that election campaign conditions had not been "not equal".
"The restrictive legal framework and powers granted under the ongoing state of emergency restricted the freedoms of assembly and expression, including in the media," the EU's Foreign Affairs and Security Policy Commissioner Federica Mogherini and Enlargement Commissioner Johannes Hahn said in a joint statement.