Grenfell Tower survivors and bereaved families have been joined by hundreds of mourners to pay silent respect to the dead one year on.
Those touched by the tragedy which claimed 72 lives gathered near the foot of the block in west London for a moving ceremony which was closed to the public.
Many arrived dressed in green, the colour that has come to symbolise the events of 14 June 2017.
The 72 seconds of silence which fell over North Kensington shortly before midday led a commemoration observed across the UK.
The Mayor of London Sadiq Khan was among those to lay a wreath at the fence still separating the tower's shell from the rest of London.
Nicholas Burton, a former 19th floor resident, whose wife Maria del Pilar Burton died in January, was the first of the bereaved to lay flowers.
He said: "It was emotional, of course, but it felt good because everyone around is your community, they're friends that you know so it didn't feel uncomfortable or strange, everyone just wanted to hug or say hello.
"I was just thinking about my wife during the minute's silence, to tell you the truth, hoping she's OK and I got a bit emotional.
"Then you remember everyone else who died in that tower and I know that I'm lucky to have had a bit of time with my wife."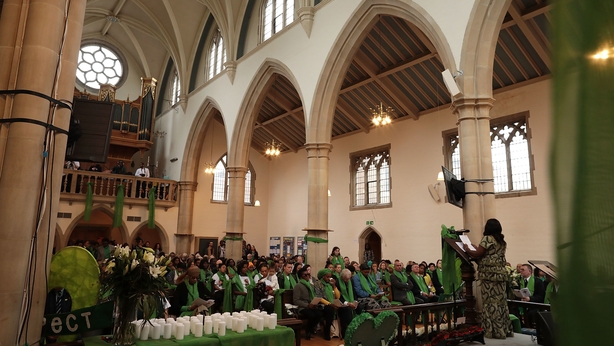 A short time later grieving families from a separate church service led a hushed crowd to the tower.
Many held huge green hearts emblazoned with words such as "humanity", "love", "unity" and "grace".
Earlier, the day's first service saw a community mosaic unveiled and a gospel choir perform songs including 'Bridge Over Troubled Water', the Simon and Garfunkel song which was recorded as a single in aid of those affected.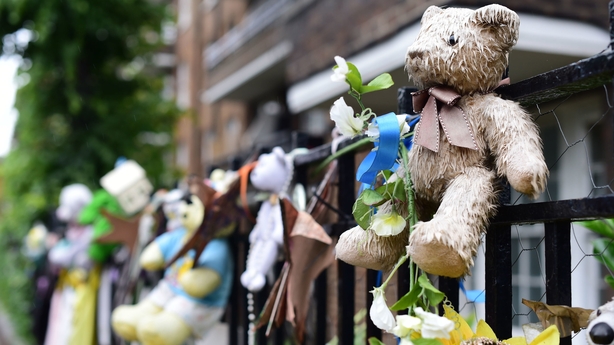 Lampposts, railings and zebra crossings throughout the neighbourhood are decorated with green fabric and teddy bears, while a giant floral heart greets commuters at nearby Latimer Road underground station.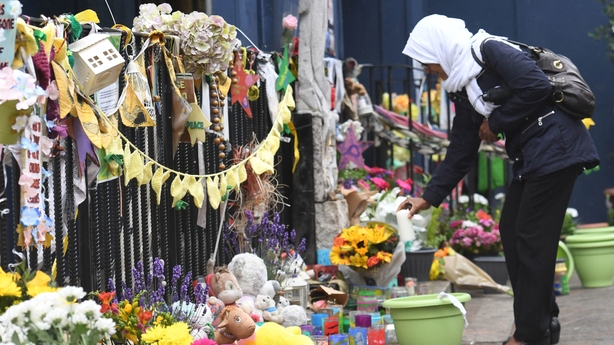 Bishop of Kensington Dr Graham Tomlin said there was an atmosphere of "quiet dignity, a sombre mood in the air but a quite determined mood at the same time".
He said: "I think today is a really important day for the whole nation to remember Grenfell. Clearly there are a lot of other things going on in people's lives but today is a day that, a year on, we can remember that terrible night and those events afterwards. And we learn the lessons of today.
"I think we could change a lot of things, we could identify who was responsible, we can make building regulation changes, but unless we ask some more fundamental questions about the way we relate to each other in society and how we care for one another, then we will just go back to the way we normally are.
"I think Grenfell is a once-in-a-generation opportunity to ask some really deep questions about the way we live together, the way we care for each other in society."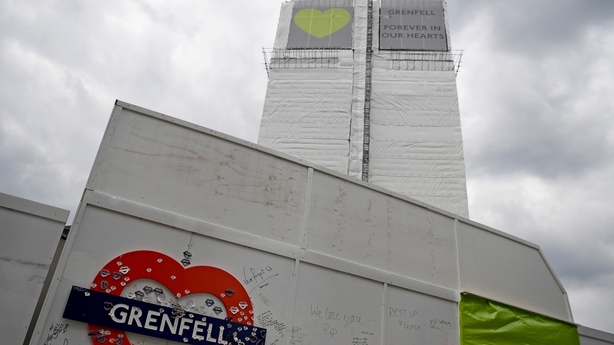 Last night, clutching flowers and placards bearing images of their lost loved ones, dozens of tearful survivors of Britain's deadliest domestic fire in post war history joined relatives on an emotional walk through the area.
The procession - accompanied by a portable speaker playing a melancholic track on repeat - ended in the shadow of the burnt-out block just prior to the 12.54am anniversary of the blaze's outbreak.
One by one, relatives announced the names of the deceased accompanied by a flurry from a bongo drum, before pinning their pictures at the "wall of truth" - a section of the fencing around the tower featuring messages and candles.
Then at 12.54 am, heralded by a short trumpet blast, an eerie silence of 72 seconds - in memory of each of the people who perished, along with a stillborn baby - descended on the sombre site, as light rain started to fall.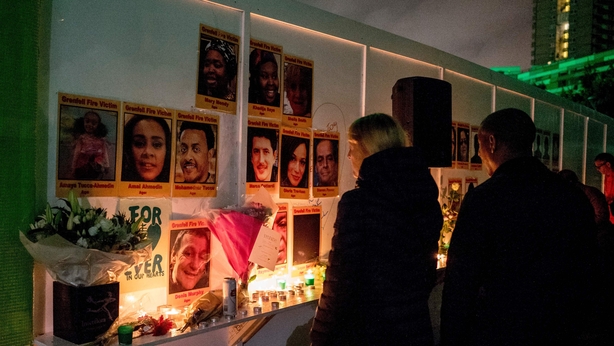 The fire started in the early hours of 14 June 2017 through a faulty fridge in the kitchen of a fourth-floor flat in the 24-storey tower.
Organisers unveiled banners and t-shirts emblazoned with slogans demanding justice.