Belgian authorities are facing questions over why a prison inmate, believed to have been radicalised in jail, was let out for a day and used it to kill three people in Liege, as well as a former associate.
The justice minister, who oversees the prison service, said he felt "responsible" for yesterday's bloodshed in which two policewomen and a man were killed. The attacker was later shot dead by police.
"The question of whether this man should have been given leave is striking because he killed three completely innocent people with a wish to kill himself," Koen Geens told RTBF radio.
"I have to examine my own conscience."
Interior Minister Jan Jambon said authorities were still examining the motives of the killer, identified by public media as Benjamin Herman.
The 31-year-old drug dealer had been in jail but was let out for two days on Monday to prepare for an eventual release in 2020.
The Islamic State group has claimed responsibility for the attack, but has provided no evidence for its claim.
A police source told Reuters that Herman had shouted "Allahu Akbar" during a shootout with officers at a school in Liege after killing his three victims.
He had earlier stabbed two policewomen to death, taken their pistols, shot dead a man in a car and taken two women hostage.
Confirming that Herman was also believed to have killed an associate whose body was found south of Liege earlier yesterday, Mr Jambon told RTL radio: "There are signs he was radicalised in prison but is it that radicalisation which drove him to commit these acts?
"It could have been because he had nothing to look forward to, because he also killed someone the night before, the guy's psychology and the fact, it seems, he may have been on drugs."
He said that although Herman was flagged up in security reports on possibly violent Islamists, he had appeared to be something of a fringe figure.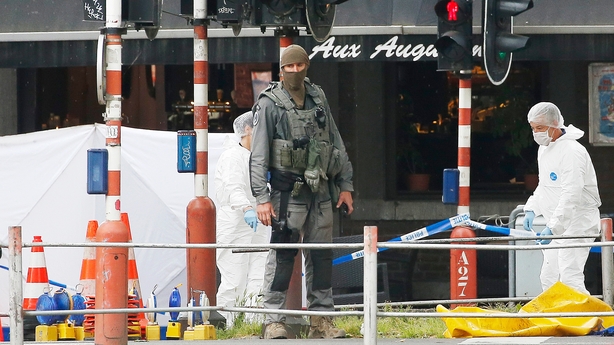 A Belgian security source said that Herman, whose age has been as 36, had converted to Islam while in detention and was suspected of extreme views.
In and out of jail for a variety of crimes since 2003, Herman may have found a path to violence that has heightened concerns that Europe's prisons are becoming incubators for radicalism.
In Belgium, a prisoner's inclusion on a state security list as a suspected radical is not automatically passed on to all police or the prison service, experts say.
It was the 14th time since his detention that he was granted temporary leave, to help him prepare for eventual reintegration into society, Mr Geens said.
"Everyone in Belgium is asking the same question: how is it possible that someone convicted of such serious acts was allowed to leave prisons?" Deputy Prime Minister Alexander de Croo was quoted as saying.
The national crisis centre, on high alert since a Brussels-based Islamic State cell helped kill 130 people in Paris in 2015, did not raise its alert level, an indication follow-up attacks were not expected.