A gunman on a police watchlist for contacts with Islamist extremists launched a suspected terror attack in Belgium this morning, shooting dead two female police officers with their own weapons before killing a bystander.
The bloodshed in the eastern industrial city of Liege began around 10:30 am (9.30am Irish time) when the attacker armed with a knife repeatedly stabbed the two officers before using their own firearms to kill them, prosecutors said.
Federal prosecutors said they had launched a terror investigation into the incident.
Belgium remains on high alert after a string of attacks including twin suicide bombings in Brussels in 2016 claimed by the Islamic State group.
"Armed with a knife, the suspect followed and attacked two police officers, and used their own firearms to kill them," prosecutor Philippe Dulieu told a news conference.
"He continued on foot, attacking a parked vehicle where he opened fire on a 22-year-old man in the passenger seat. The young man died.
"He then continued and entered the Leonie de Waha school. He took a woman working there as hostage.
"Police intervened. He came out firing on the police officers, wounding several before he was killed."
A source close to the investigation said that the gunman was on a special police watchlist because of his contacts with radical Islamists.
Sources named the attacker as Benjamin Herman, born in 1982, saying he had past convictions for robbery, violence and drug dealing.
He was reported by Belgian broadcaster RTBF to have been released from prison on yesterday.
"He is suspected of having been radicalised (in prison)... He has been reported or presumed to be belonging to the entourage of an Islamist recruiter," a source said.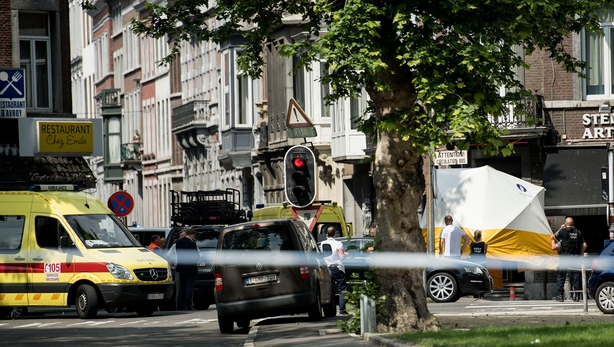 A Twitter user posted dramatic footage of the violent climax to the incident.
As a group of armed officers approach the entrance to the school, the black-clad gunman bursts out with a gun in each hand, before collapsing under a deafening hail of police bullets.
Liege police chief Christian Beaupere said it was "clear that the assassin's objective was to attack the police".
He added that one of the four officers wounded in the attack had suffered a serious leg injury.
Liege, a major city in Western Europe's former industrial heartland, was the scene of another bloody shootout in 2011.
In that attack a former convict armed with grenades and an automatic rifle killed six people and wounded more than 120.
Prime Minister Charles Michel denounced what he called the "cowardly and blind violence" of the attack.
"All our support for the victims and their loved ones. We are following the situation with the security services and the crisis centre," he tweeted.
There was support from other European countries, with French President Emmanuel Macron condemning the incident as a "terrible attack" and expressing the "solidarity of the French people".
British Prime Minister Theresa May said the UK "stands resolute with our Belgian allies against terror".
A major security cordon was set up around the area, while panicked parents came to collect their children from the school complex.
The governor of Liege province said all the children and staff were safe and unhurt.
Belgium has been on high alert since authorities in January 2015 smashed a terror cell in the town of Verviers that was planning an attack on police.
The cell also had links to Abdelhamid Abaaoud, the mastermind of the November 2015 Islamic State attacks on Paris that killed 130 people.
Belgium further raised its terror alert level after the Paris attack and placed the capital Brussels on lockdown for a week.
The country was then hit itself by IS suicide attacks on Brussels airport and a metro station, which killed 32 people in March 2016.
The country's law enforcement agencies and intelligence services came under intense scrutiny for apparently missing a series of leads after the Paris attacks that could have led to the Brussels bombers.