Cuban Communist Party stalwart Miguel Diaz-Canel has been sworn in to replace Raul Castro as president, a new chapter for the island after nearly 60 years of rule by the Castro brothers but a change that is aimed at preserving Cuban socialism.
The National Assembly swore in Mr Diaz-Canel, with 603 out of 604 officials present voting for the 57-year old, marking a generational shift from 86-year old Mr Castro.
The transition, while a historic shift from an era that started with Fidel and Raul Castro's 1959 revolution, was not expected to herald sweeping changes to the island's state-run economy and one-party system, one of the last in the world.
Mr Diaz-Canel is seen as a loyalist of the Communist Party, which is designated by the constitution as Cuba's guiding political force, and he has worked his way up the party's ranks over three decades.
Mr Castro, who was president for ten years since taking over from his ailing older brother Fidel, will retain considerable clout as he will remain head of the Communist Party until a congress in 2021.
For many Cubans, struggling with economic hardships and frustrated with the government's emphasis on continuity rather than change, the transition in leader is seen as unlikely to bring much beyond the symbolism of a new leader.
Cubans hope the next government can resurrect one of the world's last Soviet-style centrally planned economies that has failed to improve under limited market reforms by Mr Castro.
We need your consent to load this rte-player contentWe use rte-player to manage extra content that can set cookies on your device and collect data about your activity. Please review their details and accept them to load the content.Manage Preferences
---
Read More
Cuba: Castros, communism and cigars
Cuba confirms sole candidate to replace Raul Castro
---
Mr Diaz-Canel has been widely expected to take over from Mr Castro, who made it clear his deputy was his personal choice.
He spent decades climbing the party ranks, becoming Raul Castro's right-hand man in 2013.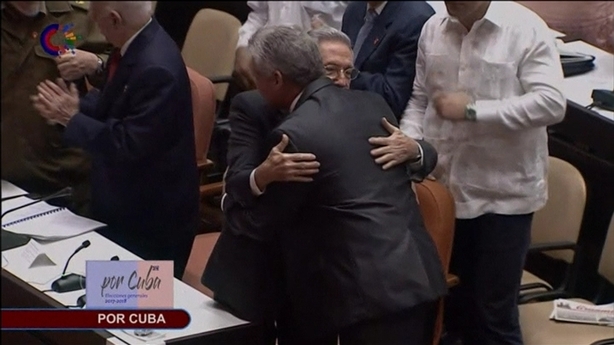 The confirmation of a new president comes on the 57th anniversary of the Bay of Pigs invasion in 1961, when the CIA tried to overthrow the leader of the 1959 revolution, Fidel Castro.
Cuba has long proclaimed the episode as American imperialism's first great defeat in Latin America.
Raul Castro has been in power since 2008, when he took over after illness sidelined Fidel, who died in 2016 aged 90.
Between them, the Castro brothers ruled Cuba for nearly 60 years, making the Caribbean island a key player in the Cold War and helping keep communism afloat despite the collapse of the Soviet Union.