Facebook will investigate "tens of thousands" of apps to discover if any other companies have accessed data in a similar way to Cambridge Analytica, Mark Zuckerberg has told US politicians.
He offered apologies to politicians as he made a long-awaited appearance in a US congressional hearing on the hijacking of personal data on millions of users.
The 33-year-old is facing tough questioning from a joint hearing of the US Senate's commerce and judiciary committees.
Reading from his written testimony, Mr Zuckerberg repeated a statement he had previously made, saying the misuse of data "was my mistake, and I'm sorry".
"It will take some time to work through all of the changes we need to make, but I'm committed to getting it right," Mr Zuckerberg told the Senate hearing.
Facebook faces a growing crisis of confidence among users, advertisers, employees and investors after acknowledging that up to 87 million people, mostly in the United States, had their personal information harvested from the site by Cambridge Analytica, a political consultancy that has counted US President Donald Trump's election campaign among its clients.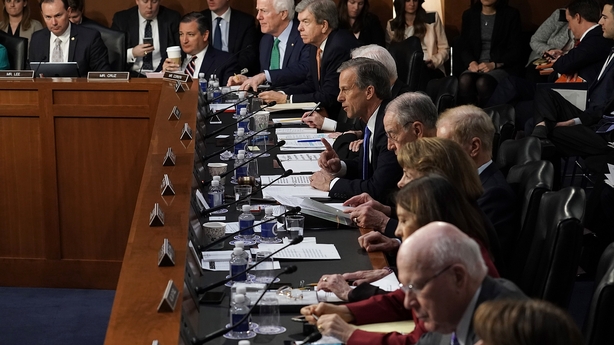 John Thune, chairman of the US Senate Commerce, Science and Transportation committee, struck an adversarial tone in his opening remarks
"In the past, many of my colleagues on both sides of the aisle have been willing to defer to tech companies efforts to regulate themselves. But this may be changing," he said.
Senator Charles Grassley, chair of one of the committees holding the hearing, said the scandal involving the British firm Cambridge Analytica "was clearly a breach of consumer trust and a likely improper transfer of data."
The revelation on data mishandling "has exposed that consumers may not fully understand or appreciate the extent to which their data is collected, protected, transferred, used and misused," Mr Grassley said.
Senator Dick Durbin said: "Mr Zuckerberg, would you be comfortable sharing with us the name of the hotel you stayed in last night?"
After a pause, and some laughter from himself and the room, Mr Zuckerberg said: "No."
"If you messaged anyone this week would you share with us the names of the people you have messaged?" Mr Durbin responded.
"Senator, no, I would probably not choose to do that publicly here," Mr Zuckerberg said.
Mr Durbin said: "I think that may be what this is all about: your right to privacy, the limits of your right to privacy, and how much you give away, in modern America, in the name of connecting people around the world."
Mr Zuckerberg, who founded Facebook in his Harvard University dorm room in 2004, is fighting to prove to critics that he is the right person to go on leading what has grown into one of the world's largest companies.
On Friday, Mr Zuckerberg threw his support behind proposed legislation requiring social media sites to disclose the identities of buyers of online political campaign ads.