US President Donald Trump said there would be a "big price to pay" after medical aid groups reported dozens of people were killed by poison gas in a besieged rebel-held town in Syria.
As international officials worked to try to confirm the chemical attack which happened late yesterday in the town of Douma, Mr Trump took the rare step of directly criticising Russian President Vladimir Putin in connection with the incident.
A joint statement by the medical relief organisation Syrian American Medical Society (SAMS) and the civil defence service, which operates in rebel-held areas, said 49 people had died in the attack. Others put the toll even higher.
SAMS said a chlorine bomb hit Douma hospital, killing six people, and a second attack with "mixed agents", including nerve agents, had hit a nearby building.
The Syrian state denied government forces had launched any chemical attack and Russia, President Bashar al-Assad's most powerful ally, called the reports bogus.
Many dead, including women and children, in mindless CHEMICAL attack in Syria. Area of atrocity is in lockdown and encircled by Syrian Army, making it completely inaccessible to outside world. President Putin, Russia and Iran are responsible for backing Animal Assad. Big price...

— Donald J. Trump (@realDonaldTrump) April 8, 2018
....to pay. Open area immediately for medical help and verification. Another humanitarian disaster for no reason whatsoever. SICK!

— Donald J. Trump (@realDonaldTrump) April 8, 2018
The White House declined to clarify what consequences Mr Trump had in mind.
Last year, the United States launched a cruise missile strike on a Syrian air base days after a sarin gas attack in northwestern Syria blamed on Mr Assad.
The Russian Foreign Ministry warned against any military action on the basis of "invented and fabricated excuses", saying this could lead to severe consequences.
The United Nations Security Council is likely to meet tomorrow afternoon on the chemical attack at the request of the United States and eight other members, diplomats said.
The UK, France, Poland, Sweden and the Netherlands are among those who want to discuss the chemical attack.
We need your consent to load this rte-player contentWe use rte-player to manage extra content that can set cookies on your device and collect data about your activity. Please review their details and accept them to load the content.Manage Preferences
British Foreign Secretary Boris Johnson described the attack as deeply disturbing and said the international community must respond.
In a statement, Mr Johnson said if it is confirmed as a chemical weapon attack by the Syrian government, it would be an "appalling example of the Asad regime's brutality and blatant disregard for the Syrian people".
At least 80 civilians have been killed in Syria since Friday after the regime launched fresh air raids on rebel-held areas of Eastern Ghouta, according to the Syrian Observatory for Human Rights.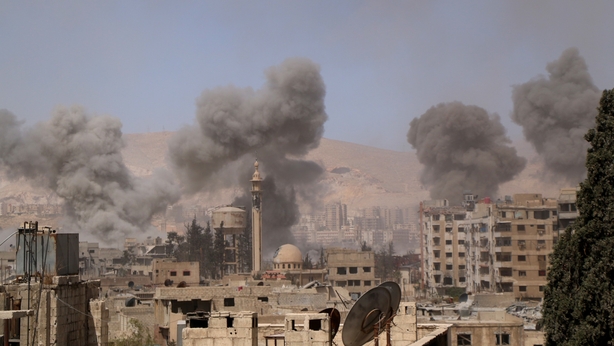 Turkey's foreign ministry condemned the attacks, saying there is "strong suspicion" they were carried out by regime forces.
A statement from the ministry added that the Syrian regime's "record on use of chemical weapons is known by the international community".
President Bashar al-Assad has won back control of nearly all of Eastern Ghouta in a Russian-backed military campaign that began in February, leaving just Douma in rebel hands.
After a lull of a few days, government forces began bombarding Douma again on Friday.
The offensive in Ghouta has been one of the deadliest of the seven-year-long war, killing more than 1,600 civilians, according to the Syrian Observatory for Human Rights.
Humanitarian crisis is 'deep and it's worsening', says UN adviser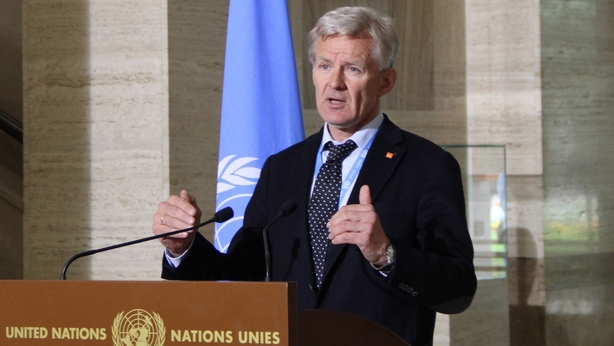 Meanwhile, the UN's Humanitarian Adviser on Syria has told said more people than ever are being displaced by the conflict in Syria.
Speaking on RTÉ's This Week Jan Egeland, who is also Secretary General of the Norwegian Refugee Council, said the humanitarian crisis is "deep and it's worsening.
"We're now in the eighth war year and in the last three months only, half a million men women and children have been displaced from their homes again in Syria," he said.
"Many would have been displaced several times before. This is a civilian population really on their knees now after so much suffering.
"This is a cruel war that has lasted for too long. Men with guns and power should have agreed on ending this senseless war a long time ago for the benefit of the civilian population".
Mr Egeland said that just 7.7.% of aid funding needed for 2018 has been delivered so far and said that the international community must not turn its back on Syria
"I'm always hopeful that the war will end, but I'm not so optimistic short-term. This is not at all over. I hoped in 2017 that 2018 would be better.
"The number of people displaced every day in 2018 is higher than at any other time during this war. We need to give more attention again to Syria."