The Russian Ambassador to Ireland has said the decision by the Government to expel a Russian diplomat "will not go unanswered".
Speaking to reporters at the Russian Embassy in Dublin, Yury Filatov would not be drawn on specific consequences for Irish diplomatic staff in Russia.
It comes after Taoiseach Leo Varadkar said that the decision for the expulsion was an act of solidarity with the UK. This morning, the Government said that the diplomat was being expelled over the nerve agent attack in Salisbury, England earlier this month.
Mr Filatov described the Government's decision as "unwarranted, uncalled for, senseless and regrettable".
He said Moscow had been informed and the country's foreign minister would inform President Vladimir Putin.
In a statement, Tánaiste and Minister for Foreign Affairs Minister Simon Coveney said Mr Filatov was told that the "accreditation of a member of his staff with diplomatic status is to be terminated".
This person is required to leave Ireland by Friday 6 April.
In the Dáil, Mr Coveney defended the decision to expel the Russian diplomat following the attack in Salisbury.
He said the UK's assessment that it was "highly likely" that Russia was responsible for the attack was compelling.
Mr Coveney said it was essential that EU stands in solidarity with the UK.
Tánaiste @simoncoveney defends Ireland's decision to expel Russian diplomat. "It is right that Ireland should stand in solidarity with the UK, our closest neighbour" pic.twitter.com/vMKKZL1ehv

— RTÉ Politics (@rtepolitics) March 27, 2018
Sinn Féin leader Mary Lou McDonald said the decision was based on information from a foreign security service.
"In essence Taoiseach, you are asking us to trust Boris Johnson, and I dare say that this may not be the wisest course of action," she said.
Ms McDonald accused the Taoiseach of attempting to dismantle Ireland's neutrality.
However, Mr Varadkar said the decision was taken following an assessment carried out by Irish security services, including the defence forces and gardaí.
Expulsion of a Russian diplomat is "an act of solidarity with the UK" @campaignforleo tells the Dáil pic.twitter.com/GltNJFl0r7

— RTÉ Politics (@rtepolitics) March 27, 2018
"This is very much an act of solidarity with the United Kingdom," he said, but added that Ireland had no quarrel with the Russian people.
He said the decision on the individual person asked to leave was based on advice from gardaí and military intelligence.
He added that Fianna Fáil was briefed in advance of this as part of the "no surprises" clause in the Programme for Government agreement.
Meanwhile, the Acting Garda Commissioner has said he is satisfied with the accuracy of the information in the intelligence report which led to the decision to expel the Russian diplomat.
Commissioner Donal Ó Cualáin said the report was carried out in conjunction with the defence forces and security partners in Europe and elsewhere.
He rejected a suggestion that it was a "rehash" of a British intelligence assessment.
Labour Party leader Brendan Howlin said he believes that the expulsion of the Russian diplomat is sending a wrong signal.
He described the move as "unprecedented".
Speaking on RTÉ's Six One News, Mr Howlin said Ireland is a long-standing, non-aligned and neutral country and that it should protect this.
Solidarity-People Before Profit TD Richard Boyd Barrett described the decision as "a very stupid and dangerous move by Simon Coveney and the Government which fundamentally undermines our neutrality."
He added that the Tánaiste's statement "provided absolutely no evidence of as to an independent assessment by the Irish Government as to who carried out this atrocity and the Taoiseach said last week Ireland did not have the means to carry out such an assessment".
Fianna Fáil's Foreign Affairs spokesperson Daragh O'Brien said his party supports the Government's decision to expel the Russian diplomat.
"We believe this action is appropriate and proportionate and it sends a clear message that no country is above international law," said the Dublin Fingal TD.
RUSSIA: @DarraghOBrienTD says @fiannafailparty "believe this action is appropriate and proportionate and it sends a clear message that no country is above international law" pic.twitter.com/o7YawoWMqY

— RTÉ Politics (@rtepolitics) March 27, 2018
Making the announcement earlier, Mr Coveney said the attack in Salisbury was "an affront to the international rules-based system on which we all depend for our security and wellbeing".
Mr Coveney spoke with Britain's Foreign Secretary Boris Johnson last night and said that Ireland will be acting in solidarity with the UK.
Mr Filatov, was informed of the news at the Department of Foreign Affairs at Iveagh House.
Ireland has joined 16 EU members states, the United States, Canada and Australia, along with Britain, in expelling more than 100 Russian diplomats in response to the attack on former double agent Sergei Skripal and his daughter on 4 March.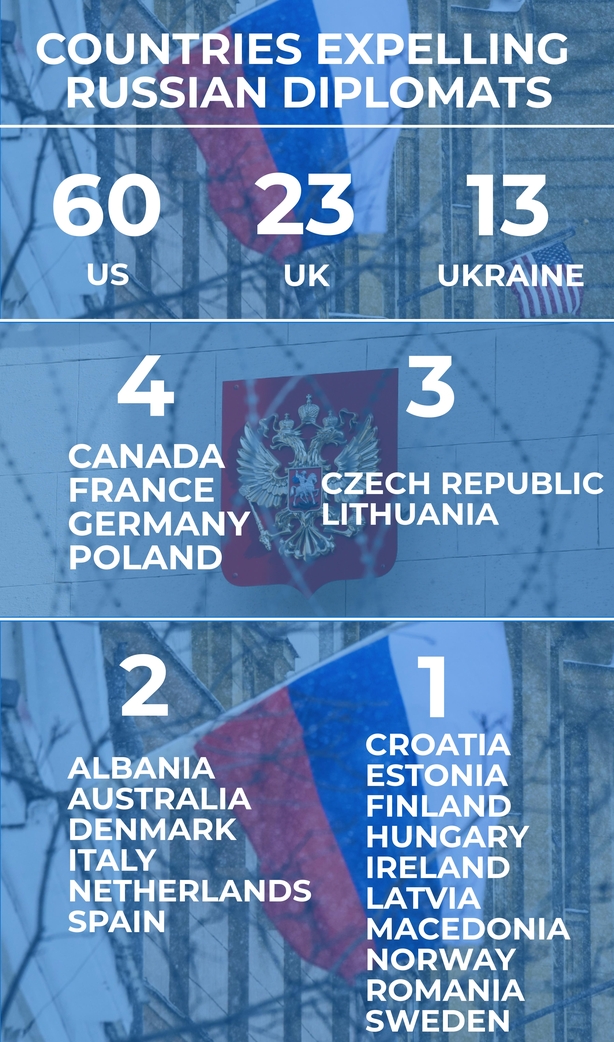 European Council President Donald Tusk said: "Additional measures including further expulsions are not to be excluded in the coming days and weeks."
Meanwhile, NATO chief Jens Stoltenberg said today that the alliance was expelling seven Russian diplomats and denying accreditation to three more.
"I have today withdrawn the accreditation of seven staff of the Russian mission to NATO. I will also deny the pending accreditation request for three others," Mr Stoltenberg told a news conference at NATO headquarters in Brussels.
He said: "This will send a clear message to Russia that there are costs and consequences for their unacceptable pattern of behaviour."
In Moscow, President Vladimir Putin's spokesman Dmitry Peskov hinted the Kremlin would respond with further expulsions, saying Russia would proceed from the "principle of reciprocity".
The Russian foreign ministry said: "This provocative gesture of notorious solidarity with London, made by countries that preferred to follow in London's footsteps without bothering to look into other circumstances of the incident, merely continues the policy of escalating the confrontation."
Mr Skripal and his daughter Yulia were left critically ill following the attack.
British Prime Minister Theresa May said doctors have indicated their condition is unlikely to change in the near future and they "may never recover fully".
Additional reporting: Justin McCarthy, PA