UN Secretary-General Antonio Guterres has called for an immediate halt to fighting in Eastern Ghouta.
He said the Syrian government bombing campaign has turned the rebel-held enclave near Damascus into "hell on Earth" for civilians.
"My appeal to all those involved is for an immediate suspension of all war activities in Eastern Ghouta allowing for humanitarian aid to reach all those in need" and for medical evacuations, Mr Guterres told the Security Council.
The UN chief said he was "deeply saddened by the terrible suffering" of civilians in Eastern Ghouta where he said 400,000 people "live in hell on Earth".
"This is a human tragedy that is unfolding in front of our eyes, and I don't think we can let things go on happening in this horrendous way," he added.
'Hell on earth' - UN chief calls for halt to Ghouta attacks | More: https://t.co/NB4Dd6WahD pic.twitter.com/h8Q9Z5W03A

— RTÉ News (@rtenews) February 21, 2018
Mr Guterres said he supported efforts at the Security Council to agree on a draft resolution demanding a 30-day ceasefire in Syria to allow for deliveries of humanitarian aid and medical evacuations.
Sweden and Kuwait presented the measure to the council on 9 February but negotiations have been tough going, with Russia raising objections to the proposed truce, diplomats said.
"I fully support that effort, but I believe Eastern Ghouta cannot wait," Mr Guterres told the council.
The negotiations have dragged on as Syrian forces backed by Russia have escalated a fierce offensive on Eastern Ghouta.
The UN said more than 340 people have been killed since 4 February, including 24 Syrians who died when government warplanes dropped barrel bombs on the town of Kfar Batna today.
According to the Britain-based Syrian Observatory for Human Rights, at least 38 people were killed today.
It said this brings the number of people who died in the district since Sunday night to more at least 310, with over 1,550 injured.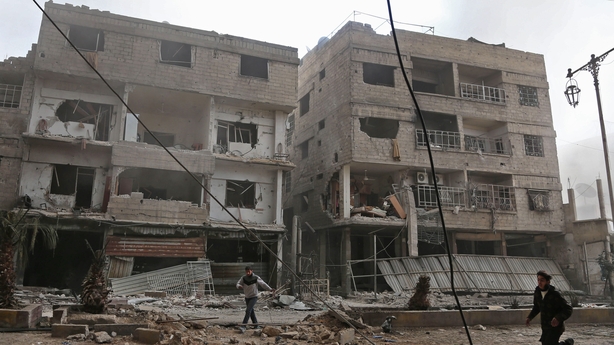 UN human rights chief Zeid Ra'ad al-Hussein attacked what he called a "monstrous campaign of annihilation" against the besieged civilian population of Eastern Ghouta.
He said international humanitarian law was developed precisely to stop this type of situation, where civilians are slaughtered in droves in order to fulfill political or military objectives.
Russia, which has resorted to its veto power block resolutions targeting its Syrian ally, has called for a UN Security Council meeting tomorrow to discuss the latest escalation of violence.
The latest draft text circulated last week calls for the truce to go into effect 72 hours after the adoption of the measure and for aid deliveries and medical evacuations to begin 48 hours after that.
It comes after Russia said that Western allegations holding the Russian Air Force responsible for civilian deaths were groundless.
Russia has been providing air support for the Syrian army since it intervened to help President Bashar al-Assad's side in 2015.
"These are groundless accusations, we don't know what they are based on," Kremlin spokesman Dmitry Peskov said.
"They (the allegations) are not backed up with any specific information. We do not agree with them."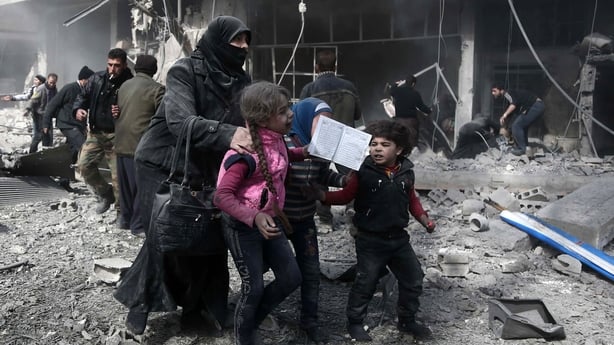 The International Committee of the Red Cross has asked for access to Eastern Ghouta, where 1,400 people have been wounded.
"The fighting appears likely to cause much more suffering in the days and weeks ahead, and our teams need to be allowed to enter Eastern Ghouta to aid the wounded," said Marianne Gasser, ICRC's head of delegation in Syria.
Access to the area has been very restricted and only one convoy of aid has been allowed in this year.
The ICRC argued that the scope of the catastrophe was such that its medical teams should be allowed inside to assist local doctors and nurses who have been completely overwhelmed.
"Wounded victims are dying only because they cannot be treated in time," Ms Gasser said.