The Federal Bureau of Investigation has admitted that a person close to the 19-year-old accused of killing 17 people at a Florida high school had warned them in January of his desire to kill people and investigators mishandled the tip.
In a statement this evening, the FBI said a person had warned the bureau on 5 January that Nikolas Cruz owned guns, had made disturbing social media posts and had the potential to conduct a school shooting.
This tip-off appears to be separate to the previously reported YouTube comment in which a person named Nikolas Cruz said: "I'm going to be a professional school shooter."
The FBI acknowledged getting that tip-off as well, but failed to connect it to the accused gunman.
It said: "The information provided by the caller should have been assessed as a potential threat to life.
"The information should have been forwarded to the FBI Miami field office, where appropriate investigative steps would have been taken. We have determined that these protocols were not followed."
Trump to meet survivors of school shooting
US President Donald Trump has announced he will travel to Florida to meet survivors of the shooting.
On Twitter, he said he would be meeting with what he described as "some of the bravest people on earth - but people whose lives have been totally shattered."
I will be leaving for Florida today to meet with some of the bravest people on earth - but people whose lives have been totally shattered. Am also working with Congress on many fronts.

— Donald J. Trump (@realDonaldTrump) February 16, 2018
He also said he would be working with Congress after he vowed to tackle mental health and school safety in the wake of the shooting.
However, he has yet to make any mention of gun control.
In a televised address to the nation yesterday, Mr Trump suggested the root cause of the mass shootings was a crisis of mental health; an argument regularly made by opponents of gun control.
Since January 2013, there have been at least 291 school shootings across the country, which is an average of one a week, according to the non-profit group Everytown for Gun Safety.
Cruz fled shooting scene with students
Cruz fled the scene hidden in a crowd of frightened students, according to the local sheriff.
Police said the alleged gunman visited two fast food restaurants before he was arrested less than two hours after the massacre.
Cruz stopped at a Wal-Mart, a Subway restaurant and a McDonald's after carrying one of the deadliest mass shootings at a public school in US history.
Broward Country Sheriff Scott Israel said: "The suspect crossed fields and ran west along with others who were fleeing and tried to mix in with the group that were running away, fearing for their lives."
Cruz, who has been charged with 17 counts of premeditated murder, was a former student of the school who had been expelled.
He is accused of using a legally purchased AR-15-style weapon in Wednesday's attack, moving through Marjory Stoneman Douglas High School in Parkland outside Miami.
Thousands attend vigil for victims of Florida school shooting | https://t.co/3fGz4pskTs pic.twitter.com/lX9FXY875M

— RTÉ News (@rtenews) February 16, 2018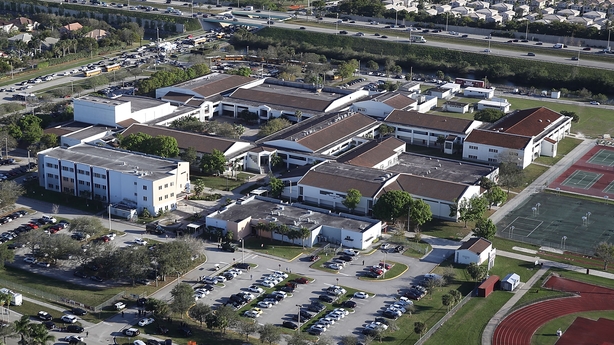 Sheriff Israel detailed the timeline of events during the attack:
An Uber car dropped off the suspect at 2.19pm (7.19pm GMT) at Stoneman Douglas High School.
The suspect entered the east stairwell - that's building 12 - with a rifle inside a black soft case. The suspect exited the stairwell, pulled the rifle out of the case.
At 2.21.33, the suspect readied his rifle and began shooting into rooms 1215, 1216, 1214, he went back to 1216, back to 1215, and then to 1213.
The suspect then took the west stairwell to the second floor and then shot one victim in room 1234 on the second floor.
The suspect then took the east stairwell to the third floor. He dropped his rifle and backpack, ran down the stairs.
He exited building 12 and ran towards the tennis courts and then took a southbound turn on foot.
The suspect crossed fields and ran west along with others who were fleeing, and tried to mix in with the people that were running away, fearing for their lives.
The suspect arrived at the Wal-Mart store. He bought a drink at the Subway and then left the Wal-Mart on foot.
The suspect went to McDonald's, sat down for a short period of time. This was at 3.01pm and he left on foot.
At 3.41, 40 minutes after he departed from the McDonald's, the suspect was detained at 4700 Wyndham Lakes Drive in Coral Springs by an officer from the Coconut Creek Police Department.
He was taken into custody without incident.
---
Read more
Outpouring of grief for shooting victims
'FBI was warned' about Florida shooting suspect
Trump says Florida high school shooting was 'evil'
Irish teenager recounts running for her life as attack unfolded
---