North Korea's leader has said he wants to boost the "warm climate of reconciliation and dialogue" with South Korea after his high-level delegation returned from a visit to the South.
Kim Jong-un gave instructions for measures aimed at more inter-Korean engagement after his younger sister Kim Yo-jong led a three-day visit to the Winter Olympics in Pyeongchang, North Korea's state media reported.
It did not specify what these instructions were.
He praised South Korea, describing it as very impressive, and "expressed thanks" to Seoul.
The South's hosting of the Winter Olympics has sparked a sudden and rare moment of rapprochement across the border after months of tension over Pyongyang's rapidly advancing nuclear weapons programme and missile tests.
After rebuffing invitations from South Korea to attend the Olympics, Mr Kim did an about-face in a New Year speech.
The North has since sent its athletes to the South Korean ski resort of Pyeongchang, along with cheerleaders and performers.
It also dispatched a diplomatic delegation that included Mr Kim's sister Kim Yo-jong.
She became the first member of the North's ruling dynasty to set foot in the South since the end of the Korean War.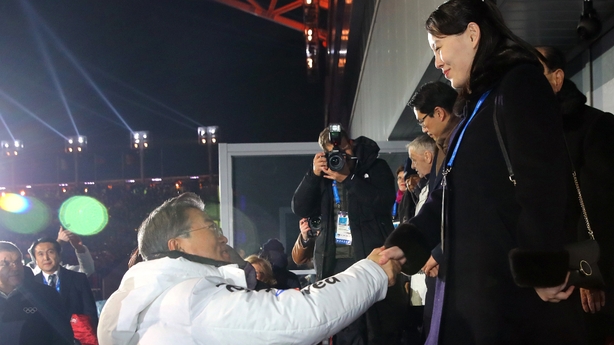 She shook hands several times with the South's President Moon Jae-in, cheered a unified ice hockey team with him, and conveyed her brother's invitation to a summit in Pyongyang.
The United States has appeared to endorse deeper post-Olympics engagement between the two Koreas that could lead to talks between Pyongyang and Washington.
US officials have also said that international sanctions should be ramped up to push North Korea to give up its nuclear programme.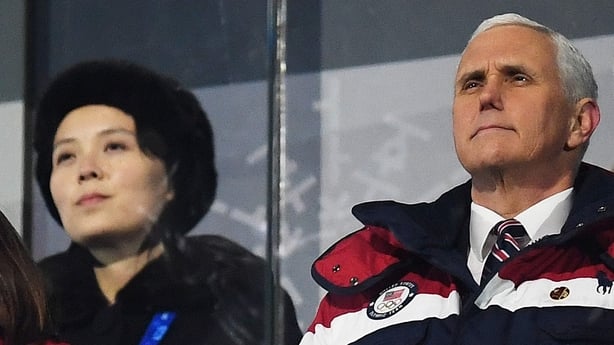 That sentiment was repeated by Japan's Prime Minister Shinzo Abe, who said Mr Moon had agreed it was necessary to keep up maximum pressure on North Korea.
Last year, North Korea conducted dozens of missile launches and its sixth and largest nuclear test in defiance of United Nations resolutions as it pursues its goal of developing a nuclear-armed missile capable of reaching the US.
Japanese officials took pains to stress there was no daylight between Japan, the US and South Korea on their approach to dealing with North Korea.
"If it is North Korea's intention to use the Olympics politically and to weaken international pressure, we must not be enticed by it," said Japanese Defence Minister Itsunori Onodera.
Mr Moon, who was offered a meeting with Mr Kim in Pyongyang via his sister, has been pushing for a diplomatic solution to the standoff over North Korea's nuclear and missile programmes.
Talk of an inter-Korean summit, which would be the first since 2007 if it happened, come after months of tension between Pyongyang, Seoul and Washington.
Meanwhile, Russian President Vladimir Putin and US President Donald Trump have discussed North Korea by phone, but the discussion was not in-depth, a Kremlin spokesman has said.
He also said that Mr Trump offered US help to Russia in investigating a fatal plane crash on Sunday which killed all 71 people on board.