The sister of North Korea's leader Kim Jong-un joined US Vice President Mike Pence and South Korean President Moon Jae-in at the opening ceremony of the Winter Olympics in Pyeongchang.
Kim Yo-jong, who shook hands with Mr Moon at the ceremony, is the first member of the North's ruling dynasty to visit the South since the end of the Korean War in 1953.
Earlier, the interplay between protocol and power was put on show when Ms Kim and North Korea's ceremonial head of state Kim Jong-nam arrived in Seoul on the historic trip.
He met and shook hands with President Moon at a leaders' reception ahead of the opening ceremony of the games.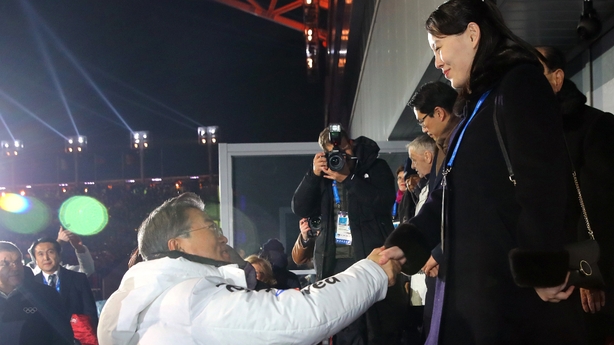 President Moon Jae-in wants to harness the Olympic spirit to pave the way for talks over the North's weapons programme.
The South is still technically at war with the North after the 1950-53 Korean War ended in a truce.
The US and North Korea have recently swapped nuclear threats. Mr Pence vowed only this week to tighten sanctions on the North.
Underlining Mr Moon's efforts to re-engage with the North, the opening ceremony followed the story line of children wandering through a mythical landscape and discovering a world where people live in peace and harmony.
International Olympic Committee President Thomas Bach told the crowd that by allowing their athletes to march together under one flag at the ceremony, North and South Korea had shown sport's "unique power" to unite people.
"All the athletes around me, all the spectators here in the stadium, and all Olympic fans watching around the world ... we are all touched by this wonderful gesture," he said.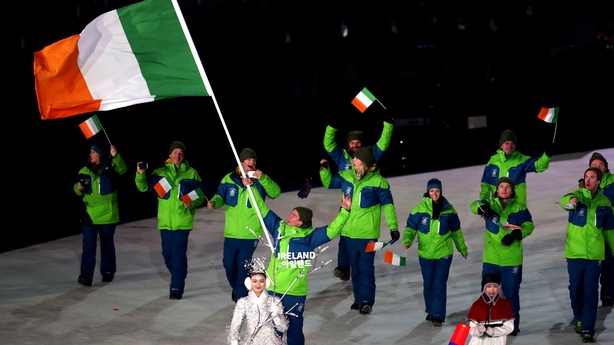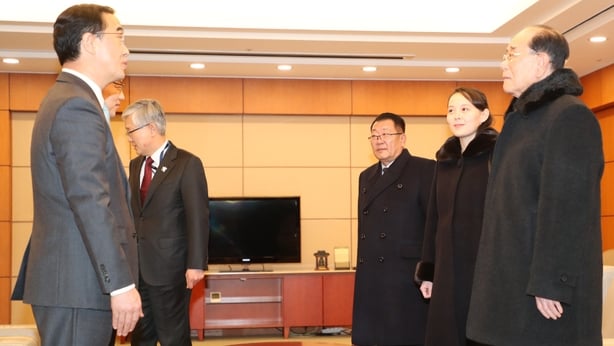 Ms Kim is believed to be carrying a personal message from her brother to the South's president.
A horde of cameras and journalists recorded her every move as she made her way through Incheon airport, closely surrounded by four bodyguards.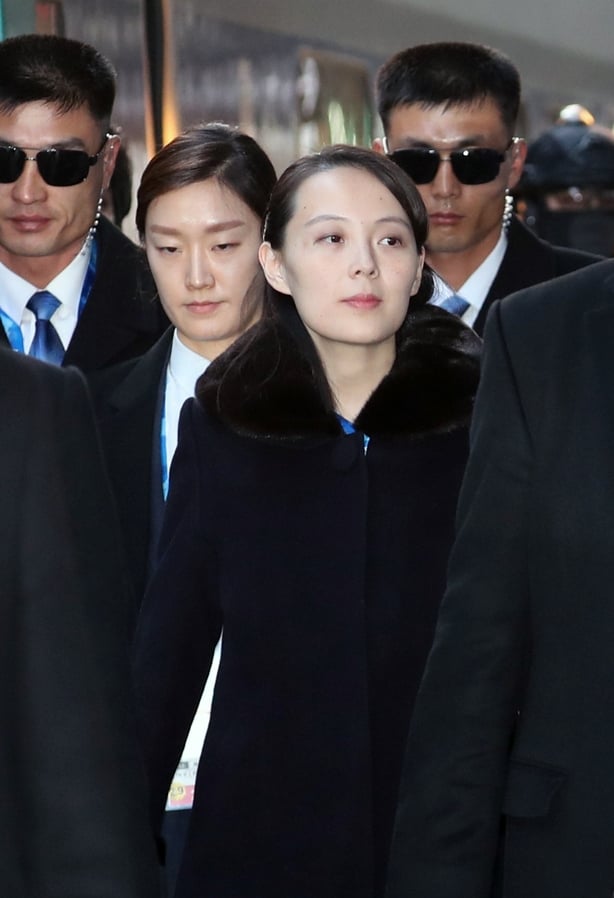 She looked relaxed and TV footage showed her smiling constantly, occasionally glancing around at the facilities.
Meanwhile, hundreds of anti-North Korea protesters scuffled with riot police outside the Winter Olympics stadium in South Korea, hours before the North's delegation were due to attend the opening ceremony.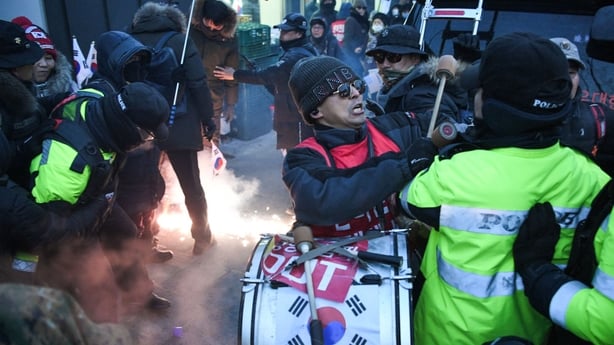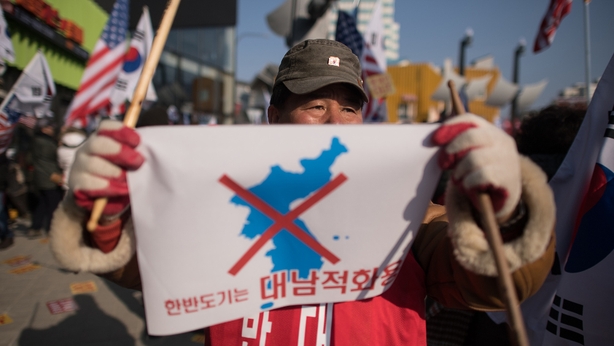 Protesters burnt North Korean flags and pictures of Kim Jong-un, as around 800 people gathered for a march towards the stadium where the Olympic torch will be lit in what Seoul wants to become a symbol of peace.
Protesters scuffled briefly with police and criticised President Moon, who is using the Olympics to re-engage with the North and pave the way for talks over the reclusive state's nuclear and missile programme.
They carried banners reading "Moon Regime is leading Korea to destruction" and one that made an appeal to US President Donald Trump: "Mr President. North Korea bombing, please."
Pence skips dinner attended by North Korea's Kim Yong-nam
Mr Pence skipped a dinner ahead of the opening ceremony where he had been reportedly due to share a table with Mr Moon and Kim Yong-nam, Seoul said.
Seating plans shown on television had Mr Pence seated directly opposite Kim Yong-nam at the reception in Pyeongchang.
But a spokesman for the South's presidential Blue House said he arrived late, "exchanged greetings with those seated at the head table, and left without sitting down".
Mr Pence had told Seoul in advance that he would be dining with US athletes soon afterwards "so his seat was not prepared accordingly", the spokesman said.
"He was going to leave immediately after taking the group photo session but President Moon urged him to 'see friends' so he dropped by the reception venue briefly."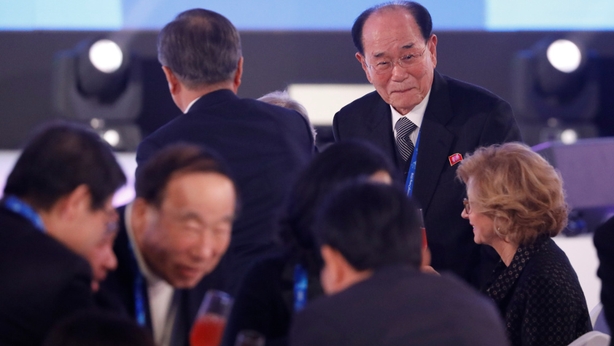 Mr Pence did not shake hands with Mr Kim, he added, but Japanese Prime Minister Shinzo Abe did, exchanging a few words with him.
Seating plans shown on South Korean television just minutes earlier had Mr Pence sitting to Mr Moon's left, directly opposite Mr Kim.
The North's representative, its highest-level official ever to visit the South, was placed between Olympics chief Mr Bach and UN Secretary-General Antonio Guterres.
Neither Mr Pence nor Mr Abe took part in a group photo of the leaders at the reception, in which Mr Kim stood behind Mr Moon.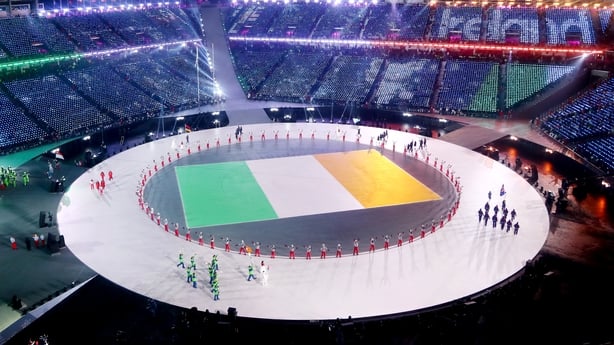 Follow coverage from Pyeongchang on RTÉ Sport Online