US President Donald Trump took his "America First" message to the world's elite, telling a summit of business and political leaders that the United States would "no longer turn a blind eye" to what he described as unfair trade practices.
Mr Trump became the first sitting US President to address World Economic Forum at Davos for 18 years, closing the summit with a mostly upbeat speech that declared the United States "open for business".
"Now is the best time to bring your money, your jobs, your businesses to America," he said, singling out tax cuts and curbs to regulation as boosting the investment climate.
"The world is witnessing the resurgence of a strong and prosperous America."
He said he would always promote "America First", as he expected other world leaders to do on behalf of their own countries, but added: "America First does not mean America alone. When the United States grows so does the world."
But he swiftly turned to a theme of demanding tougher enforcement of trade rules, accusing unidentified countries of unfair practices, including stealing intellectual property and providing state aid to industry.
"We will enforce our trade laws and restore integrity to the trading system. Only by insisting on fair and reciprocal trade can we create a system that works not just for the United States but for all nations," Mr Trump said.
"The United States will no longer turn a blind eye to unfair trade practices," he said.
"We cannot have free and open trade if some countries exploit the system at the expense of others."
---
Read more:
Davos hears happiness secrets
Taoiseach calls on UK to stick to border commitments
Davos: Ireland has wealth to be more inclusive society
---
While he has a record of opposing multi-lateral trade agreements involving many countries, he said the United States would consider "mutually beneficial" bilateral trade agreements with other individual states.
That could include countries that have signed up to a Trans-Pacific Trade agreement from which he has withdrawn, he said, adding that he would also consider negotiating with them collectively if that was in the US interest.
Before his trip to Davos, Mr Trump imposed 30% tariffs on imported solar panels, among the first unilateral trade restrictions made by the administration as part of a broader protectionist agenda.
Donald Trump drew boos at the #WEF2018 when he branded the media as 'vicious' and 'fake' pic.twitter.com/pIDd6EYiMz

— RTÉ News (@rtenews) January 26, 2018
His speech was mostly met by polite applause, although he drew some boos during a question and answer session, when he attacked the news media.
"It wasn't until I became a politician that I realised how nasty, how mean, how vicious and how fake the press can be," he said.
Dollar talk causes storm
The Trump administration's debut at Davos also caused a storm because of comments by US Treasury Secretary Steven Mnuchin, who said earlier this week the United States benefited from a lower dollar, which would make its exports cheaper.
Those remarks sent the US currency tumbling and drew sharp rebukes from the European Central Bank chief and other figures, who view countries talking down their own currencies as a violation of unwritten rules to keep trade balanced.
Mr Mnuchin told CNBC television today that he was "absolutely not trying to talk down the dollar" and that his remarks had been taken out of context.
"What I said was actually very even-handed and consistent with what I said before."
Yesterday, Mr Trump said he ultimately wanted the dollar to be strong.
US officials said there was no disagreement between Mr Trump and Mr Mnuchin, and the Treasury Secretary had been making a factual observation about the impact of a lower dollar, not announcing a policy preference to drive it down.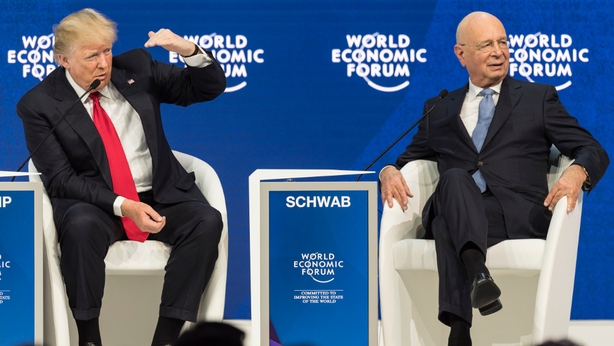 Despite Mr Trump's tough trade talk, those in the audience mostly noted the upbeat tone of his speech.
"I think he came here to make not just American but global business comfortable about where America is now," said IHS Markit's chief economist, Nariman Behravesh.
"He wasn't trying to convert people to his own views, but saying we are a great economy, come and invest in the US."
Andrei Guryev, chief executive of Russian fertiliser giant Phosagro, said Mr Trump had spoken "how big business people should be speaking at important road shows of their own companies".
That did not please everyone.
Winnie Byanyima, director of Oxfam International, said: "Trump's boastful sales pitch was a victory lap for the trillions of tax cuts that the wealthy elites and corporations have clamoured for."
Still, the reception was more polite than might have been expected, given the open anxiety with which the prospect of a Trump presidency was met at Davos a year ago.
Republicans 'could agree citizenship offer'
Mr Trump has also said he believes some Republican senators who have taken tough stances on immigration could agree to offer citizenship within ten to 12 years to young immigrants brought to the country illegally.
In an interview with CNBC broadcast this morning, Mr Trump said Republican senators Tom Cotton, John Cornyn and David Perdue and Representative Bob Goodlatte would be willing to shift some positions on immigration.
"They've really shifted a lot, and I think they're willing to shift more, and so am I," he said. "We're going to see. If we make the right deal. I think they will.
"These are people that have very strong opinions on DACA (the Deferred Action for Childhood Arrivals programme) and on immigration generally. And I happen to think they're largely right."
Senior White House officials outlined an immigration plan yesterday, hours after the Trump interview was recorded, that would offer a path to citizenship for up to 1.8 million young illegal immigrants but include measures to curb some legal immigration programmes and provide a border wall with Mexico.
The White House offered to more than double the number of so-called "Dreamers" - people brought to the country illegally as children - who would be protected from deportation, describing it as a major concession aimed at attracting enough votes for an immigration deal from Democrats.
To appeal to Republicans, the plan includes requirements to slash family sponsorship of immigrants, tighten border security and provide billions of dollars in funding for a border wall with Mexico that Mr Trump made one of his major campaign promises.
"Look, we're going to try and make a deal on DACA," Mr Trump said. "We have a good chance of making it. What we need is we need the wall, we need security, we need security at the border. We have to stop the drugs from coming in."