Davos likes to perch on the zeitgeist. Whatever the prevailing global mood, the World Economic Forum (WEF) likes to gather in all hues of opinion so the organisation can stand by its ambitious, if still elusive, goal of "Improving the State of the World".
This year the official theme is 'Creating a Shared Future in a Fractured World'.
But the general backdrop can be summarised as follows: the global economy is growing more steadily than at any time since the 2008 financial crash, the tide of populism may have peaked with the election of Donald Trump and Brexit, the Middle East is as unstable and blood-soaked as ever (the adjacent terror threat is roughly the same as last year).
Climate change is a constant worry, technology beyond comprehension is accelerating, corporate malfeasance is still rife (if the Paradise Papers are to be believed), and the problems of inequality are as acute as ever (with inequality between the sexes now a fierce battleground).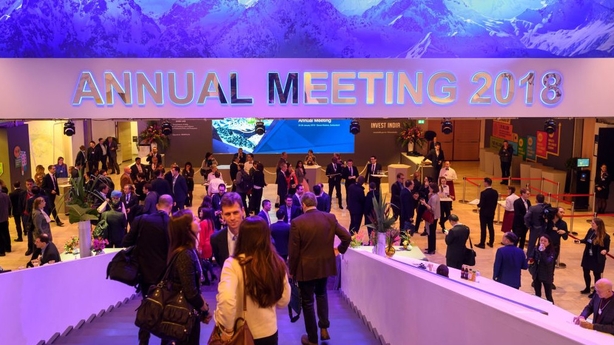 The Davos crowd are still vilified as the one percent of the one percent, and their presence remains a giant target for those howling at the excesses of globalisation.
Yet, while the global influencers, celebrities, bankers, CEOs, thought leaders and mediators who turn up in the Swiss Alps are still dominated by the corporate top flight, the WEF has worked hard to change the profile.
---
Heavy snow affects Davos arrivals
Davos - what's it all about?
---
This year 1,900 delegates from the world of business and government are descending on the snowy Swiss resort - but they will be joined by nearly 1,000 who are on the other side of the ideological divide (writers, artists, academics etc).
Indeed, this year there will be more scientists than economists, more labour leaders than bankers.
Oxfam will be one of many NGOs rubbing shoulders with the top tier corporate leaders. They have launched their Davos report which decries "the biggest ever global increase in billionaires".
The report includes two new Irish billionaires "with combined wealth of €34.2 billion" which will bring the number of Irish billionaires to eight.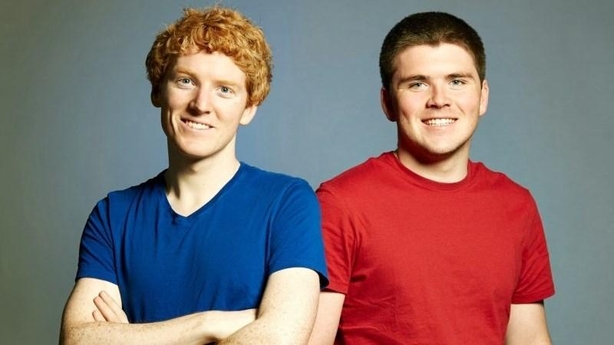 The two new arrivals on the billionaire list, according to Credit Suisse figures supplied by Oxfam, are Limerick brothers John and Patrick Collison, who founded digital payments company Stripe.
Oxfam claims there are now over 2,000 dollar billionaires worldwide at a time when 3.7 billion people who make up the poorest half of the world "saw no increase in their wealth."
The charity argues that what drives these huge salaries and dividends for shareholders include the erosion of workers' rights, the influence of big business over government policy and "the relentless corporate drive to minimise costs and maximise returns to shareholders."
According to Oxfam, between 2006 and 2015 ordinary workers saw their incomes rise by an average of just 2% a year, while billionaire wealth rose by nearly 13pc (the richest 1% continue to own more wealth than the whole of the rest of humanity).
"It takes just four days for a CEO from one of the top five global fashion brands to earn what a Bangladeshi garment worker will earn in her lifetime," the Oxfam report states.
"It would cost $2.2 billion a year to increase the wages of all 2.5 million Vietnamese garment workers to a living wage. This is about a third of the amount paid out to wealthy shareholders by the top five companies in the garment sector in 2016."
This will (or should) make uncomfortable reading for CEOs jetting into Davos.
And yet, according to the global consulting firm PwC, normally a powerful reflector of CEO sentiment, the overwhelming mood is one of optimism (and not anxiety over inequality).
PwC's Global CEO Survey for 2018 records higher levels of corporate optimism than at any time since surveys began in 2012.
"In fact, the percentage of CEOs predicting 'improved' growth doubled from last year," the report states.
"This record level of optimism holds fast across every region from North America… and Latin America to Western Europe, Central & Eastern Europe (CEE), Africa, the Middle East, and Asia-Pacific."
The overall level of optimism stands at 57%.
Ironically, that figure neatly intersects with the figure among Irish CEOs (58%, according to PwC's Irish survey four months ago).
However, while the global trajectory is heading north, the Irish direction is south, down from 71% in 2016.
According to Feargal O'Rourke, Managing Partner in PwC (Ireland), Irish corporate confidence has been pulled down by Brexit and fears over US tax reform.
"The previous year's survey [2016], which would have been done before the Brexit vote," he says, "we were coming out with the worst of the bad years being over. There was a real sense of optimism.
"The tempering of that is really due to both Brexit and also the fact that - when we were running our Irish survey - there was a lot of noise coming out of the US about tax reform and the impact it would have upon Ireland. That's probably been less dramatic than we thought."
By contrast, it's that very tax reform in the US that has so boosted global CEO confidence.
"There's a wall of money," says O'Rourke, "going back to the US with these corporate tax reforms which companies will either use by paying out to their shareholders, reinvesting in certain parts of the business, or making acquisitions, and that leads to a sense of optimism.
"It's good for Ireland. When the US does well we tend to disproportionately do well, and when the US slows down we disproportionately slow down. So it's great to see the optimism there in the US."
But Brexit continues to worry, as does capacity in the Irish economy in terms of labour and housing infrastructure.
"There is a bit of productivity gain and filling out capacity," says O'Rourke. "In the downturn some companies downsized the business, some head-on as much as possible [in terms of] their profit making apparatus, and as the economy picked up they were able to experience growth without actually having to invest much.
"Availability of people is becoming a real live problem now. Unemployment is a little over 6%, we're getting close to a position now where we're technically at full employment. Availability of headcount, and access to accommodation are the main problems in Ireland."
O'Rourke acknowledges the need to tackle inequality.
"Global inequality is not good for global markets, and there's a recognition by all businesses is that solving that is key," he told RTÉ News.
"At the end of the day there has to be trust and buy-in of global markets and global systems. If that trust and buy in isn't there the system collapses.
"I'm not sure if anyone has solutions yet, but at least the recognition is there."
PwC's own survey of what keeps CEOs up at night, however, does not suggest that global inequality is much of an issue.
In 2018, the biggest worry for CEOs (at 42%) remains "over-regulation". That would suggest the world's richest corporations will be even unhappier if there is a greater push for tax transparency in the light of the Paradise Papers revelations.
Terrorism, geo-political uncertainty, cyber crime and the availability of key skills are the next potential shocks that keep CEOs anxious.
The problem of social instability comes in at 11 out of 15 (29%), while a lack of trust in business falls out of the top 15 concerns altogether (in 2017 it was bottom of the list at 15).
So for the moment, the corporate side of the Davos tent is feeling pretty chipper, and we need look no further than the main attraction for one of the reasons.
Donald Trump was invited to Davos back in October, but his decision to actually accept in early January took everyone by surprise.
Eight of his cabinet members including the Secretary of State Rex Tillerson, did, however, declare in December that they were coming to Davos, an indication of how important they regard the annual gathering.
Trump's decision to descend among those who believe in free markets and open global trade has added a surreal twist.
This time last year, the latter were staring into their cocktails in trepidation at the shock to the global order posed by Trump's inauguration and the Brexit vote.
Protectionism and populism were on the rise, so much so that China's President Xi Jinping turned up to grab the mantle of free trade hero.
"We should not develop a habit of retreating to the harbour whenever we encounter a storm," he told WEF delegates, "for this will never get us to the other side of the ocean. Any attempts to cut off flows … and channel the waters of the ocean back into lakes and creeks is simply not possible and runs against historical trends.
"No one will emerge as the winner in a trade war."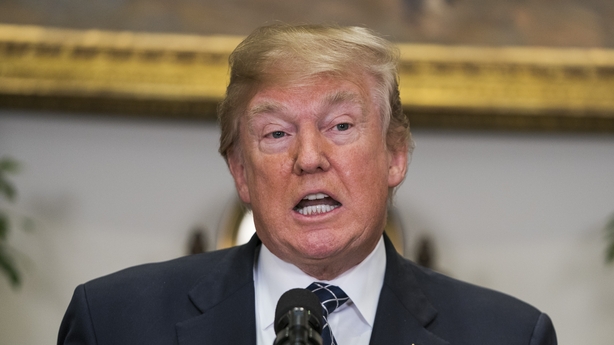 Trump will take to the stage at the Congress Hall at 2pm local time on Friday. Davos is one (perhaps the only) European destination where he can be guaranteed no protestors - the ski resort is ruthlessly sealed off to all who do not have accreditation.
Will he eyeball the Davos crowd and rage against global trade, or will he steal the show with an unexpected change of heart?
He is not the same bête noire of 2017: his threat to slap punitive tariffs on Chinese goods never materialised, and Steve Bannon, the ideological stormtrooper who famously identified Trump's natural enemies as "the party of Davos", has been tossed out of the White House balloon.
But his gruelling tax reform bill has fuelled the animal spirits currently boosting the stock market.
For that reason, corporate responsibility when it comes to global multinationals is likely to be a major theme.
Minister for Finance Paschal Donohoe will be up against Oxfam's executive director Winnie Byanyima, who has been a staunch critic of Ireland's corporate tax policy, in a panel debate on Thursday.
They'll be joined by the French Minister of Economy Bruno Le Maire, the global chair of KPMG Bill Thomas, and Davide Serra, CEO of Algebris Investments, the London-based asset management company.
Given the sniping that has gone on between Paris and Dublin about corporate tax probity, it should make for an interesting spectacle.
There will be the usual assortment of celebrities and artists.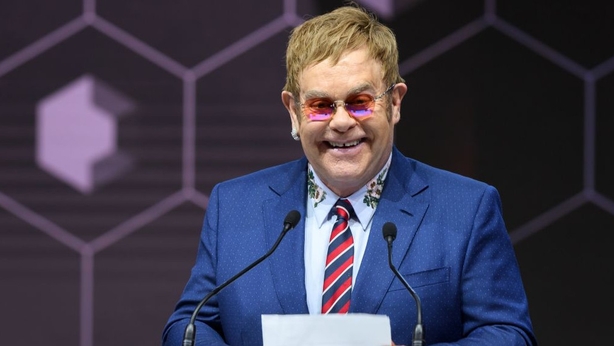 Sir Elton John, the actress Cate Blanchett and Shah Rukh Khan, the Bollywood actor, will all receive Crystal Awards for showing "exemplary commitment to improving the state of the world". Sir Elton is being honoured for his work on HIV/AIDS, Cate Blanchett for her role as a UNICEF goodwill ambassador, and Mr Khan for championing women's and children's rights in India.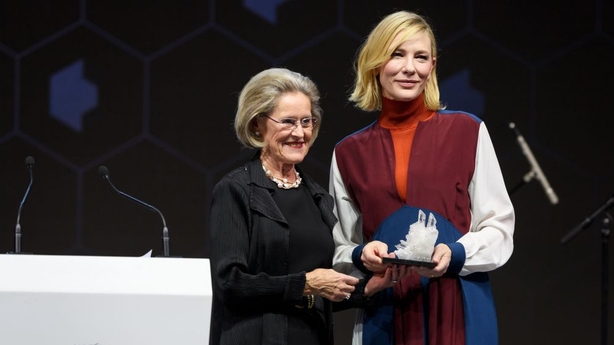 Mindful of the annual criticism that Davos comes in for, the World Economic Forum has made significant efforts to raise serious social questions about the state of the global economy.
This year's Global Risks Report, with which the WEF gets the Davos ball rolling, highlights a range of chronic problems and urges those gathering to address them with a sense of urgency - despite the relentlessly upbeat message on the world economy.
WEF experts have drawn up a list of risks, the top five of which focus on environmental shocks: extreme weather; biodiversity loss and ecosystem collapse; major natural disasters; man-made environmental disasters; and failure of climate-change mitigation and adaptation.
Whatever about its grandiose mission statement, the chairman and founder of the WEF, Professor Klaus Schwab, reckons that knocking the heads of global leaders and influencers together to tackle these risks is worth all the expense and frippery of the Davos experience.
"A widening economic recovery presents us with an opportunity that we cannot afford to squander," he said in launching the report, "to tackle the fractures that we have allowed to weaken the world's institutions, societies and environment. We must take seriously the risk of a global systems breakdown.
"Together we have the resources and the new scientific and technological knowledge to prevent this. Above all, the challenge is to find the will and momentum to work together for a shared future."
This is echoed by Oliver Cann, Head of Media Content at WEF. "There is a real sense that growth is not enough," he says.
"There's climate change, inequality, disaffection, people not being happy with their lot in life. Social exclusion is experienced everywhere, even if there's stability in the financial system and synchronised global growth.
"Perhaps Gross Domestic Product (GDP) is not the way to measure economic success. You can't just measure accomplishments around all the stuff you sell."
To be fair, the WEF has backed up this disenchantment with its own measurement, the Inclusive Development Index.
Last year it added a new economic performance metric to the Index which identifies 15 policy areas which could help advanced economies to enjoy both higher growth and allow their voters wider participation in both the process and the benefits.
It's a message that governments persistently fail to get, the WEF says.
"Governments often fail to appreciate the potential of policy in these areas to increase the rate of growth and spread its benefits more widely, particularly in demand-constrained and low-productivity contexts.
"Underemphasis of these policies relative to macroeconomic, trade, and financial stability policies is a key reason for many governments' failure in recent decades to mobilise a more effective response to widening inequality and stagnating median income as technological change and globalization have gathered force."
The Index, published on Monday, ranks 29 so-called advanced economies (ie, most of the EU28 plus the United States, Japan, Switzerland, Australia, Canada, New Zealand and South Korea), across several criteria.
The ranking for Inclusive Development is further explained by indicating whether a country's growth is receding, slowly receding, stable, slowly advancing or advancing.
Norway is in first place, although its record is "slowly receding".
Ireland is a respectable eighth place, well ahead of the likes of the US, Canada, France, Germany and the UK - and its status is "advancing."
However, when it comes to balancing GDP growth with "inclusion measures" Ireland "performs poorly" alongside New Zealand, the Slovak Republic, and the United States.
Comparatively speaking, Ireland is in 8th place in the Inclusive Development Index (IDI) overall, but it is in fourth place in GDP per capita ranking. And its comparative performance at number eight is "slowly receding".
So, according to the Index, Ireland has the GDP wealth to be a more inclusive society.
The relatively poor inclusivity performance is borne out in a further breakdown.
According to the WEF Index, Ireland is in the top 20% of advanced economies when it comes to GDP per capita, labour mobility, adjusted net savings and "carbon intensity kg per $ of GDP."
But Ireland is in the bottom 20% when it comes to "wealth Gini", the commonly used index which measures the income or wealth distribution of a country's residents, and the most commonly used measure of inequality.
Ireland also scores relatively poorly (ie, in the second from bottom quintile) when it comes to the healthy life expectancy, percentage of people employed, and dependency ratio categories.
When it comes to median income, "net income Gini", the poverty and public debt rates, Ireland's score is average.
While those findings will be challenged by the government, the WEF Inclusive Development Index appears to put Ireland clearly in the Anglo-Saxon market economy camp, characterised by high-growth, high-productivity and high labour mobility, at the expense of a greater share of the wealth across the economy.
This, then, will be the backdrop of Leo Varadkar's first visit to Davos as Taoiseach.
He is expected to take part in a panel discussion on Thursday, with a series of bilateral meetings scheduled for Thursday and Friday mornings.
The overall mantra of the dangers of inequality, meanwhile, has made it to the International Monetary Fund, the organisation once frequently accused of being in thrall to globalisation and austerity.
Launching its global growth forecast his week, the IMF warned policymakers of the dangers of a new recession despite predicting accelerating growth, fuelled by those US corporate tax cuts.
The IMF raised its forecast for global growth to 3.9pc this year and 2019, up 0.2 percentage point both years from its projection in October.
As Bloomberg has pointed out: "That would be the fastest rate since 2011, when the world was bouncing back from the financial crisis."
The strengthening recovery offers a "perfect opportunity now for world leaders to repair their roof," IMF Managing Director Christine Lagarde told reporters yesterday in Davos, Switzerland where the World Economic Forum is meeting.
"Growth in our view needs to be more inclusive."