US President Donald Trump threatened to withhold aid to the Palestinians if they did not pursue peace with Israel, saying the Palestinians had snubbed the US by not meeting Vice President Mike Pence during a recent visit.
Mr Trump, speaking after a meeting with Israeli Prime Minister Benjamin Netanyahu at the World Economic Forum in Davos, said he aimed for peace in the Middle East.
He said he hoped sound minds would prevail among Palestinians to pursue peace.
But then he warned: "When they disrespected us a week ago by not allowing our great vice president to see them, and we give them hundreds of millions of dollars in aid and support, tremendous numbers, numbers that nobody understands – that money is on the table and that money is not going to them unless they sit down and negotiate peace.
"Because I can tell you that Israel does want to make peace and they're going to have to want to make peace too or we're going to have nothing to do with them any longer."
He said his administration had a peace proposal in the works that was a "great proposal for Palestinians" which covers "a lot of the things that were over the years discussed or agreed on", without providing specifics.
Mr Trump said that his declaration of Jerusalem as Israel's capital took it off the negotiating table "and Israel will pay for that", adding "they'll do something that will be a very good thing" without elaborating.
A spokesman for President Mahmoud Abbas said they would not meet the US administration until it withdrew its recognition of Jerusalem as Israel's capital.
Another senior Palestinian official, Hanan Ashrawi, said "not meeting your oppressor is not a sign of disrespect; it is a sign of self-respect".
Mr Pence visited the Middle East earlier this week and said the timing of a long-awaited US Middle East peace initiative depended on the return of Palestinians to negotiations.
"The White House has been working with our partners in the region to see if we can develop a framework for peace," Mr Pence said in Jerusalem on the last leg of his three-day trip.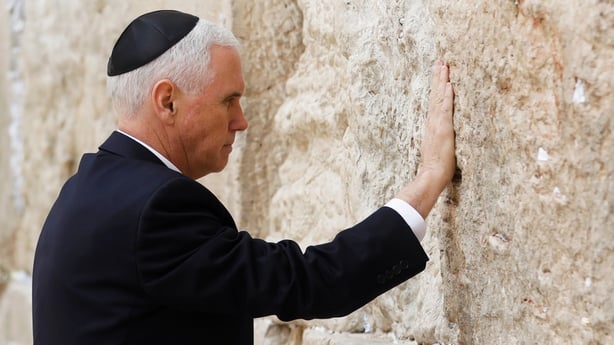 "It all just depends now on when the Palestinians are going to come back to the table."
President Trump's advisers have been working on the outlines of a plan for some time.
But Palestinians ruled out Washington as a peace broker after the US President's 6 December recognition of Jerusalem as Israel's capital.
Mr Trump's Jerusalem move angered the Palestinians, sparked protests in the Middle East and raised concern among Western countries that it could further destabilise the region.
Palestinians see East Jerusalem as capital of a future state.

A White House official told reporters he hoped the plan would be announced in 2018, however the official acknowledged that the US and the Palestinian leadership had not had any direct diplomatic contact since Mr Trump's Jerusalem declaration.
Earlier at the World Economic Forum, Jordanian King Abdullah said Jerusalem had to be part of a comprehensive solution.

He said Mr Trump's decision had created a backlash, frustrating Palestinians who felt there was no honest broker.

But he added: "I'd like to reserve judgment because we're still waiting for the Americans to come out with their plan."
Trump and May ask officials to finalise details of presidential visit

Mr Trump also met British Prime Minister Theresa May and assured her that "we love your country".
Mr Trump said he wanted to correct a "false rumour" of a trans-Atlantic rift - sparked by their earlier spat over his retweeting of videos by far-right group Britain First and his decision not to visit London for the opening of the new US embassy.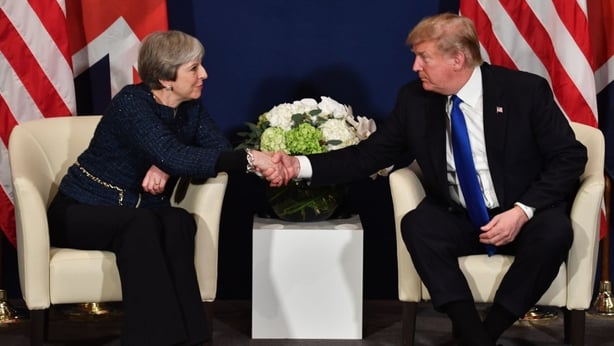 Shaking hands with Mrs May before the cameras at the Swiss ski resort, Mr Trump said that they would "talk about" his mooted state visit to the UK.
A Downing Street spokesman later said: "The two leaders began by discussing Bombardier, with the PM reiterating the importance of the company's jobs in Northern Ireland.
"The PM and the president discussed Iran, and the need to work together to combat the destabilising activity which it is conducting in the region, including ballistic missile development, and continuing efforts to ensure Iran does not develop nuclear weapons.
"They also agreed on the importance of continuing to stand side-by-side in the fight against Daesh in Syria and elsewhere.
"The prime minister updated the president on the good progress which had been made in the Brexit negotiations so far. The two leaders reiterated their desire for a strong trading relationship post-Brexit, which would be in the interests of both countries.
"The PM and president concluded by asking officials to work together on finalising the details of a visit by the president to the UK later this year."