US President Donald Trump has reversed decades of US policy and recognised Jerusalem as the capital of Israel.
The move comes despite warnings from around the world that the gesture further drives a wedge between Israel and the Palestinians.
In a speech at the White House, Mr Trump said his administration would also begin a process of moving the US embassy in Tel Aviv to Jerusalem, which is expected to take years.
He said that the announcement marked the beginning of a new approach to the Israeli-Palestinian conflict.
The status of Jerusalem - home to sites holy to the Muslim, Jewish and Christian religions - has been one of the thorniest issues in long-running Middle East peace efforts.
US President Donald Trump has reversed decades of US policy and recognised Jerusalem as the capital of Israel - Read more: https://t.co/a9ovn3BVW3 pic.twitter.com/J2xySKffOr

— RTÉ News (@rtenews) December 6, 2017
Israel considers the city its eternal and indivisible capital and wants all embassies based there.
Palestinians want the capital of an independent Palestinian state to be in the city's eastern sector, which Israel captured in the 1967 Middle East war and annexed in a move never recognised internationally.
Israeli Prime Minister Benjamin Netanyahu has hailed the decision by Mr Trump as an "historic landmark".
In a pre-recorded video message, he said that any peace deal with the Palestinians must include Jerusalem as Israel's capital and he urged other countries to follow the US lead by also moving their embassies to the city.
Palestinian President Mahmoud Abbas said the city was the "eternal capital of the State of Palestine."
In a speech played on Palestine TV, which was also pre-recorded, Mr Abbas rejected Mr Trump's announcement, describing it as a move "tantamount to the United States abdicating its role as a peace mediator."
Hamas, the Palestinian group that has run Gaza since 2007, has said that Mr Trump's decision would "open the gates of hell" on US interests in the region.
"This decision will open the gates of hell on US interests in the region," an official with the Palestinian Islamist movement, told journalists after the announcement.
He called on Arab and Islamic states to "cut off economic and political ties with the US embassy and expel American ambassadors to cripple" this decision.
---
US to move its embassy from Tel Aviv to Jerusalem – what does it mean?
---
Mr Trump's decision is likely to please his core supporters - Republican conservatives and evangelical Christians who comprise an important share of his political base.
His aides contend the move reflects the reality of Jerusalem as the centre of Jewish faith and the fact that the city is the seat of the Israeli government.
The US President called his decision a "a long overdue" step to advance the peace process.
He said: "I have determined that it is time to officially recognise Jerusalem as the capital of Israel.
"While previous presidents have made this a major campaign promise, they failed to deliver. Today, I am delivering."
Mr Trump acted under a 1995 law that requires the United States to move its embassy to Jerusalem.
His predecessors, Bill Clinton, George W Bush and Barack Obama, had consistently put off that decision to avoid inflaming tensions in the Middle East.
Hundreds of people staged a loud but mostly peaceful protest outside the US consulate in Istanbul, denouncing Mr Trump's move to recognise Jerusalem as the capital of Israel.
Around 1,500 gathered outside the well-protected compound and the area was sealed off by police barricades.
The slogan "free Palestine" was daubed on a consulate wall while protesters hurled plastic bottles into the compound. A piece of paper with a representation of an Israeli flag was also burned.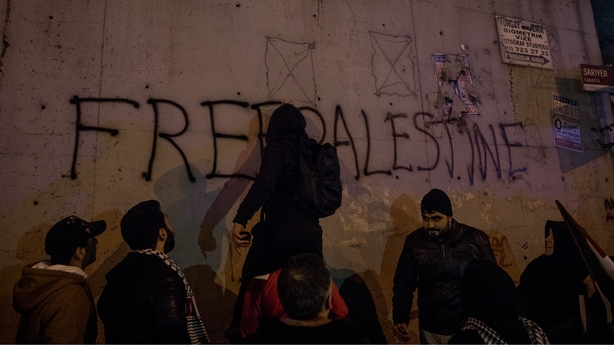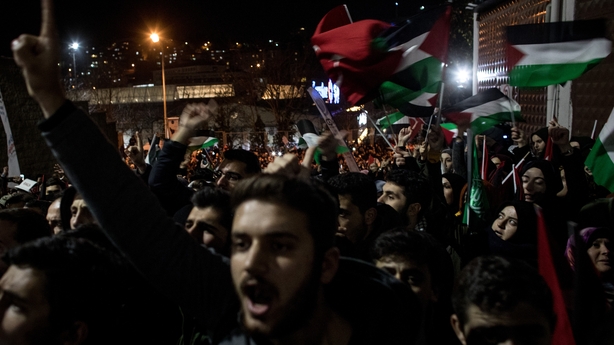 They chanted slogans including "murderer US, get out of the Middle East", "down with America!" and urged Palestinian Islamist group Hamas to "strike Israel".
"Jerusalem is for Muslims and will remain forever," the organisers said in a statement. Protesters also lit flares and waved Palestinian flags.
However the protest passed off largely peacefully and demonstrators dispersed.
'No alternative to two-state solution in Middle East' - Guterres
United Nations Secretary-General Antonio Guterres has said that there was no alternative to a two-state solution between Israel and the Palestinians.
He also said that Jerusalem was a final-status issue that should be resolved through direct talks.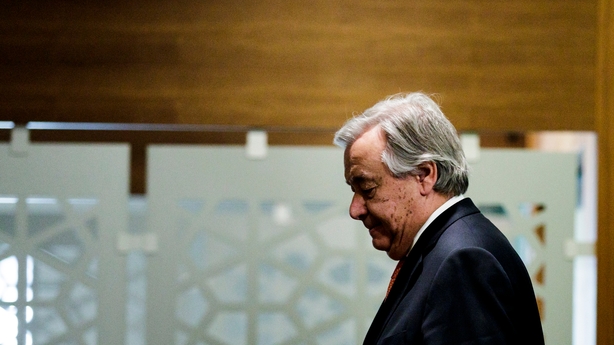 Mr Guterres told reporters: "I have consistently spoken out against any unilateral measures that would jeopardise the prospect of peace for Israelis and Palestinians.
"In this moment of great anxiety, I want to make it clear: There is no alternative to the two-state solution. There is no Plan B.
"I will do everything in my power to support the Israeli and Palestinian leaders to return to meaningful negotiations."
French President Emmanuel Macron has branded as "regrettable" his US Mr Trump's decision, calling for efforts to "avoid violence at all costs".
Addressing a press conference during a state visit to Algeria, Mr Macron affirmed "the attachment of France and Europe to the two-state solution, Israel and Palestine living side by side in peace and security within internationally recognised borders, with Jerusalem as the capital of the two states."
He called for "calm" and "responsibility" on all sides.
Meanwhile, a spokesman for German Chancellor Angela Merkel said she "does not support" Mr Trump in his decision.
The German government "does not support this position because the status of Jerusalem can only be negotiated within the framework of a two-state solution," spokesman Steffen Seibert wrote on Twitter.
Pope Francis called for Jerusalem's status quo to be respected, saying new tension would further inflame world conflicts.
China and Russia expressed concern the plans could aggravate Middle East hostilities.
Anticipating widespread demonstrations, US government officials have been ordered to avoid Jerusalem's Old City and the West Bank.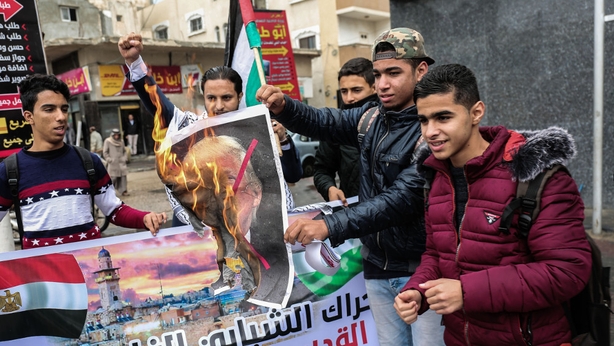 Minister for Foreign Affairs and Trade Simon Coveney has re-stated Ireland's position on the status of the city of Jerusalem.
The Tánaiste said: "Today's announcement by the United States in relation to Jerusalem is premature and ill-advised, and will be unhelpful to efforts to reach a resolution of the Middle East Peace Process, something which is very urgently needed.
Mr Coveney said he conveyed his concerns to the US Government yesterday, saying: " I know that very many leaders around the world did the same. Today's announcement is thus very disappointing and difficult to understand.
"Ireland remains fully committed to supporting both parties to reach a peaceful, negotiated solution to the Middle East Peace Process, something which is essential for Israel to secure its future, and for Palestinians to enjoy their full political rights." he added.