Myanmar police have formally filed charges against two Reuters reporters accused of breaching the official secrets act, which carries a sentence up to 14 years in prison.
Wa Lone, 31, and Kyaw Soe Oo, 27, were detained on 12 December after they had been invited to meet police officers over dinner.
Family members have said the two told them they were arrested almost immediately after being handed some documents by the officers they had gone to meet.
The two had worked on Reuters coverage of a crisis in the western state of Rakhine, where according to UN estimates around 655,000 Rohingya Muslims have fled from a fierce military crackdown on militants.
"They arrested us and took action against us because we were trying to reveal the truth," Wa Lone told reporters as he and Kyaw Soe Oo were led out of the court and back to Yangon's Insein prison after the 30-minute hearing.
A police officer "filed the case under the state secrets act section 3.1(c)," a judge told a Yangon court, despite global calls for their release.
The act dates back to 1923, when Myanmar, then known as Burma, was a province of British India.
Section 3 covers entering prohibited places, taking images or handling secret official documents that "might be or is intended to be, directly or indirectly, useful to an enemy".
The Ministry of Information had previously cited police as saying they were "arrested for possessing important and secret government documents related to Rakhine State and security forces".
The ministry has said the men "illegally acquired information with the intention to share it with foreign media".
The prosecutor objected to an application for bail, the reporters' lawyer said.
The court took it under consideration and will decide at the next hearing on 23 January, he said.
The government has said two police officers were also arrested for investigation under suspicion of having violated the act. It has given no further information on the police arrested.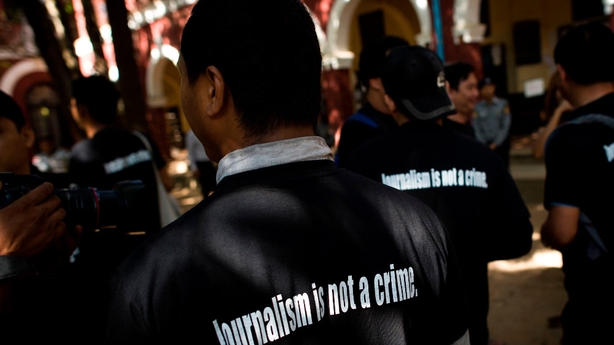 Reuters President and Editor-In-Chief Stephen J. Adler said he was extremely disappointed that the authorities were seeking to prosecute the pair.
"We view this as a wholly unwarranted, blatant attack on press freedom. Our colleagues should be allowed to return to their jobs reporting on events in Myanmar. We believe time is of the essence and we continue to call for Wa Lone and Kyaw Soe Oo's prompt release," he said.
Observers from the United Nations and from several embassies, including the Netherlands, Australia and Britain were at the court.
"We hope that these journalists will get a fair trial and a speedy trial that represents international practices," the first secretary of the EU mission, Andreas Magnusson, told reporters.
About 30 journalists were outside the court, most dressed in black as a sign of protest against the arrest of the pair.