Zimbabwe's Emmerson Mnangagwa has been sworn in as the country's president, bringing the final curtain down on the 37-year rule of Robert Mugabe.
Taking his oath of office, the 75-year-old former security chief known as 'The Crocodile' vowed to uphold the constitution of the former British colony and protect the rights of all Zimbabwe's 16 million citizens.
President Mnangagwa told a crowd of tens of thousands at the inauguration ceremony that he would fix the economy, battle corruption, create jobs for young people and "reduce poverty for all."
He also said that all foreign investments would be safe in Zimbabwe.
Mr Mugabe, 93, who had led the country from independence in 1980, stepped down on Tuesday after the army seized power and the ruling ZANU-PF party turned against him.
The world's oldest serving head of state resigned as parliament began a process to impeach him, sparking wild celebrations in the streets.
Thousands of Zimbabweans poured onto the streets of Harare in celebration after Robert Mugabe announced his resignation as President pic.twitter.com/vPgMCiVkhT

— RTÉ News (@rtenews) November 21, 2017
His sudden fall had been triggered by a battle to succeed him that pitted Mr Mnangagwa against Mr Mugabe's much younger wife Grace.
Just two weeks ago, she seemed to have the upper hand after Mr Mugabe fired Mr Mnangagwa on 6 November as vice president for showing "traits of disloyalty".
That prompted Mr Mnangagwa, one of Mugabe's most trusted lieutenants, to flee the country in fear for his life.
It also brought the tanks into the streets.
Addressing a cheering crowd in Harare on Wednesday night after his return, Mr Mnangagwa said Zimbabwe was entering a new stage of democracy.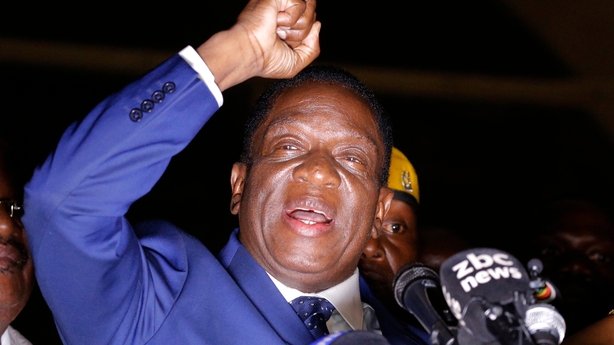 "The people have spoken. The voice of the people is the voice of God," he told thousands of supporters.
Yesterday, Mr Mnangagwa urged citizens not to undertake "vengeful retribution", striking a tone of reconciliation that echoed those made by Mr Mugabe almost four decades ago.
Mr Mugabe was granted immunity from prosecution and assured that his safety would be protected in his home country as part of a deal that led to his resignation.
Some of Mr Mnangagwa's supporters have called for unspecified action against the "G40" group that backed Mr Mugabe and his wife, known as "Gucci Grace" for her reputed dedication to shopping, an affront to many in a country with an unemployment rate of 90%.