Dismissed Catalan leader Carles Puigdemont has "demanded" that members of his deposed government be released after a judge ordered them to be jailed pending further probes into their role in seeking independence.
"I demand the release of the ministers and the vice-president," Mr Puigdemont said in a statement from an undisclosed location in Belgium broadcast on Catalan television.
Among the eight detained is Mr Puigdemont's former deputy Oriol Junqueras.
A Spanish judge ordered eight of nine Catalan secessionist leaders be held pending a potential trial over the region's independence push.
Mr Puigdemont's lawyer has said on Belgian state television that an arrest warrant had been issued for the former Catalan leader.
"I have just heard from my client that the warrant has been issued for the president and four of his ministers who are in Belgium," lawyer Paul Bekaert told VRT.
"Mr Puigdemont will stay here. He has said that he willfully cooperate with Belgian authorities during the procedure," Mr Bekaert said.
A court source has told Reuters however that no such warrant has been issued.
Catalan political parties and civic groups denounced the decision to "jail the legitimate government of Catalonia" and called for protests outside the Catalan regional parliament this evening.
Prime Minister Mariano Rajoy sacked Mr Puigdemont and his government on Friday, hours after the Catalan parliament made a unilateral declaration of independence - a vote boycotted by the opposition and declared illegal by Spanish courts.
Mr Puigdemont's lawyer in Belgium, where he has travelled with four members of his sacked cabinet, said his client would stay away from Spain while the political climate was "not good", but he would cooperate with the courts.
"If they ask, he will cooperate with Spanish and Belgian justice," Mr Bekaert said after Mr Puigdemont ignored an order to appear before the High Court today to answer charges of rebellion, sedition and misuse of public funds relating to the region's secessionist drive.
The jailing of the secessionist leaders and Mr Puigdemont's flight to Belgium make it difficult for leading figures from the independence movement to stand in a snap election in the wealthy region called by the Spanish government for 21 December.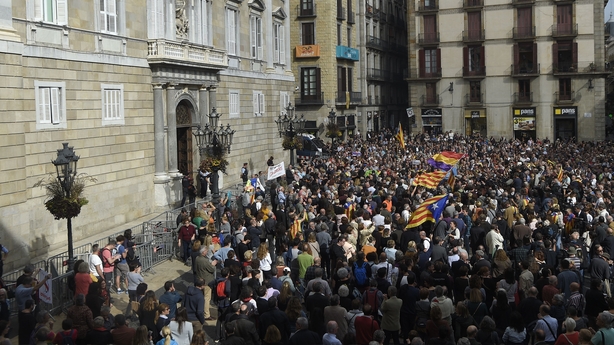 Mr Puigdemont said on Tuesday he would go back to Spain only if given unspecified guarantees by the Spanish government.
In Madrid, 20 secessionist leaders had been summoned by two separate courts to testify over their role in holding a banned 1 October referendum on secession and later proclaiming independence from Spain.
With Mr Puigdemont and four others in Belgium, only 15 turned up.
All the members of the dismissed Catalan cabinet but one declined to answer questions from the state prosecutor and the High Court judge, who opened an investigation that could take several years before any potential trial.
"The defendants have played an active role by propelling the carefully designed secessionist process and overcoming all kinds of obstacles that could make them deviate from their final objective," the judge said in the ruling that sent the defendants to jail.
She said the defendants must be held in custody because they were a flight risk and could destroy evidence.
One of them, Santi Vila, who stepped down from the Catalan cabinet before a unilateral declaration of independence last Friday and has since then been pushing for a negotiated solution with the government, was granted bail of €50,000.
Five senior regional lawmakers and the speaker of the Catalan parliament, Carme Forcadell, were summoned by the Supreme Court, which handles the cases of people who enjoy parliamentary immunity.
The Supreme Court agreed to give one more week to Ms Forcadell and the Catalan lawmakers to prepare their defence and a new hearing will take place on 9 November.
Mr Puigdemont said yesterday he would ignore the court order to answer charges over the region's push for independence, but he was ready to testify from Belgium, where he had travelled with four other members of his sacked cabinet.