North Korean computer hackers have stolen hundreds of classified military documents from South Korea including detailed wartime operational plans involving its US ally, according to a politician from the South.
Rhee Cheol-Hee, a lawmaker for the ruling Democratic party, said the hackers had broken into South Korea's military network last September and gained access to 235 gigabytes of sensitive data, the Chosun Ilbo daily reported.
Among the leaked documents was 'Operational Plans 5015' for use in case of war with the North and including procedures for "decapitation" attacks on leader Kim Jong-Un, Mr Rhee, a member of parliament's defence committee, was quoted as saying.
The report comes amid heightened fears of conflict on the Korean peninsula, fuelled by US President Donald Trump's continued threats of military action against Pyongyang to tame its weapons ambitions.
In his latest tweet over the weekend, Mr Trump reiterated that diplomatic efforts with North Korea have consistently failed, adding that "only one thing will work".
Citing Seoul's defence ministry, Mr Rhee said that 80 percent of the leaked documents had yet to be identified.
But the contingency plan for the South's special forces was stolen, he said, as well as details about annual joint military drills with the US and information on key military facilities and power plants.
A ministry spokesman declined to confirm the report, citing intelligence matters.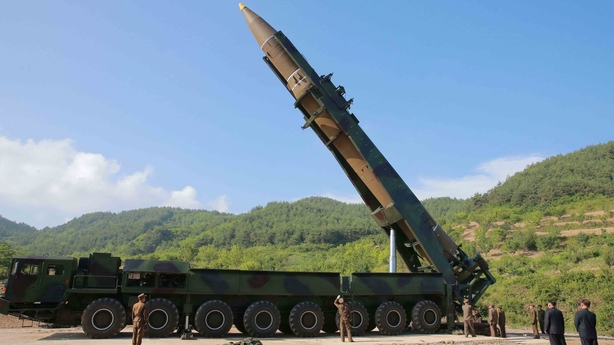 In May the ministry said North Korea had hacked into Seoul's military intranet but did not say what had been leaked.
Pyongyang has a 6,800-strong unit of trained cyber-warfare specialists, according to the South Korean government. It has been accused of launching high-profile cyber-attacks including the 2014 hacking of Sony Pictures.
The Chosun Ilbo story was the second report on Tuesday of military-related cyber-attacks in the Asia-Pacific. Australia's government said separately that an unidentified defence contractor had been hacked and a "significant amount of data" stolen.
There were 47,000 cyber-incidents in the last 12 months, a 15% increase from the previous year, Minister for Cyber Security Dan Tehan said in Canberra as he launched a report by the Cyber Security Centre.
The defence contractor was exploited via an internet-facing server, with the cyber-criminals using remote administrative access to remain in its network, the report said.
The Australian newspaper reported that the hacker was based in China but Mr Tehan told the Australian Broadcasting Corporation that "we don't know and we cannot confirm exactly who the actor was".
Meanwhile, North Korea's leadership has told Russian lawmakers that it possesses a ballistic missile with a range of 3,000km that will be able to reach US territory after modernisation, the Interfax news agency reported on Tuesday.
Interfax cited Anton Morozov, a lawmaker and member of the lower house of parliament's international affairs committee, who visited Pyongyang from 2-6 October.
North Korea aims to increase the range of its ballistic missiles to 9,000km, Mr Morozov was quoted as saying.
"There was no talk about the deadline (for solving this task)," he said.