Here is what we know so far about the attack at Manchester Arena.
- Twenty-two people have been killed and 59 have been injured in the suicide bomb attack. Children and young people are among the dead.
- The attack was carried out by a lone male suicide bomber who detonated an improvised explosive device. He died at the arena.
- He has been identified as 22-year-old Salman Abedi.
- Security services are investigating whether he acted alone or was part of a network.
- A 23-year-old has been arrested in South Manchester in connection with the incident.
- The so-called Islamic State said it was behind the attack.
- British Prime Minister Theresa May said the Manchester suicide attack is one of the worst terrorist incidents ever experienced in the UK. She said that many of the injured are being treated for life-threatening conditions.
- The UK has raised its terror threat level to critical and military personnel will be deployed to bolster police forces amid fears of an imminent attack.
- The first victims have been named as college student Georgina Callander and eight-year-old Saffie Rose Roussos.
- Greater Manchester Police this afternoon said a controlled explosion had taken place at an address in Fallowfield as part of the investigation.
- Last night's explosion rocked the Manchester Arena, the largest indoor arena in Europe with capacity for 21,000 people, at the conclusion of a performance by US singer Ariana Grande.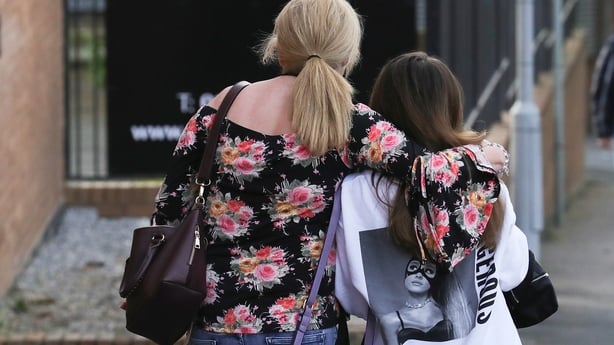 - Manchester Arena said the explosion happened outside the venue, as people began streaming from the doors. A total of 60 ambulances attended the incident.
- Greater Manchester Police said they were called to the venue at around 10.33pm and approach roads were closed. They said the blast was "being treated as a terrorist incident".
- It is the worst terrorist attack in the UK since 56 people were killed in the 7/7 London bombings in 2005.
- More than 400 officers were deployed on the operation throughout the night.
- The victims are being treated at eight hospitals across Greater Manchester, Chief Constable Ian Hopkins said.
- Parents are searching for missing children after the blast. Many turned to social media to seek loved ones.
- A controlled explosion was carried out by police at the Cathedral Gardens area near Manchester Arena shortly after 1.30am. Police said the suspicious item at the centre of the controlled explosion was just abandoned clothing.
- All UK General Election campaigning was suspended after the explosion.
- Minister for Foreign Affairs Charlie Flanagan said his department is not at this time aware of any Irish citizens affected. Anyone with concerns for family and friends can contact the Consular Division of his department on 353 1 408 2000.
- Ariana Grande, who was unhurt, said on Twitter: "broken. from the bottom of my heart, i am so so sorry. i don't have words."
If you have any concerns about Irish citizens you can contact the Department of Foreign Affairs #manchesterattack pic.twitter.com/qkqFvLaO0J

— RTÉ News (@rtenews) May 23, 2017