US Democratic candidate Bernie Sanders has labelled Donald Trump a liar while Democratic front runner Hillary Clinton said the Republican encourages aggression and violence.
Secret Service officers rushed on stage to protect Mr Trump during a disturbance at a rally yesterday, a day after protests shut down his event in Chicago.
Mr Trump has drawn fervent support as well as criticism for his calls to build a wall along the US-Mexico border and to impose a temporary ban on Muslims entering the US.
His rallies often attract small groups of protesters, but Friday's was the first at which there may have been as many protesters as supporters.
Donald Trump was forced to cancel his rally in Chicago yesterday evening as violent protests broke out in the crowdshttps://t.co/ZEPZuXUa3M

— RTÉ News (@rtenews) March 12, 2016
Mrs Clinton has criticised Mr Trump directly for "ugly, divisive rhetoric" that encourages aggression and violence.
Mr Trump blamed supporters of Mr Sanders for the incidents in Chicago, where scuffles broke out between protesters and backers of the real estate magnate. He called Mr Sanders "our communist friend".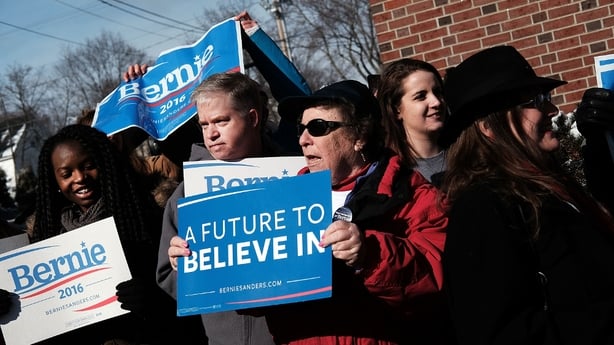 "All of a sudden a planned attack just came out of nowhere," Mr Trump said in Dayton, describing the events in Chicago. He called the protest leaders there "professional people".
Mr Sanders replied: "As is the case virtually every day, Donald Trump is showing the American people that he is a pathological liar. Obviously, while I appreciate that we had supporters at Trump's rally in Chicago, our campaign did not organise the protests."
At an event in Kansas City yesterday, Mr Trump urged police to arrest people who disrupt his events.
"They'll have to explain to mom and dad why they have a police record and why they can't get a job. And you know what? I'm going to start pressing charges against all these people and then we won't have a problem," he said to cheers.
Outside the rally, police broke up confrontations between Trump supporters and protesters who shouted: "Shut it down."
Police on horseback and riot gear briefly moved into a crowd of protesters and officers used what appeared to be pepper spray against demonstrators for a few seconds.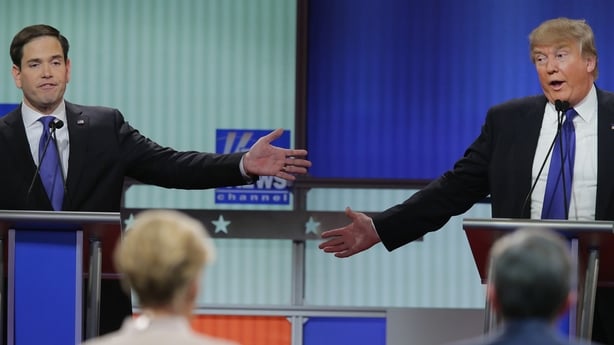 One of Mr Trump's Republican rivals, Marco Rubio, bemoaned the state of the presidential race during an event in Florida, saying it had "become reality television".
"Last night in Chicago, we saw images that make America look like a Third World country," Mr Rubio said.
Another Republican candidate, Ted Cruz, called the Chicago incidents "sad".
Meanwhile, President Barack Obama told a fundraising event in Dallas that political leaders "should be trying to bring us together and not turning us against one another".