Chief rivals to US Republican presidential front-runner Donald Trump criticised him in a televised debate last night for shifting positions on the issues, but said in the end they would reluctantly support him if he were their party's nominee.
Senators Marco Rubio of Florida, Ted Cruz of Texas and Ohio Governor John Kasich made the promise despite efforts by party elders to build an anti-Trump coalition of Republican voters to pick someone other than the New York billionaire.
Hours earlier, 2012 Republican nominee Mitt Romney criticised Mr Trump as an un-electable fraud whose nomination would ensure victory for Democratic front-runner Hillary Clinton in the 8 November election to succeed Democratic President Barack Obama.
Tempers escalated quickly at the two-hour debate and, as in previous encounters, the battle descended into taunts between Mr Trump, Mr Rubio and Mr Cruz with accusations of lying and even a reference to male genitalia.
"He hit my hands. Nobody has ever hit my hands," Mr Trump said, referring to Mr Rubio's recent personal attack stating that the celebrity billionaire has small hands.
"Are they small hands?" Mr Trump held up his two arms, to laughter and boos from the crowd.
"He referred to my hands," Mr Trump went on."If they are small, something else must be small. I guarantee you there is no problem."
'Are they small hands?' Trump hits back at a rival's remark about the size of his hands in a US Republican debatehttps://t.co/qcnTorQj5T

— RTÉ News (@rtenews) March 4, 2016
While Mr Trump's three rivals followed party dogma, insisting they would set aside their concerns and rally around the ultimate nominee, they said they would do so reluctantly if the former reality TV star were to emerge as the candidate for the general election.
"Sometimes he makes it a little bit hard," said Mr Kasich.
Mr Trump, asked if he would support the Republican nominee if it was someone other than him, seemed startled by the question given the momentum behind him, but eventually said: "Yes I will."
Mr Trump defended himself from Mr Romney's rebuke and called Mr Romney a failed candidate.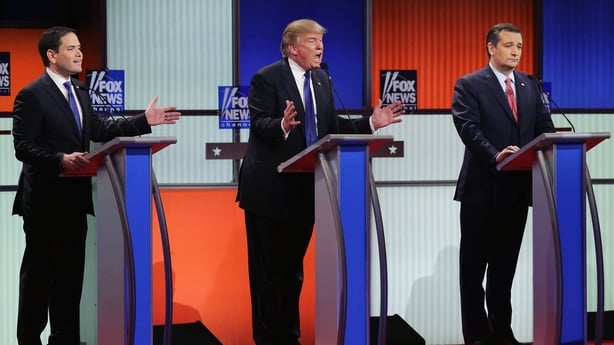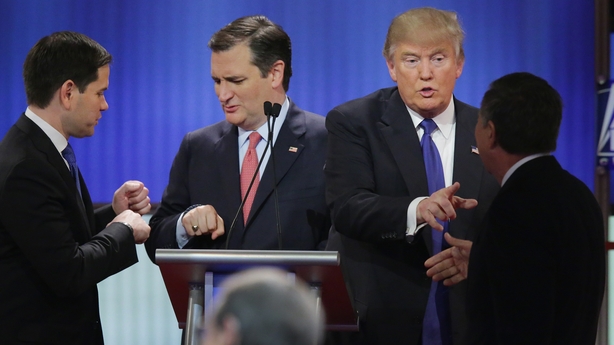 With the Florida and Ohio primary votes looming on 15 March as make-or-break for the anti-Trump forces, Mr Trump provided some ammunition to his critics.
He shrugged when presented with videotaped evidence from the moderators that he had shifted positions on the Iraq war, immigration and whether to admit refugees from the Syrian civil war.
"You have to show a degree of flexibility," he said, before his rivals slated him.
It remained to be seen whether the debate would prove to be damaging to the Trump campaign.
The runaway front-runner to date has been immune from criticism that other politicians normally face, for instance, over flip-flopping on issues.
He also abruptly changed his position on foreign workers, saying more of them who are highly skilled should be allowed to remain in the United States.
Mr Rubio pressed Mr Trump on the foreign workers he has imported to work at his Palm Beach resort, jobs he said could go to Americans.
Mr Trump said the workers were for a short November-to-March season.
"People don't want a short-term job," Mr Trump said.
"So we bring people in and we send people out."