The embalmed corpses of two Catholic saints, including that of the venerated Italian friar Padre Pio, have gone on display in St Peter's Basilica.
Nearly half a century after his death, the body of Padre Pio was moved for the first time from its resting place in a sanctuary at San Giovanni Rotondo in southern Italy.
It has been brought to the Vatican at the request of Pope Francis as part of events to mark the ongoing Catholic Jubilee Year.
The corpses of the two saints will be on display in St Peter's until 11 February.
Padre Pio was revered during his lifetime (1887-1968) and his popularity has continued to grow since his death, particularly in Italy.
His body was accompanied to St Peter's by St Leopold Mandic (1866-1942), a Croatian Capuchin who was, like Padre Pio, celebrated for his skill in receiving confessions - a quality Pope Francis wants to champion during the jubilee year.
Canonised under Pope John Paul II, Padre Pio's brand of popular, mystical Catholicism was less popular with the Vatican authorities when he was alive.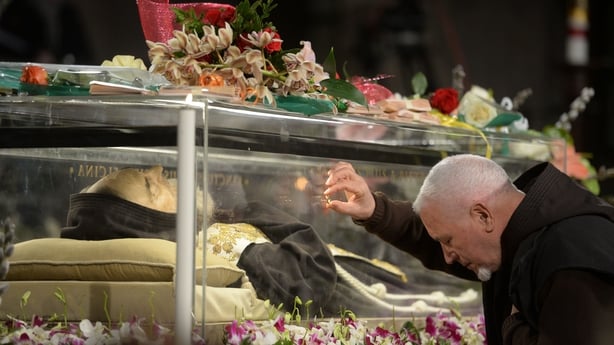 He regularly recounted having experienced both heavenly and diabolic visions, other clerics claimed to have witnessed him levitating in ecstasy and he was frequently associated with apparently miraculous recoveries among the seriously ill.
From the age of 31 until the end of his life, he regularly presented with stigmata - body marks corresponding to the wounds Jesus Christ received during his crucifixion, according to biblical accounts.
One sceptic wrote a book suggesting Padre Pio maintained his wounds with acid while a prominent doctor theorised that he suffered from a rare form of haemophilia.
While Padre Pio was regarded with suspicion by popes John XXIII and Paul VI, he was admired by Polish pope John Paul II, who confessed to the friar when he was a young priest.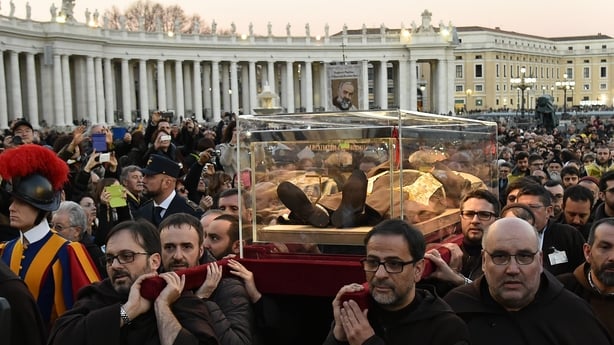 And Pope Francis had further promoted the veneration of Padre Pio, encouraging the creation of prayer groups dedicated to him when he was archbishop of Buenos Aires.
Padre Pio's legend was further enhanced after his death when, in 2008, his body was exhumed from his crypt to be put on display and was allegedly found to be in remarkably good condition.
There were, however, no signs of any stigmata and his skull had become exposed, which resulted in a silicon face mask being made for him.