How bad is America's gun problem?
According to anti-gun violence organisation Brady, 15,343 Americans will be shot dead by other Americans this year. That number is greater than the 13,000 admitted deaths of Ukrainian Army soldiers fighting an all-out war against Russia's invasion.
Another 23,000 Americans die of suicide by gun each year. That number is greater than the estimated Russian Army deaths in the Ukraine war.
So America's average gun death toll is apparently worse than the military deaths in the Ukraine war. But that war is a one off; it will end eventually. America's gun death toll happens every year.
Today is the 10th anniversary of the Sandy Hook school shooting in Connecticut. In one of America's worst gun outrages, 20 primary school children and six school workers were murdered by a 20-year old gunman, who had earlier killed his mother - the owner of the firearms used in the attack.
But it took another ten years, and a similar school massacre in Uvalde, Texas, before America started to change its national gun laws.
In the decade between Sandy Hook and Uvalde, a million Americans were shot.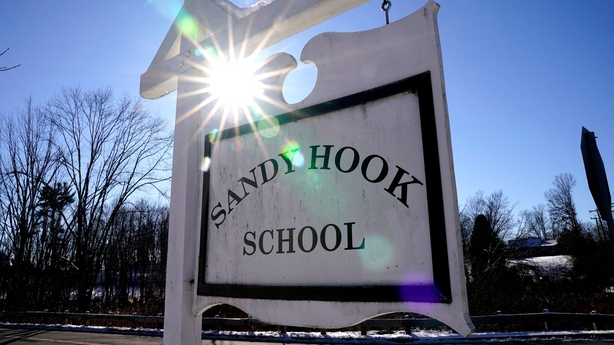 In a church on Capitol Hill, they gather to remember America's victims of gun violence.
It began 10 years ago after the massacre at Sandy Hook primary school. Twenty children and six teachers and school workers were killed by a 20-year-old with an assault rifle.
Guitarist Mark Barden's son Daniel was one of them. "This is the first time we've been able to attend the vigil here. They've been doing this since the tragedy, and Sandy Hook, Connecticut took my young seven-year-old son Daniel from us. And it's such a powerful, important event. It gives all these folks who have been living through this some time to reflect and be together and hopefully heal."
Mark's own road to healing has been long and difficult. A professional musician, he was playing his guitar, accompanied by a pianist, as the candlelight vigil drew to an end at St Mark's Episcopal Church, round the back of the Library of Congress. We spoke when he finished playing.
"It's been an emotional last 10 years, and coming into 10 years now from the tragedy that took our Daniel from us, it's hard to imagine the time ... It feels like he's still with us. It feels like he'll always be seven and he's supposed to be 17 right now, and it's just that brings with it so much emotional weight."
He had previously spoken about losing interest in music after his son's murder, about being unable to play the CDs in the touring van he used as a professional musician because they brought back too many memories of family road trips and the music he made with his children.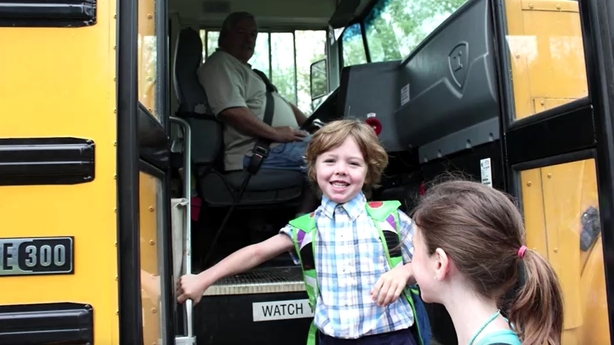 "By my true self, I'm a professional musician, guitarist and that's what I do. That's what I'm made of. And it's been quite a difficult journey back to music because my three children James, Natalie and Daniel, have all been very intimately connected with the music. And it's been a challenge to get back to playing music, but I am finding my way back."
Mark is the subject of a documentary that's in the final stages of production called A Father's Promise. Video of a family band session, featuring Daniel on drums, is part of the film, part of the healing.
"This documentary started life many years ago as a way to explore the role that music plays in healing after a devastating tragedy. And over time, and it's kind of evolved more into my story, which is uncomfortable, I'll be honest with you, but I think it is an important story to tell. It explores the depths of what this tragedy does to a person and to a family and to a community and the concentric circles of impact that it causes, and the forever damage that it causes."
Sandy Hook was a day of unique horror, even in a country with as much gun violence as America; a massacre of young children in a school where the killer was once a pupil.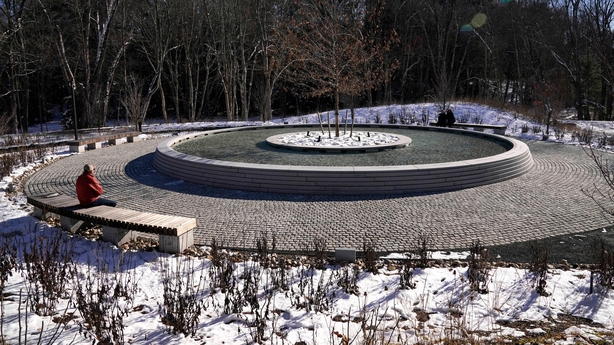 Nicole Hockley remembers trying to find her son Dylan on that day, getting no answers until the governor of the state turned up.
"I had no idea who Governor Malloy was at that point. I just remember seeing a man standing there in a long blue winter coat. And people started saying, 'tell us what's happening, what's going on?' because we still had really no information. He tried to answer our questions, and it was clear to me he was frustrated that we hadn't been told. And so he said it. He said that many people had been killed. He actually used the word, 'they expired', which I remember thinking, 'what sort of word is that when talking about a human being?'
"But he said, 'if you are still waiting here, then the person you're waiting for isn't coming back'. And the room just erupted in chaos. A man who was standing near me just fell to the floor and was screaming. A woman sitting in a chair was wailing. It was just noise and chaos and disbelief and ... I just shut down, and I just needed to get out of there."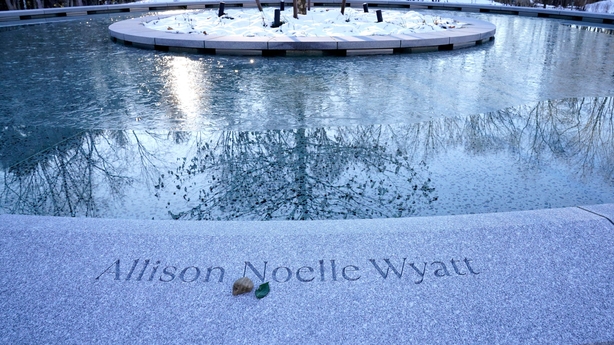 Mark and Nicole joined forces with other parents from Newtown, the quiet Connecticut town that is home to Sandy Hook Elementary School (itself torn down and rebuilt after the massacre). They set up the Sandy Hook Promise, an organisation to campaign against gun violence, press politicians for better gun safety laws, and educate people, particularly schoolchildren, parents and teachers about making schools safer - notably a 10-point programme of signs to watch for as most people who commit mass killings tend to have built up to the event.
"The more we studied school shootings, the more we studied our own police report, the more we studied violence and youth violence, we learned more and more about these signs and signals leakage that is given off in advance," Nicole Hockley said.
"Four out of five school shooters tell someone what they're going to do beforehand. They often tell them on social media. People don't know what to do with that information. So they think they're joking or they think someone else will take care of it, or they think if they're putting it out there, don't really mean they're going to do it."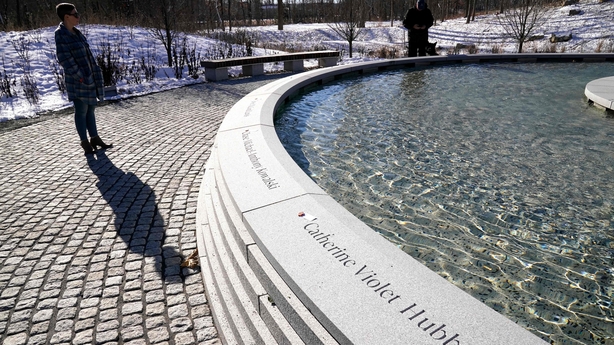 While law enforcement agencies have gotten better at spotting these signs, they can't be everywhere watching everyone at all times. The Sandy Hook Promise people decided to start educating young people on how to spot the signs themselves - and take action before things get out of control.
"We decided to focus on bringing our programmes to schools across the country so we could help teach young people how to be 'upstanders', how to recognise warning signs in their peers, how to recognise something on social media, and take action by telling a trusted adult or using an anonymous reporting system. But also how to practice inclusion, how to recognise when someone is alone, and how to reach out and help and include them. Because if someone feels included, if someone feels seen, and if someone is displaying behaviors that are then seen and acted on as well, that's how you avert tragedies," said Ms Hockley.
---
Sandy Hook Promise's potential warning signs:
Suddenly withdrawing from friends, family and activities (including online or via social media)
Bullying, especially if targeted towards differences in race, religion, gender or sexual orientation
Excessive irritability, lack of patience, or becoming angry quickly
Experiencing chronic loneliness or social isolation
Expressing persistent thoughts of harming themselves or someone else
Making direct threats toward a place, another person, or themselves
Bragging about access to guns or weapons
Recruiting accomplices or audiences for an attack
Directly expressing a threat as a plan
Cruelty to animals
---
While schools have been receptive to the organisation, the political going has been harder.
At a recent fundraising dinner in New York for the Sandy Hook Promise, the president of the United States at the time of the massacre, Barack Obama, spoke.
He said the day of the Sandy Hook massacre was the worst day of his presidency - something many others in that White House have also said. But what made him angry, he said, was the refusal of the Congress to act in the immediate aftermath of the massacre.
If the murder of 20 primary school children would not make them act, what would? He said it was the low point of his relationship with politics, the point at which he almost tipped over into cynicism. But he also told them he is seeing signs in politics now that the tide may be turning.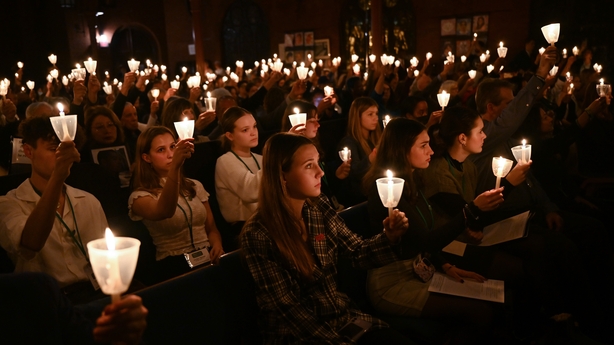 The current president, Joe Biden, is also hopeful that more change is on the way in American gun law. He was the first sitting president to attend the annual vigil for the victims of gun violence in St Mark's Church. He was vice-president at the time of Sandy Hook, and like the president, he visited the town, spent time with the families. And he continued to spend time with them down the years and describes them as friends.
This year, President Biden got the first substantial reform of national gun laws in 30 years passed by the Congress. The context was, of course, the dreadful massacre of more primary school children in Uvalde, Texas.
The parallels with Sandy Hook were all too apparent - 19 children and two teachers shot dead by an 18-year-old former pupil of the school with an AR-15 type assault rifle. Unlike Sandy Hook, there were also a dozen other children injured.
In its wake, President Biden got the first major change in gun laws in 30 years passed over the summer. It provides for enhanced background checks, and puts a lot more money into mental health services.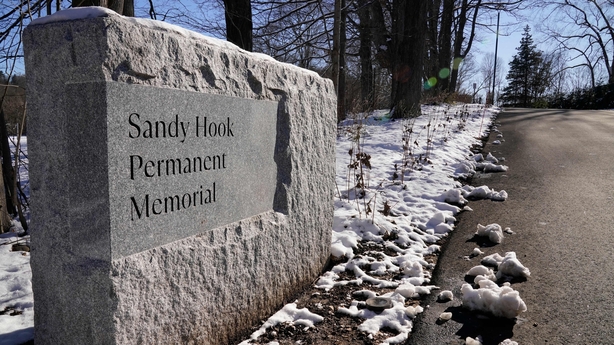 But 18-year-olds are still able to buy assault rifles in America. (The age for handguns is 21, same as buying a beer or a lottery ticket.) Assault rifles are, as the name suggests, vastly more deadly than ordinary firearms, because of their high rate of fire and large capacity magazines (typically 30 rounds).
According to Brady, the use of an assault rifle or high capacity magazine increases the number of people shot in an incident by 157% - over the average firearm incident.
At the national vigil for the victims of gun violence, President Biden said he wants to bring in a ban on the sale of assault rifles and high capacity magazines. It won't be easy - the gun lobby is still strong, and sparsely populated rural states where gun culture is most deeply entrenched have outsized influence in the finely balanced Houses of Congress.
But Barack Obama is not the only one pointing to signs of change in US politics. John Feinblatt, president of the NGO Everytown for Gun Safety, noted the willingness of Republican senators to sponsor and vote for the bipartisan gun law passed after the Uvalde massacre, and says the Democrats did not pay an electoral price for it in the recent midterm elections.
He told Politico that the most important thing is not to succumb to the notion that the current reality of gun violence in America is a fixed state - that nothing can change.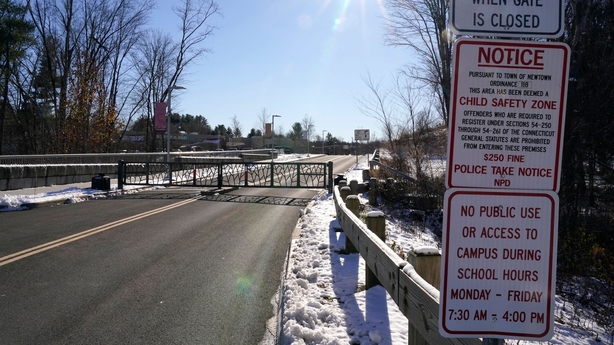 The key figure in delivering reform in the Senate will be Chris Murphy, who along with his fellow Connecticut Senator Richard Blumenthal attended the vigil. Ten years ago, Senator Murphy was a congressman representing the district that covers Newtown and Sandy Hook school. He was there on that day of horror, and has worked tirelessly to bring about change.
"Ten years ago we set about the work of building an anti-gun violence movement that would eventually be more powerful than the gun lobby. We've reached that point," said Senator Murphy.
The National Rifle Association, the main pro-gun organisation in the US, is being sued by the Attorney General of New York, Letitia James, who is seeking a court order to dissolve the organisation, which she accuses of fraud.
It filed for bankruptcy protection last year, but a judge rejected the application, leaving the NRA to face the New York Attorney General's case.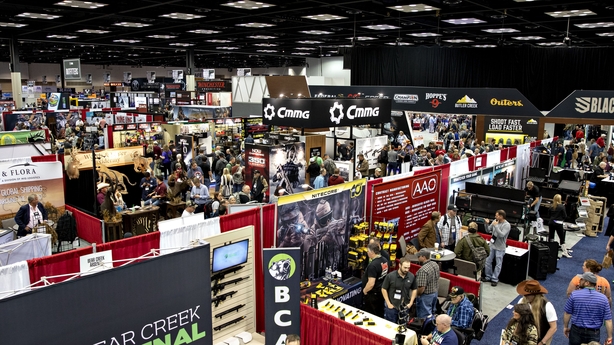 Another person committed to changing gun law at national level is Congressman-elect Maxwell Frost - who became the first member of 'Generation Z' to get elected to the House of Representatives last month.
The 25-year-old from Florida was also at the national vigil in St Mark's Church - and not for the first time.
Organisers introduced him fondly, remembering (and showing a photograph of) a 15-year-old kid from Florida who had written to them saying how much he wanted to be in Washington for the first vigil, and could they help him with the airfare. They thought about it, and took a chance.
It paid off. For 10 years, he has been a very active activist for gun law reform. He will now enter the new Congress in January to put youthful vigour into the push for tighter gun laws.
In a fiery speech, Mr Frost invoked an earlier activist, telling them: "I don't want to accept what I cannot change: I want to change what I cannot accept." It was an adrenaline shot that brought the audience to its feet.
But there have been changes in state laws affecting guns as well. While loosening laws - as was the case in Texas over the summer - has gotten attention, the tightening of laws has garnered less scrutiny. The Giffords Law Center to Prevent Gun Violence has recorded 525 "significant gun safety laws" adopted by states in the decade since Sandy Hook".
Nearly every state in the nation has passed at least one significant gun safety law, said the organisation, which was founded by former Congresswoman Gabby Giffords, who was shot in the head in an attack in 2011, but who survived and who continues her recovery to this day. (Her husband, former NASA astronaut Mark Kelly, was re-elected a senator for Arizona in last month's midterms.)
In the decade between Sandy Hook and Uvalde, 279 people have been shot dead in America's schools. Gunfire is now the biggest cause of death among American children, taking an average of five lives a day.
Last year, 6,294 children survived gunshot wounds. Just over 40,000 Americans of all ages die by the gun each year. A Ukraine war every year.