The western US and Canada are facing scorching temperatures, with heat warnings still in place and authorities struggling to bring wildfires under control in both countries.
Sweltering conditions hit much of the Pacific seaboard and as far inland as the western edge of the Rocky Mountains over the weekend.
The US National Weather Service had warned of a dangerous heatwave and said temperature records would likely be broken over the weekend, forecasting highs of 52°C to 54°C in California's Death Valley, often the hottest place in the country.
A thermometer outside Furnace Creek Visitors Center in the heart of Death Valley showed 56.°C shortly before 4pm local time yesterday, although a National Park Service ranger said it typically measured higher than the official reading.
The NWS recorded the temperature on Saturday at 54.4°C, which if verified would be one of the highest ever recorded on Earth.
Tourists left their air-conditioned cars only long enough to pose for pictures with the thermometer.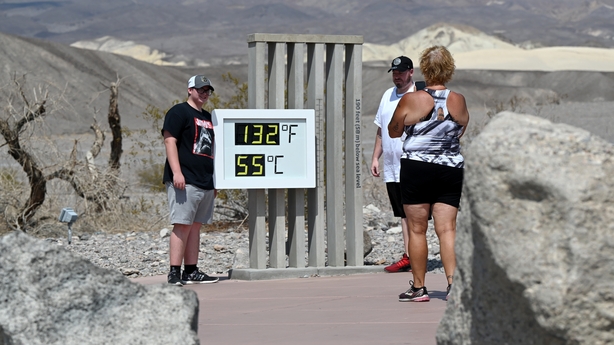 The NWS said temperatures would dip slightly from today, but added: "This small relative cool down is of little relief to areas that have seen long-term oppressive and above normal temperatures.
"Excessive heat warnings remain in effect for a majority of locations in the region through Tuesday."
A fire in northern California continued to grow overnight, spurred by the heat and increased winds.
Authorities said they had received reports of homes destroyed in multiple towns and urged residents to stay away, with footage from the area showing burnt-out abandoned cars and houses.
Large areas of forest in Beckwourth appeared to be on fire, with huge clouds of smoke rising above the hills.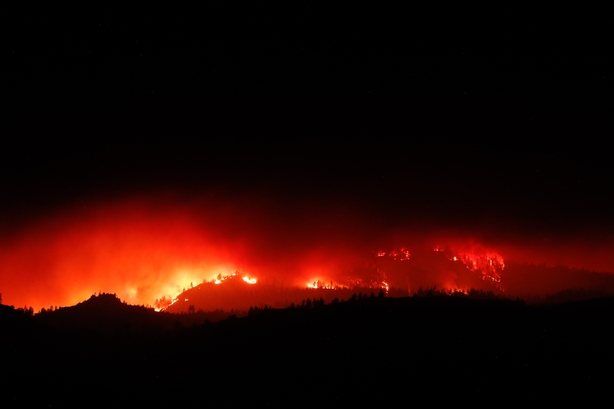 Governor Kate Brown declared a state of emergency on 6 July.
Sugar Fire (Beckwourth Complex) over the past three days. All Pics Copyright Noah Berger / APhttps://t.co/QwvD9y4HFZ

— Noah Berger (@noahberger3884) July 11, 2021
In the state of Oregon, the Bootleg Fire more than tripled in size between Friday and Sunday, gaining more than 100,000 acres, according to the US Forest Service.
Goats are an unlikely but increasingly popular weapon in California's fight against the wildfires that rage through the western US state every year.
On a recent hot July morning, a herd of 80 ungulates were deployed to a hilly patch of land in Glendale, just outside Los Angeles.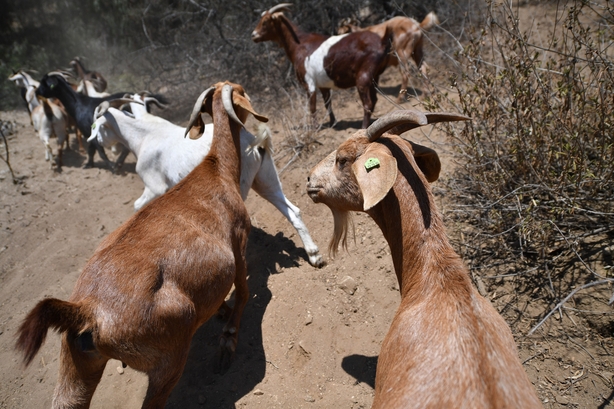 The goats' voracious appetite serves two purposes.
Eating easily flammable vegetation helps to restrict the spread of fire, and also creates a convenient corridor in which firefighters can operate.
They had been chomping away for the past 10 days or so, helping to clear away bone-dry vegetation that could go up in flames and threaten the surrounding homes.
---
Read more:
No Kidding: Goats help tackle wildfires in California
---
Due to climate change and a brutal drought, officials fear that months of massive infernos are now the norm.

The weekend's hot weather follows an earlier heatwave that struck the same regions at the end of June.
A study by a group of leading climate scientists found that those conditions would have been "virtually impossible" without human-caused climate change.
The World Weather Attribution group said that global warming, caused by greenhouse gas emissions, made the June heatwave at least 150 times more likely to happen.
The scorching conditions saw the all-time record daily temperature broken three days in a row in British Columbia.
We need your consent to load this rte-player contentWe use rte-player to manage extra content that can set cookies on your device and collect data about your activity. Please review their details and accept them to load the content.Manage Preferences
Last month was the hottest June on record in North America, according to data released by the European Union's climate monitoring service.
Human activity has driven global temperatures up, stoking increasingly fierce storms, extreme heatwaves, droughts and wildfires.
The World Meteorological Organisation and Britain's Met Office said in May there was a 40% chance of the annual average global temperature temporarily surpassing 1.5 degrees above pre-industrial temperatures within the next five years.
The past six years, including 2020, have been the six warmest on record.
Canadian meteorologists predicted highs approaching 32°C would continue in parts of western Canada today - well above seasonal norms.
In Canada, more than 50 new wildfires have erupted in the past two days.
Canadian transport minister Omar Alghabra on Sunday announced new emergency measures aimed at preventing further wildfires in the tinder-dry region, including steps to slow or limit train traffic.
Trains are a common cause of wildfires, often when their spark-arresting devices are poorly maintained.
The Canadian government has sent investigators to the town of Lytton, 250km northeast of Vancouver, to see whether a passing cargo train might have caused a late June fire that destroyed 90% of the town.
As of Sunday night, the number of wildfires across the province of British Columbia was continuing to rise, hitting over 300, authorities said.