George came to Lancaster Airport in rural Pennsylvania to see Mike Pence arrive on board Air Force Two.
He had brought a large photo of the US Vice President in the hopes of getting it signed but it wasn't to be because of coronavirus restrictions and social distancing.
It's not the first time George has been left disappointed by this administration. He voted for Donald Trump in 2016 but won't be voting for him again in November.
"I don't like that he worked with Putin and then there's the killing of US servicemen by bounty which was covered up," George said.
"I probably do regret voting for him. I blindly put him in office."
Every vote counted in Pennsylvania back in 2016.
Donald Trump won the state by the tiniest of margins and he needs to win it again if he is to retain the White House.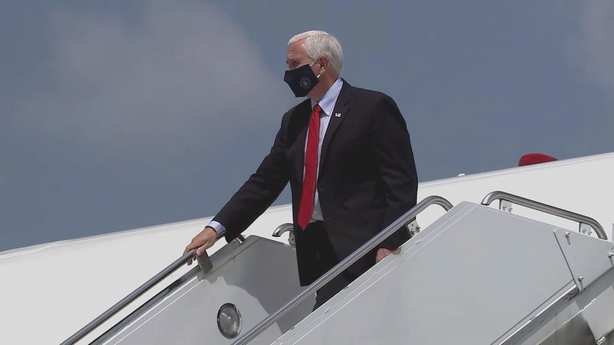 Mike Pence was there for the start of a bus tour across Pennsylvania, hitting the campaign trail at a time when the president is behind in the polls and under fire over his handling of the coronavirus and recent racial unrest.
Supporters like Thile Cramer aren't worried.
"The virus, the Black Lives Matter movement, none of that is going to matter. It's all politically driven and will be gone after Election Day," she said.
Trump voter Sam Smucker said he was not concerned by the opinion polls which are showing Joe Biden with a big lead.
"He was behind in the polls the last time and I think Trump will get in again, for sure," he said.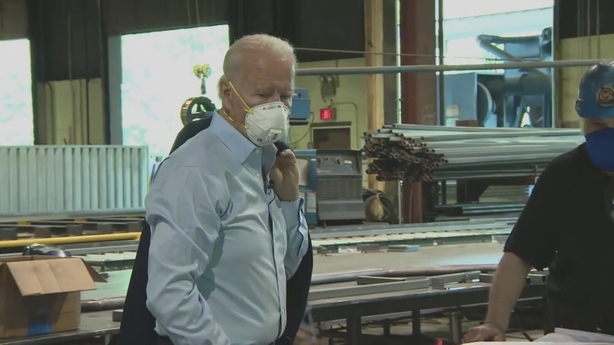 ---
Read more:
Challenging Trump on economy, Biden unveils $700bn recovery plan
States of Mind: The anti-Trump Republicans in the president's head
---
In another part of Pennsylvania at around the same time, the Democratic candidate Joe Biden was visiting a steel plant.
He needs to win back blue collar workers in the so-called rust belt and his supporters are confident.
John Brizinski lives across the road from the steel plant and was delighted to catch a glimpse of Mr Biden as he arrived at the event.
"He's for the working people, he's not for the rich. He wants to keep jobs in the country and he'll be a better president than Donald Trump," he said.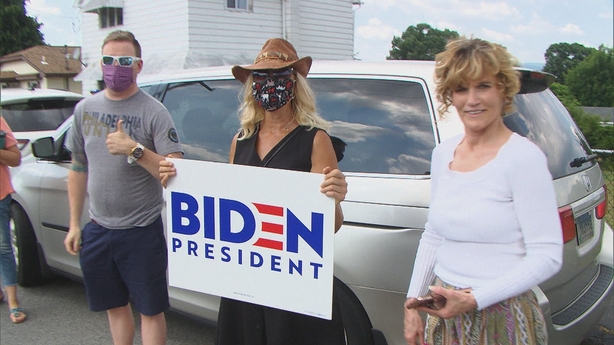 A small group of Biden supporters had gathered outside the plant but Evan Gedrich stood out from the crowd. He was holding a Trump sign.
"This election is freedom versus tyranny. Democrats want to raise taxes, Donald Trump wants to put America first," he said.
Although surrounded by Biden supporters, Evan said he wasn't met with any hostility. As the election approaches, the fight for a key swing state like Pennsylvania may not remain so civil.
Pompeo congratulates Ireland on UN seat
US Secretary of State Mike Pompeo has spoken with Minister of Foreign Affairs and Defence Simon Coveney today, a White House spokesperson confirmed.
He said: "Secretary Pompeo congratulated Ireland on its successful campaign for a non-permanent seat on the United Nations Security Council and affirmed our commitment to working with Ireland's new government.
Delighted to speak with Irish Foreign Minister @simoncoveney to congratulate Ireland on its successful campaign for a non-permanent seat on the United Nations Security Council. We look forward to working with the new government to advance peace and prosperity.

— Secretary Pompeo (@SecPompeo) July 10, 2020
"Secretary Pompeo and Minister Coveney emphasised the importance of the longstanding US-Irish relationship to advance shared goals of prosperity, security, and trans-Atlantic trade and cooperation."