The recent wave of Black Lives Matter protests in the US has once again highlighted the racial inequality that still exists in the country.
Some African-Americans fear it is a systemic problem that will continue for generations to come, others are hopeful that this latest movement may bring about real change.
The area surrounding the White House has a street market feel right now with vendors selling Black Lives Matter t-shirts and face masks from their stalls.
Music plays from speakers along the street, which has been renamed 'Black Lives Matter Plaza'.
The fence surrounding the White House has in itself become a monument to the movement.
The railings have been covered with messages of support, calls for change and tributes to those who have lost their lives at the hands of police.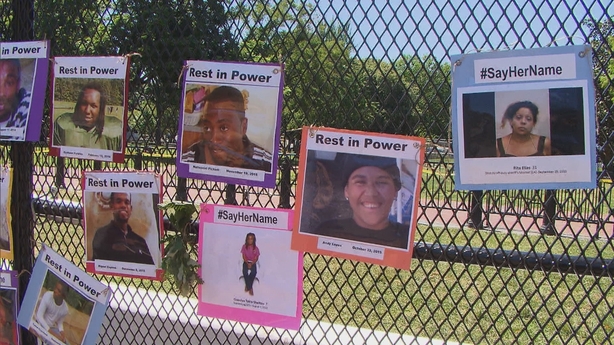 Visitors, many of them African-Americans, come to take pictures and read the posters and signs.
For mother and daughter, Angela and Dahra Johnson, the visit led them to recall their own experiences of racism and inequality.
"I've encountered the issues that most of us black Americans have lived with like going into a store and being followed. Once when my hair was cut short I was pulled over by a police officer just because he thought I was a guy," Angela said.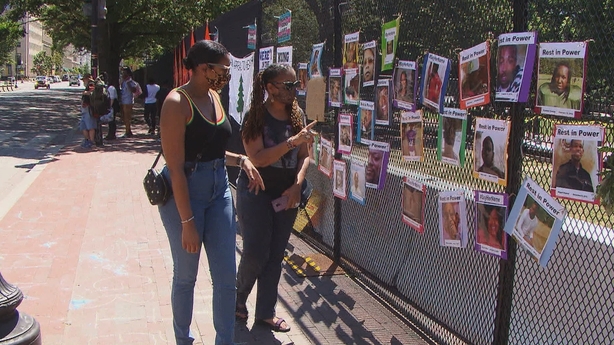 "Unfortunately you have to navigate through things like that in the US and I've been navigating through it my whole life."
It is something Dahra has also had to navigate through.
"I went to a majority white elementary school and the teachers there didn't believe I lived in the neighbourhood. They used to pull me aside to ask me questions like 'where do you really live, how did you get here, how do you get home'. Growing up I experienced a lot of micro-aggressions like that," Dahra said.
Trey Morgan and Deshawn Collington are expecting their first child next month.
They came to the White House to take photos to show their son when he is older and hope his experiences will be different from their own.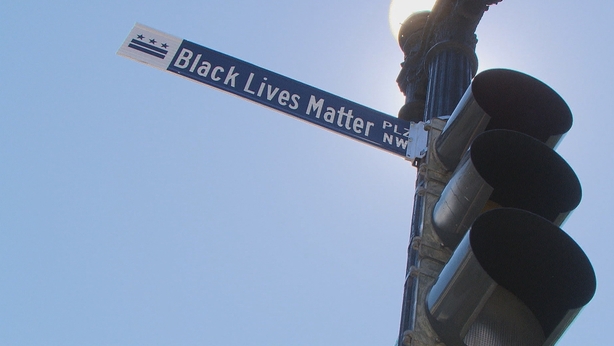 "I've gone into different stores and locations where I get stereotyped as soon as I get there. It's the way I dress or my hair or especially my skin colour. No matter where we go, we're going to get judged," Trey said.
African-Americans are imprisoned at five times the rate of white Americans, with many black people believing they are unfairly targeted by the US justice system.
That is how Jerome Chase feels who was outside the White House buying a 'Black Lives Matter' t-shirt from a street vendor.
"I went to prison for a crime I never committed in the 80s There are a lot of black people who are accused of things and targeted for things they didn't do, but in the last five years I've come to learn that not all police officers are bad but police departments have to pull out the bad apples," Jerome said.
A 20-minute drive from the White House is the South East district of Washington DC where there many predominantly African-American communities and some of the poorest neighbourhoods in the US.
Yaida Ford is a lawyer and community activist in Washington's 8th Ward, the city's most disadvantaged district.
"Systemic racism drives where we put our money and there's a lot of talk of supporting communities of colour and men and women of colour but not a lot of walk, lots of talk but not a lot of walk", Yaida said.
The Covid-19 pandemic has highlighted the racial divide in the US with African-Americans disproportionately affected by the coronavirus.
"There are underlying health conditions that African-Americans experience disproportionately more than white people for example stress-related conditions and high blood pressure. There are also food access issues that create health problems," Yaida said.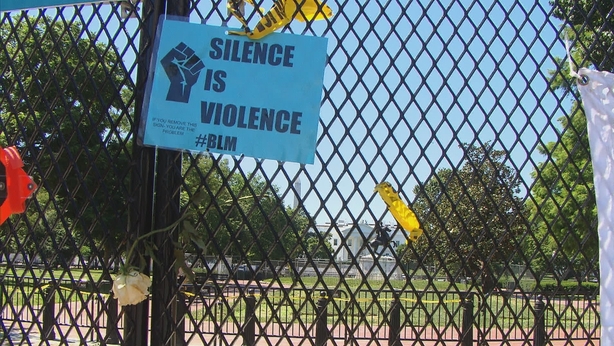 At the White House, the fences and barricades that have been erected will soon be gone, but the barriers to equality felt by many who have gathered there will be much harder to remove.
For some people, like Angela Johnson, however the latest wave of protests has given them hope.
"I see people of all races and ages. I just think this era is different and I want it to be a cauldron of change," she said.
We need your consent to load this rte-player contentWe use rte-player to manage extra content that can set cookies on your device and collect data about your activity. Please review their details and accept them to load the content.Manage Preferences