The coronavirus has had a devastating impact on the US economy, with 10 million Americans applying for unemployment benefits in the last two weeks alone. 
Like in Ireland, the pub and restaurant trade has been hit particularly hard.
Tipperary man Mark Kirwan has been forced to close his two Irish pubs in Washington DC, but his day job as a police officer has never been busier, enforcing the lockdown currently under way in the US capital.
"We've had a huge issue with crowd control. Unfortunately, the general population hasn't taken heed regarding what they should and shouldn't be doing in relation to the coronavirus," he told RTÉ News.
"A lot of manpower is being deployed on the streets trying to disperse crowds that have gathered."
Mark said there was anxiety among members of the force about getting infected with the virus themselves.
"The biggest fear for every first responder is your own health. We don't have the luxury of staying at home," he pointed out.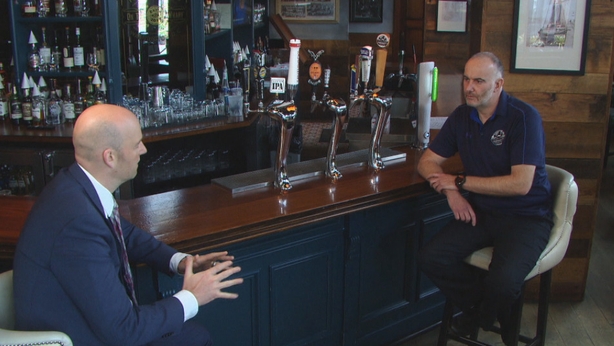 While Mark's police work has ramped up because of the outbreak, his other career has been decimated.
He runs two Irish pubs, Kirwans On The Wharf in Washington DC and Samuel Beckett's in nearby Arlington, Virginia.
Both were forced to close last month, resulting in more than 100 staff being laid off.
"It was very difficult for me to face the employees, not just to tell them that I had to lay them off, but also not being able to tell them when they could come back," Mark said.
His two pubs are still providing takeaway and delivery services in the hope of keeping the business afloat and he's getting plenty of support from his police colleagues.
Mark has also been delivering free food to local hospitals and police stations for those on the front lines of the coronavirus fight.
"We're trying to give something back to the community and also let them know that we're still here so that when we do open the doors again they'll come back."