At least nine rockets have hit an Iraqi airbase in the west of the country where US and coalition forces are based, security sources have said.
A US official said there was no immediate information on any damage or casualties from the attack.
The White House has said it is aware of reports of attacks and US President Donald Trump is "monitoring the situation closely and consulting with his national security team".
The attack on the Ain al-Asad airbase came after pro-Iranian forces in Iraq vowed to join forces to "respond" to an American drone strike that killed Iranian general Qasem Soleimani and Iraqi top commander Abu Mahdi al-Muhandis in Baghdad last week.
Earlier, Mr Trump said he would obey international law on avoiding targeting cultural sites in military attacks, walking back a threat he made to Iran days earlier.
On Saturday, Mr Trump said the United States has targeted 52 Iranian sites, including ones that are very important to Iranian culture.
He said it would strike if Iran attacks Americans or US assets in response to the US killing of General Soleimani (below).
Attacking cultural sites, though, would break international conventions and treaties, and the threat sparked concern around the world.
Mr Trump, speaking to reporters in the Oval Office as he met Greek Prime Minister Kyriakos Mitsotakis, made clear he would reluctantly abide by the law.
---
Read more:
US kills top Iranian commander Soleimani in air strike
At least 56 dead after stampede at funeral in Iran
Iran steps back further from nuclear deal
---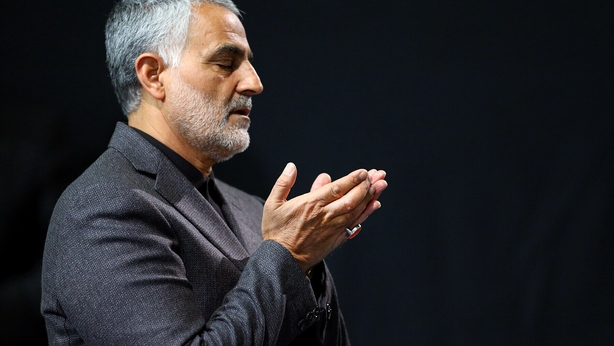 "You know what, if that's what the law is, I like to obey the law.
"But think of it: They kill our people, they blow up our people and then we have to be very gentle with their cultural institutions. But I'm okay with it. It's okay [with] me," he said.
"I will say this: if Iran does anything that they shouldn't be doing, they're going to be suffering the consequences and very strongly," he added.
US Senate Majority Leader Mitch McConnell said at a news conference that it would not be appropriate for the United States to strike Iranian cultural sites.
Mr Trump also said that a US troop withdrawal from Iraq at this stage would be the "worst thing" for the country, after Baghdad's parliament demanded the expulsion of American forces.
"At some point we want to get out, but this isn't the right point," Mr Trump said. "It's the worst thing that could happen to Iraq."
Iraqi politicians have urged the government to expel the 5,200 US troops stationed in the country in response to the drone attack that killed General Soleimani and top Iraqi military figure Abu Mahdi al-Muhandis.