Iran has said it would further roll back its commitments to a 2015 nuclear deal with six major powers, by enriching uranium without restrictions, but Tehran will continue to cooperate with the UN nuclear watchdog.
State television said Iran would not respect any limits set down in the pact on the country's nuclear work: whether the limit on its number of uranium enrichment centrifuges to its enrichment capacity, the level to which uranium could be enriched, or Iran's nuclear research and development activities.
"Iran will continue its nuclear enrichment with no limitations and based on its technical needs," a statement cited by state television said.
Iran has steadily overstepped the deal's limits on its nuclear activities in response to the United States' withdrawal from the accord in 2018 and Washington's re-imposition of sanctions that have crippled Iran's oil trade.
Tehran says it can quickly undo those breaches if those sanctions are removed.
Iran had been expected to publicise its latest stance on the deal this weekend. But its announcement coincided with a major escalation of hostilities following the US killing of top Iranian military commander Qassem Soleimani in a drone strike on Friday in Baghdad.
Under the nuclear deal, Tehran undertook to curb its nuclear activities in exchange for a lifting of many international sanctions.
US President Donald Trump's withdrawal of the United States from the deal led to a sharp deterioration in US-Iran relations.
European powers are trying to salvage the agreement, but Iran has repeatedly said they are not doing enough.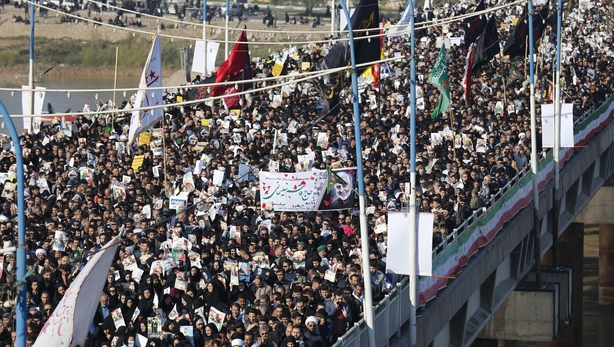 Earlier today, Iran condemned Mr Trump as a "terrorist in a suit" after the US president threatened to hit 52 Iranian sites hard if Tehran attacks Americans or US assets in retaliation for the killing of General Soleimani.
"Like ISIS, Like Hitler, Like Genghis! They all hate cultures. Trump is a terrorist in a suit. He will learn history very soon that NOBODY can defeat 'the Great Iranian Nation & Culture'," Information and Telecommunications Minister Mohammad Javad Azari-Jahromi tweeted.
Gen Soleimani, Iran's pre-eminent military commander, was killed on Friday in a US drone strike on his convoy at Baghdad airport, an attack that has taken long-running hostilities between Washington and Tehran into uncharted territory.
Gen Soleimani was the architect of Tehran's overseas clandestine and military operations as head of the Revolutionary Guards' Quds Force.
Giving no indication of seeking to defuse tensions after the strike he ordered, Mr Trump issued a stern threat to the Islamic Republic.
In a series of tweets he said Iran "is talking very boldly about targeting certain USA assets" to avenge Gen Soleimani's death.
Mr Trump said the United States has "targeted 52 Iranian sites" and that some were "at a very high level & important to Iran & the Iranian culture, and those targets, and Iran itself, WILL BE HIT VERY FAST AND VERY HARD."
He said the 52 targets represented the 52 Americans held hostage in Iran after being seized at the US Embassy in 1979 during the country's Islamic Revolution.
---
Read More:
Iraqi parliament passes resolution to end foreign troop presence
US-Iran tensions: A dangerous turning point
US kills top Iranian commander Soleimani in air strike
---
Iran summoned the Swiss envoy representing US interests in Tehran to protest against Mr Trump's remarks.
Iran's foreign minister earlier said any decision to target the country's cultural sites would be a "war crime".
"Targeting cultural sites is a WAR CRIME," Mohammad Javad Zarif tweeted in response to Mr Trump's post.
He added: "Whether kicking or screaming, end of US malign presence in West Asia has begun."
Iran is talking very boldly about targeting certain USA assets as revenge for our ridding the world of their terrorist leader who had just killed an American, & badly wounded many others, not to mention all of the people he had killed over his lifetime, including recently....

— Donald J. Trump (@realDonaldTrump) January 4, 2020
....hundreds of Iranian protesters. He was already attacking our Embassy, and preparing for additional hits in other locations. Iran has been nothing but problems for many years. Let this serve as a WARNING that if Iran strikes any Americans, or American assets, we have.....

— Donald J. Trump (@realDonaldTrump) January 4, 2020
Iran's army chief, Major General Abdolrahim Mousavi, was quoted by state television as saying the United States lacked the courage for military confrontation with Iran.
"In a potential conflict in the future, which I don't think they (Americans) have the courage to carry out, there it will become clear where the numbers five and two will belong," he said.
Mr Trump said on Friday that Gen Soleimani had been plotting "imminent and sinister" attacks on US diplomats and military personnel.
Democratic critics said the Republican president's action was reckless and risked more bloodshed in a dangerous region.
Thousands of mourners turned out to pay respects to Gen Soleimani after his remains were returned to Iran, the official IRIB news agency reported.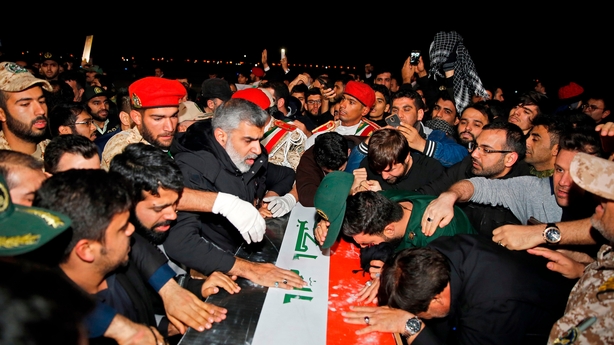 While many Iranians have rallied in to show grief over his death others worry that it might push the country to war with a superpower.
On Friday, Ayatollah Ali Khamenei promised harsh revenge and declared three days of mourning.
Gen Soleimani's body was flown to the city of Ahvaz in southwest Iran.
Friday's US air strike also killed Iraqi militia leader Abu Mahdi al-Muhandis.